Norton's collection of virus removal tools has become so well-known that, for many, they're practically synonymous with antivirus software itself. For this review, I chose to put the three Norton Security products (Standard, Deluxe, and Premium) head-to-head in order to assess how well the tools have evolved since the last time I tried them out.
While they're all capable tools, I most strongly recommend Norton Security Premium for its combination of internet security and cloud backup tools that can give you peace of mind that up to 10 PCs, Macs, smartphones, or tablets are fully protected against any threat that may come your way.
Security
Norton is one of the leaders in the game when it comes to maintaining an active and well-populated database of cybersecurity threats to test against—and it has been producing computer security solutions for more than thirty years. Some of the nicest features of the modern incarnation of its tools include the following:
Proactive Exploit Protection (PEP)
Norton's PEP is a framework designed to protect Windows computers against "zero-day" attacks. These attacks target vulnerabilities in Windows programs—as well as the operating system itself—that have yet to be patched, making them particularly fertile ground for hackers.
Given that zero-day attacks can take as long as five days for security experts to patch, I can't emphasize enough how crucial it is to be running a system that can keep one step ahead of the game. I particularly like the fact that PEP begins to provide protection the moment that vulnerable software is deployed (rather than when a successful exploit has been identified in the cloud system). This puts it squarely ahead of many competitors that I have tested.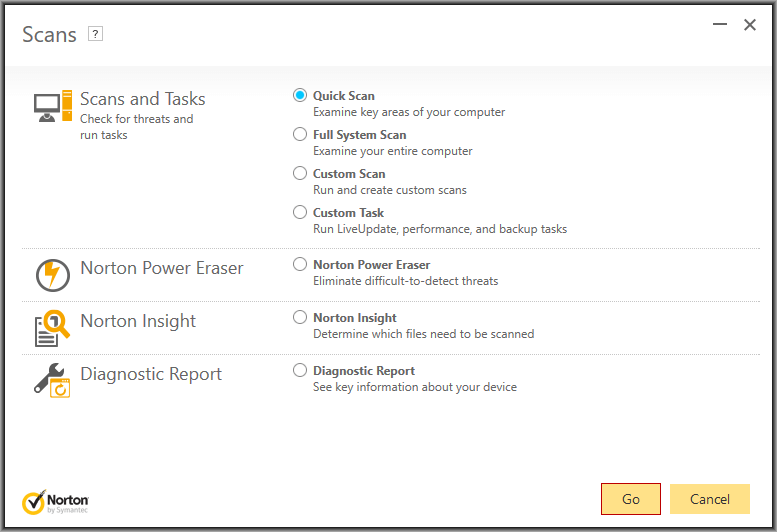 SONAR Protection
Adding to Norton's comprehensive "zero-day" protection is the SONAR feature.
SONAR keeps a close eye on programs running in your system and identifies clues that they may be malicious—again, before definitions have even been formally created to categorize the offending program as a virus.
I particularly appreciated the fact that the application will automatically send a system prompt if it has been disabled for a certain amount of time. Accidentally disabling necessary protective measures is an easy way to not take advantage of your software's built-in protection, and I'm glad to see that Norton is helping users make the most of its tool.
Symantec Norton Virus Removal Assurance
When it comes to antivirus software, vendors certainly aren't shy about talking up their products' features. That's why it's particularly refreshing to see a company that's willing to put its money where its mouth is!
Norton includes its Virus Removal Assurance on all levels of its Norton Security product. As the name suggests, the company will offer you a full refund, with no questions asked, if your system becomes compromised by a virus while running Norton. Just pay attention to the small print: to be eligible for the scheme, you need to purchase, renew, or upgrade your Norton product directly from Symantec and not from a third-party vendor.
This is a guarantee I can readily get on board with: Norton secures both your computer and your wallet!
Smart Two-Way Firewall
Norton Security includes a two-way silent firewall. I found this to function extremely well and it's important that a firewall prevent both inbound traffic as well as unauthorized outbound traffic from your local network—and Norton does a very capable job protecting against both. Besides being innocuous traffic generated from your web browsing, outbound traffic from your network can actually be generated by malware and rootkits that nest in your machine and then send potentially embarrassing spam to your contacts. If you've ever had the humiliating experience of sending spam mail promoting vice products to thousands of your professional contacts, you'll know that preventing this situation is something you'll want to make a priority.
Features
On the internet security and backup side, Norton also comes with plenty of fire-power:
Crowdsourced Download Protection with Insight
Norton products are trusted by users around the world to protect their machines. The company has developed a technology called "Insight" which leverages the collective experience of millions of users to help protect others in the network.
Through knowing which files are known to be safe, Norton is able to speed up the scanning process by only analyzing those files which the system deems to be questionable.
I love the way in which Norton has chosen to crowdsource the process of identifying viruses, and the Insight download protection and file scanning features are just one of the ways in which it has chosen to apply this concept.
Stay Always Up to Date with Automatic LiveUpdate
Updating antivirus programs—or any software for that matter—can be a chore which many of us quickly become negligent about.
Norton Security features an Automatic LiveUpdate tool which ensures that users are always running the latest version of the program. Wisely, Norton has chosen to enable this feature by default on its products.
I happened to be working on my desktop when the automatic update process began, and I was impressed by how smoothly everything went. After quietly downloading and applying the new virus definitions, the program even cleaned up the old files right out of the temporary files directory which the program uses.
Keep Your Kids Away from Inappropriate Content with Norton Family
The Norton Security Premium package also includes subscriptions to Norton Family, the company's award-winning parental control software.
Although the parental control software market includes several companies that specialize in producing only that, Norton's tool is considered one of the best on the market.
Besides including filtering tools to prevent family members from accessing certain categories of websites, or those that are added to a blacklist, administrators are also able to limit users' time on the internet and set schedules according to when they will be allowed to surf.
Parents are also able to set up email alerts to warn them when their children have attempted to access banned websites as well as a social network supervision features to make sure that children are not spending excessive amounts of time on social networking sites such as Facebook. I think that including a parental control tool within a computer security package is a brilliant idea: not only can users rest assured that their computers are protected from online threats, they can also make sure that their young loved ones are not exposed to inappropriate websites.
Norton Automatic Backup
Norton Security also includes an automatic backup tool which will automatically back up files to a secure, encrypted cloud storage system when the computer is idle.
While the program will automatically detect some files to backup based on pattern recognition, users are also able to select their own files and folders—a feature which I found very helpful.
The backup cloud storage is limited to 25GB. While this might not be enough to store an elaborate library full of HD movies, it's more than enough to store critical documents as well as important parts of your system.
Although I maintain that if you have critical data that you cannot afford to lose a dedicated backup tool is still your best choice, the inclusion of a well-designed and customizable backup utility within Norton Security is to be commended.
Block Junk Mail with Spam Blocking
I've already mentioned how the Norton two-way firewall prevents rootkits and other embedded viruses from sending unsolicited mail from your system.
Norton has the other side of the equation covered too.
Its spam blocking feature will automatically detect and flag incoming junk messages to your desktop email clients. The program also warns users about attachments that could contain viruses as well as fraudulent phishing scams that are designed to steal your identity.
Although the majority of modern computer users access email through webmail programs like Gmail, a sizable proportion of the population still use programs like Microsoft Outlook and Mozilla Thunderbird to exchange email with the world. For that reason, it's an important feature that hasn't lost its relevance and I'm glad to see that Norton is still putting effort into maintaining it.
Ease of use
Norton Security boasts a slick and well-designed user interface that makes navigating among its menus an intuitive and pleasant experience.
Norton Premium, for instance, sports a dashboard with five columns (security, identity, backup, performance, plus an upselling tab) and users can see at a glance the status of the software's various components.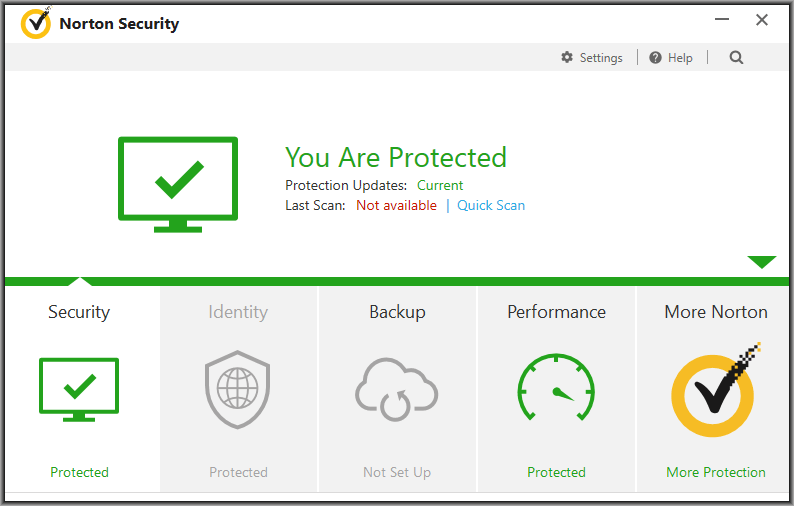 I hadn't gotten around to setting up the backup functionality after setting the program up, for example, and it didn't take long for me to spot—and feel slightly annoyed by—the "not set up" label written clearly underneath the cloud symbol.
Once you delve a little deeper into the menus, however, it's easy to see that all the settings you might need to change features are at your disposal, but Symantec has done a great job at presenting a bird's eye view of system health in the main menu. Clicking on the "more" button, for instance, undocks some more in-depth features, including an advanced settings area, a scan selection dialog box, and the live updater. I also thought that the performance graph—which allows you to clearly see how many system resources the program is consuming—was a great addition.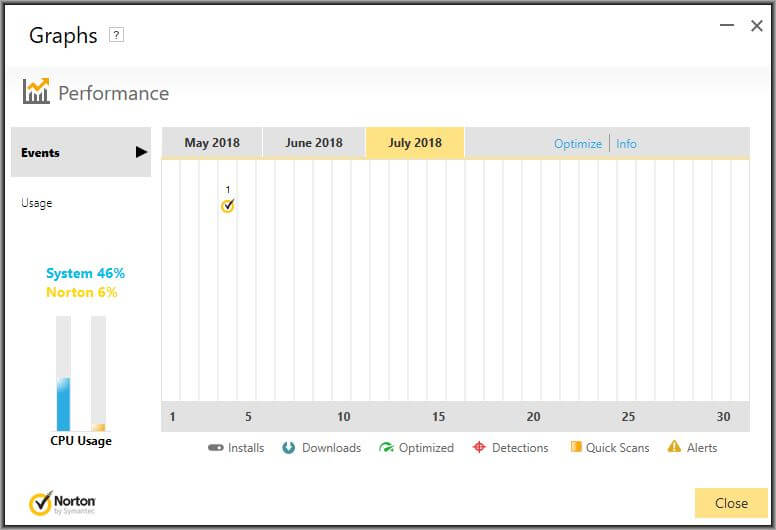 No more guesswork. The system performance graph clearly charts system and application usage.
The Norton Download Manager installs the whole program, and components, at the touch of a button.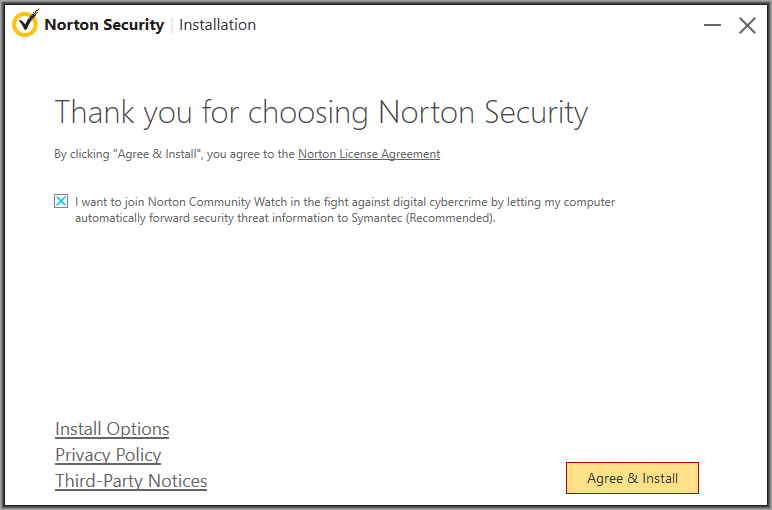 The installation process is also quick and easy—and for Windows users, every component of the system, including the Google Chrome extension, gets set up within a couple of clicks.
Support
Norton has devoted an entire micro-site to providing support resources that users can navigate through to become familiar with using the system. And it's just about the most comprehensive knowledge base that I have come across.
The video tutorial library is perfect for resolving common issues without the help of a customer support agent and you can even choose the Norton product you need help with to only display the resources that are relevant to your antivirus conundrum.
But how about human-to-human support? Firstly, there is 24/7 live chat support and agents are able to remotely diagnose and assist with customer issues. As soon as you initiate a chat session, you're assigned a case number, which makes it easy to follow up on your query across multiple support channels. Once I had that, I was connected to an agent in—literally—an instant: when Norton says they offer support without any wait time, they don't lie!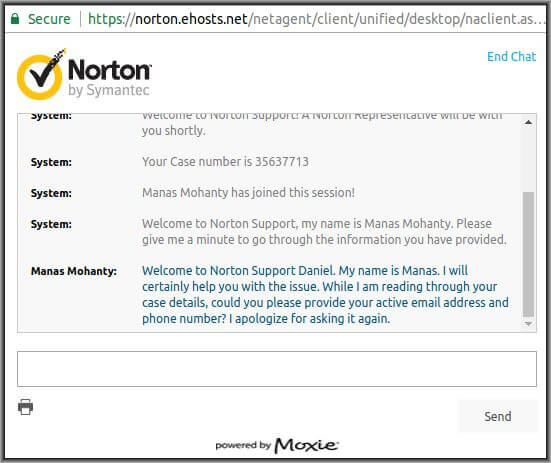 I spoke to an agent called Manas who was able to guide me through the installation process. And if I wanted to continue to talk to their agents on a social channel such as Facebook and Twitter, it would have been possible. All I would have needed was my case number to continue where I left off in the chat window. Norton also offers phone support and I love the fact that they offer local numbers no matter where in the world you are located.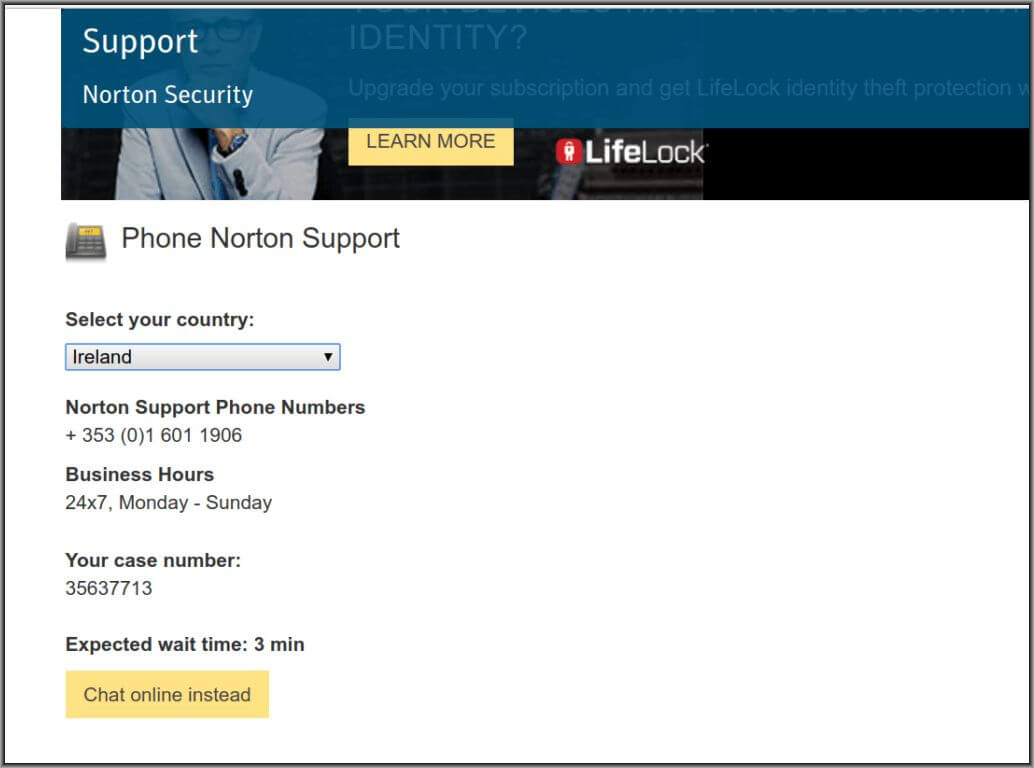 The business team can also be reached 24/7, so if you're an enterprise customer you have no reason to worry that Norton's team of antivirus support won't be able to help you with your issue at any time, night or day.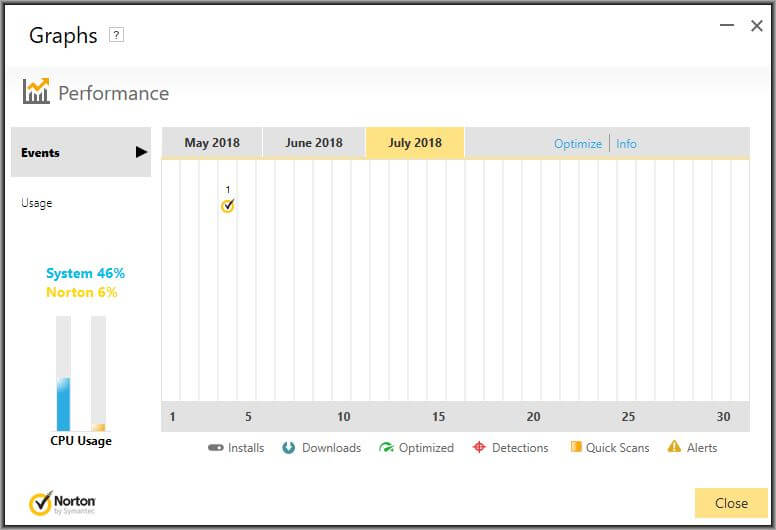 Pricing
All three levels of the Norton Security package (Standard, Deluxe, and Premium) are packaged fairly, in my opinion. While Deluxe offers two levels of pricing (for 3 or 5 devices), Premium gets you all the way up to 10, which should be more than enough protection for the average family. Which of the three levels do I recommend? Personally, I would shell out for the Premium subscription. Although it's hard to go wrong with any Norton antivirus tool, it's best to take advantage of the full breadth of features that they have to offer.
Plans
While all service levels feature Norton's core antivirus protection against viruses, spyware, ransomware, and zero-day threats, Deluxe and Premium have a nice web control panel to easily manage devices and the Premium tool includes parental control and automatic backups to a cloud storage area with 25GB of storage.