Detailed Expert Review
ESET NOD32 has traditionally fared well when reviewed by independent testing laboratories and its Smart Security Premium package leads its product offering in terms of features.
To find out whether it actually works how it says it does, I tested its usability, prowled through its features, assessed its internet security protection, and put ESET customer support through its paces in order to give you the answer. With so many robust solutions available on the ever-crowded antivirus software market, can it offer more than simply solid virus detection and some cool privacy protection add-ons? Here's what I found out.
Security
ESET Smart Security Premium, which combines the antivirus features of ESET Nod 32 Antivirus and ESET Internet Security in one package, provides users with a comprehensive array of security features to ensure the integrity and safety of their protected devices. Some of the standout features where Smart Security Premium shines through include the following:
Independently Proven Antivirus Protection
ESET includes some antivirus protection that has been proven to be among the most effective on the market.
During their evaluation of 18 home user security products last year, leading independent testing labs pegged ESET's detection as 100% effective against prevalent malware and 98.8% effective against zero-day malware attacks. We always stress the importance of having effective protection against zero-day attacks—threats so new that vulnerabilities haven't even been documented yet—and the nearly 100% score that ESET boasts in this department is a glowing testament to its ability to stop these threats in their tracks.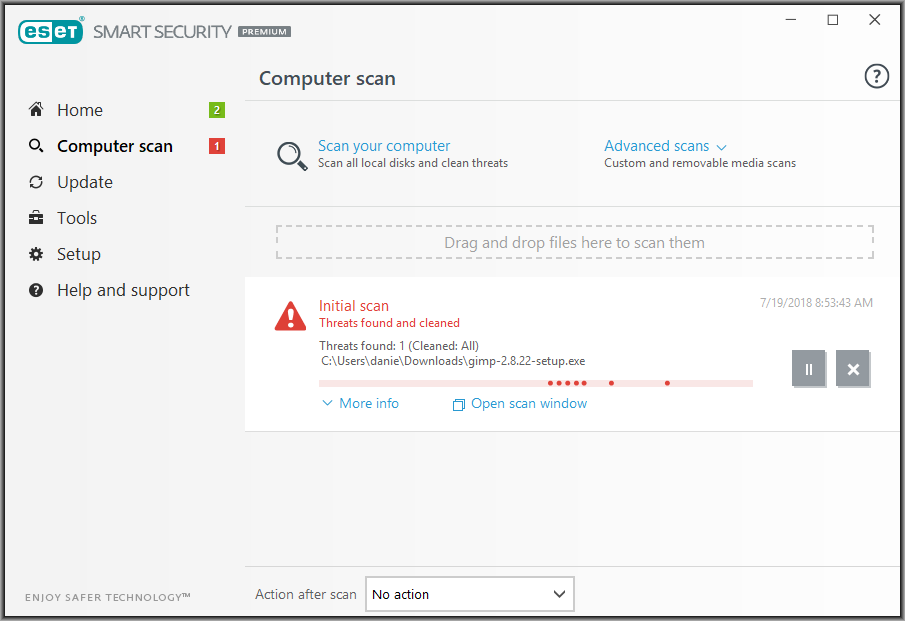 Top-Grade Internet Security Tools
In addition to including one of the most formidable virus-destroying engines on the market, ESET Smart Security Premium includes a whole wealth of online security tools. These include phishing protection, which monitors and protects against imposter websites' attempts to steal users' identities. It also includes intelligent cloud-powered scanning, which checks systems files against a whitelist powered by the ESET Live Grid® file reputation database.
Features
Firstly, the package is available for Windows 10, 8.1, 8, 7, Vista, and Microsoft Windows Home Server 2011 users. Although ESET does offer some solutions for Mac and Linux, this product is really only available for those running Windows—so if you're using something else, I'm afraid this isn't the tool for you.
In addition to featuring impressive virus detection and internet security abilities, ESET Smart Security Premium includes some other programs that are helpful in keeping your system running in tip-top condition.
UEFI Scanner Detects Threats Before System Boot
Those of us that like to tinker with our operating systems—particularly the BIOS firmware that boots right after system startup—will probably have come across the term UEFI before. Standing for Unified Extensible Firmware Interface, UEFI is the newer of the two classes of firmware.
It is possible and conceivable that malware could penetrate a computer at a low enough level to corrupt the UEFI code. ESET has emerged as a trailblazer in this regard by offering one of the first UEFI scanners on the market. Knowing that both your operating system and the firmware it boots from are clean of malicious code is the only way you can have total peace of mind that your system is running clean. Major kudos to ESET on this one for stepping outside of the box (almost literally!) and showing that antivirus protection doesn't have to start after the bootloader.
Granular Scanning Controls Put You in Control
Once the system is up and running, of course, Smart Security Premium's scheduled, on-demand, and real-time system settings all kick in to make sure that everything is running securely.
ESET's scans cover local drives, network/virtual drives, and removable media, so everything running on—and attached to—your system is protected. Additionally, files are automatically scanned on open, creation, and execution. I was particularly pleased to see that users are given the ability to change any of these default configurations. This makes it easy to configure some very specific scanning rules—such as automatically checking executables but disabling file open protection otherwise.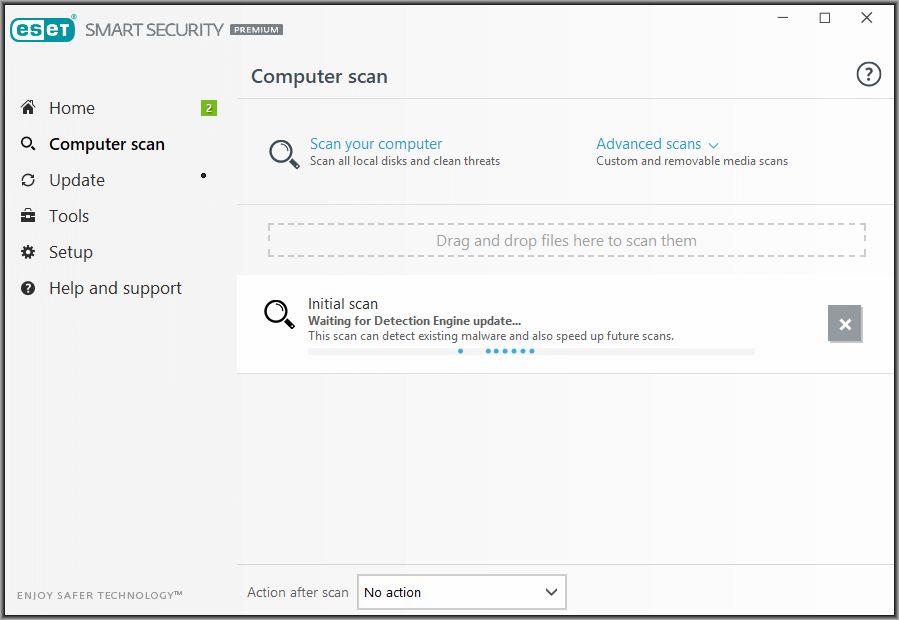 Additionally, the system is (by default) smart about how it applies its various levels of protection, but as with the scanning rules, any of these options can be tweaked so that the scans run exactly how you would like them to. For instance, files that have not been changed since the last time a scan run are not checked again. By disabling the "smart optimization" option, however, it's possible to disable this feature and force the scan to run.
Script-Based Threat Detection
The Windows PowerShell is one of the most powerful components of a Windows computer.
Thankfully, ESET Smart Security Premium includes a powerful threat-detection engine that keeps a vigilant watch to detect script-based threats that may attack from anywhere in users' systems, including browser scripts. On the latter front, ESET has clearly gone to enormous lengths to ensure that all common platforms are covered—the in-browser script detection works whether it runs aboard Mozilla Firefox, Google Chrome, Microsoft Internet Explorer, or Microsoft Edge.
Host-Based Intrusion Prevention System
Next on the list of interesting features that ESET has worked into Smart Security Premium is its Host-Based Intrusion Prevention System (HIPS). A HIPS works by protecting users' computers from the network layer up to the application layer (essentially, all layers of connectivity) and offers comprehensive protection against all possible threats. It does this by carefully observing the characteristics of the host operating system and monitoring it for signs of suspicious activity.
HIPS is a seriously powerful form of antivirus protection that is often seen running on enterprise-grade endpoints such as servers and workstations—and for good reason. It deeply inspects an operating system's state to make sure that critical system components—such as the file registry, for example—aren't being tampered with by a rookit that has evaded prior forms of detection. ESET's HIPS also contains built-in self-defense technology to protect it against malicious code which targets the program itself to circumvent all forms of system protection.
Its inclusion lends some serious weight to Smart Security Premium's feature offering. I give ESET a thumbs up for including this.
Scan During Idle State
It's difficult to get around the fact that performing a comprehensive scan of files and directories is going to place some level of overhead on system performance.
ESET allows you to turn on idle state scanning from within the advanced options menu of the antivirus configuration. Idle state scanning will automatically initiate a silent scan of your files and directories while the computer is in idle mode—including when the computer is on screensaver mode, locked, or when your account has logged off.
This is a feature that I was particularly pleased with. I enabled this feature and locked my computer for twenty minutes during the evaluation process. It was great to know that while I was out gardening, the scanning engine had automatically kicked in and scanned my directories for threats.
Scan During Download
It never occurred to me before but checking files for viruses after they have finished downloading makes about as much sense as installing an alarm system after your home has already been ransacked by burglars—by the time a corrupt program has been downloaded, there's a good chance that it has already begun wreaking havoc on your system!
Thankfully, the team at ESET made this realization before I did and this is another area in which the program truly excels. ESET Smart Security Premium automatically scans downloads for threats while they are still downloading. If a threat is detected, the user is immediately notified and the download is frozen. I tested out this feature using my own test piece of malware and am pleased to report that it functioned precisely as I expected it to.
Phishing Protection
On the internet security side of things, ESET Smart Security Premium contains an anti-phishing engine which automatically intercepts and blocks web pages known to have disseminated material linked to phishing and social engineering attacks. I like the fact that you have the option to proceed to access the page anyway and can report incorrectly blocked pages to improve the accuracy of the feature for other users. Additionally, I liked how the ESET phishing filter has a whitelist so you can add websites that have been incorrectly flagged as phishing sites. When this web access protection is used in harmony with the program's other features—including real-time protection, scheduled scanning, and the ability to scan downloads in progress—it's hard to see how a malicious piece of code could work around Smart Security Premium's multiple layers of protection.
Gamer Mode
Gamers certainly need to make sure that their cherished machines aren't compromised by viruses and malware. For gamers that want to leverage Smart Security Premium's many protective features without being inundated by notifications—or receiving any at all—ESET has developed a "gamer mode" which will allow gamers to continue playing uninterrupted. I liked how it is possible to configure the system to enter into gaming mode whenever a full-screen window is opened (click "advanced setup" and "tools" to turn on this option). That means, of course, that those using their computers as multimedia centers—or simply watching a movie on them—can use this feature to do so without being distracted by popups about scans and other operational details.
Email Filtering
Security threats can arrive over any port and protocol, so it's important for any comprehensive cybersecurity software to address all possible contingencies. Smart Security Premium comes with an email filtering component that allows control over all email protocols (including POP3, MAPI, IMAP, and HTTP). The email filtering component can also integrate with Microsoft Outlook, Outlook Express, Windows Mail, and Windows Live Mail and provides users with plenty of control as to what behaviors they would like to configure for emails found to be effective. Personally, I abandoned desktop email programs years ago, but many corporate users are still required to use them. Having tested the integration, I would have full confidence in its ability to intercept and protect against any "document attachment" received that proved to be more than just that.
Ease of use
Smart Security Premium has a simple and visually pleasing interface.
I liked how the program easily and quickly mapped out all my connected drives making it easy for me to configure scans of only specific parts of my system (such as a USB stick that I was temporarily working with). Detected threats were easily flagged with a red warning symbol and the "action after scan" button allowed me to quickly decide what I wanted the system to do after it had finished polling the directories.
For those that want to dive deep and tweak the many granular features that ESET includes in the tool, there's plenty of scope to do so. However, I thought that the design team has done a really nice job at segregating between the basic set of features that most users will want quick access to and those "under the hood" tools that are more suitable for power-users. If I wanted to run an on-demand scan, for example, I only had to click a button. While the various advanced scan options, for their part, were nicely nested in a sub-menu on the right-hand side of the screen.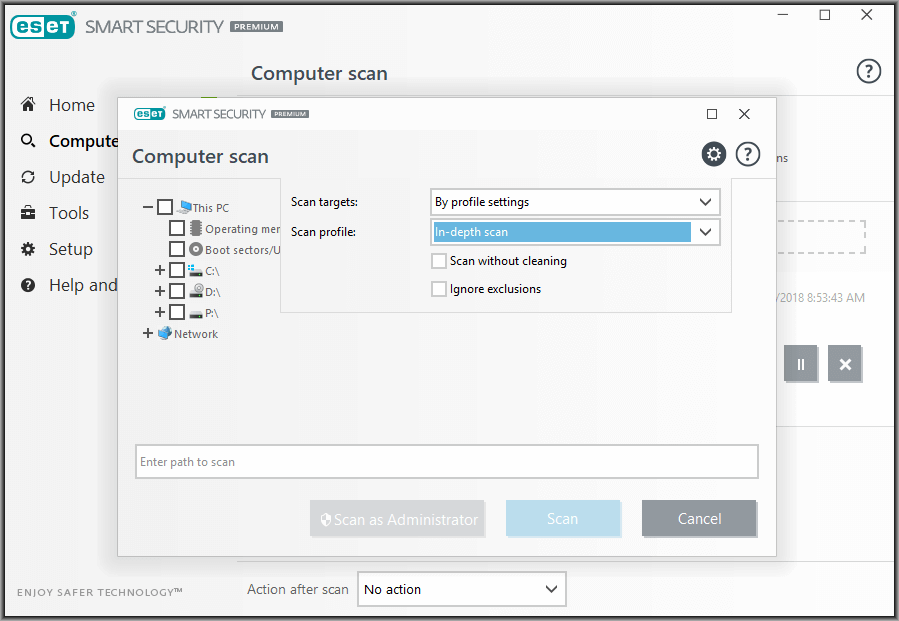 Support
While I've spent years reviewing all manner of software programs, like anyone, I inevitably run into some brick walls while using a new product. So how does ESET do when it comes to handling customer interactions? Firstly, let's talk about what it offers in terms of resources.
There's a knowledge base that the company has translated into various languages—including some less common ones such as Slovenian and Portuguese. It's not the most comprehensive documentation that I've seen, but there's more than enough to guide users through resolving most issues they are ever likely to encounter. The knowledge base also leads nicely into the email ticket and live chat functionalities. A series of flowchart buttons handles the most common customer issues, and if those aren't enough to troubleshoot your problem, you can complete the ticket information and get in touch with a real human being.
The live chat support can be accessed from a completely different URL. I think that this is a great idea because for many users—including the reviewer—it's the preferred method of resolving issues. Support chat is delivered through an application called Bomgar and even integrates tidily with your operating system's notifications engine.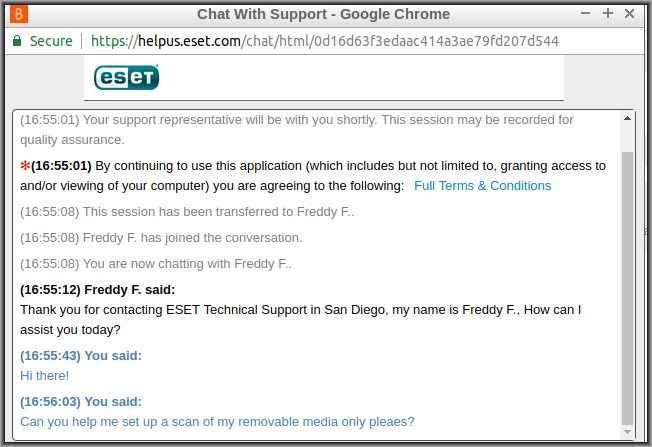 Finally, there's a telephone support center based in San Diego, California. For those who prefer to receive assistance that way, it's always great when companies go to the expense of making that an option.
Pricing
Given that it includes some features from both, Smart Security Premium is more expensive than the other two members of the premium ESET product family—Internet Security and Nod 32 Antivirus. However, the difference is marginal and I stick to my usual recommendation of not attempting to economize on essential protection for your operating system. Subscriptions ranging from one to three years are available and the pricing is tiered based on the number of machines covered.
In terms of payment options, Paypal and all major credit cards are accepted and ESET also provides a free 30-day trial which can be downloaded directly from its website.