The 1Password manager is one talked about often between experts and newbies alike. Due to its simplicity, this piece of software has risen above the others in mindshare: 1Password has a focus on usability and provides all sorts of different password checking features such as which passwords are reused and how secure they are. While it doesn't provide you a whole ton of support avenues, the app is well-designed enough so you shouldn't have too many questions no matter how new you are to password managers. Plus, a thorough FAQ platform is in place to give you all the information you need.
Before jumping into this 1Password review, know that I've reviewed over 70 password managers to bring you the best review I can regarding this app and if it is worth your time and money. Read on to find out what I've discovered in my 1Password review.
Features
1Password Features Overview
Security
2-Factor Authentication
Yes
Encryption level
AES-256
Multi-device sync
Yes - free
Backup and recovery
Yes - paid
Mobile apps available
Yes - Android, iOS
Password generator
Yes
Browser extensions
Chrome, Firefox, Safari and Opera
Password Auto-import
Yes
Form autofill
Yes
Support
Email
Yes
Live Chat
No
Phone
No
FAQs
Yes
Languages available
Spanish, English, Dutch, French, Italian, Russian
24/7 support
On the forum
While 1Password's features aren't that unique, it presents them in an easily understandable way. For example, its Watchtower is a focused space for managing your password strengths and weaknesses. Users gain access to cloud storage for documents and the mobile app even offers autofill on
iOS
. This feature isn't supported on
Android
, however.
Watchtower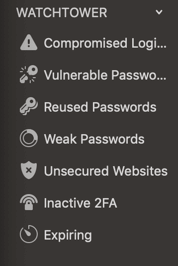 1Password's "Watchtower"—a segment of password security ranking options within the app—contains a whole slew of useful features for enhanced security. It categorizes your passwords between weak, reused, vulnerable and compromised. Then, you can also check which websites you've enabled two-factor authentication for and which ones you haven't. The feature is similar to the offering in Dashlane, but that app offers a free plan for users that can't afford to pay.
Emergency Kit
As an extra form of backup, 1Password provides you with an "Emergency Kit" in PDF form. This is a space that contains your overall Master Password, sign-in email and a secret key required for log-in. You can print this page out and store it in a safe place should you ever forget your 1Password login information.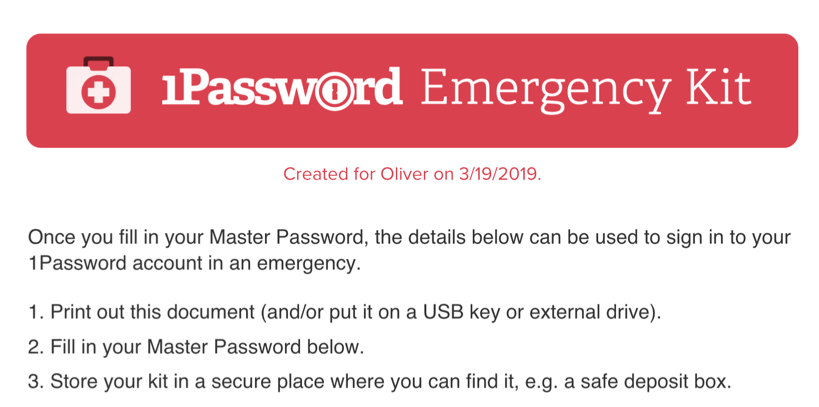 Also, this kit features a handy QR code that you can scan to quickly set up 1Password on other devices.
Vaults
1Password provides customizable vaults to separate your password management uses. For example, you may have a set of information based purely on work, while the rest of your data is personal. This app creates a contained space for each so you're not letting your Facebook password info get in the way of your work email and software information. A small but warranted quality-of-life feature.
Travel Mode
Travel mode is a necessary feature for those consistently on the go. On your mobile device, you can enable this setting and 1Password will take all of your personal information and store it in a vault. This is great should your phone be stolen or lost on the trip. When you're ready, all of that data can be restored via a button tap. It's a pretty unique feature.
1Password X
Released in 2018, 1Password X is a browser extension for Chrome and Firefox. This is great for users who mainly use password managers in-browser and don't want to download the desktop app. This feature contains autofill, suggested passwords and storage for credit cards and bank accounts among other things.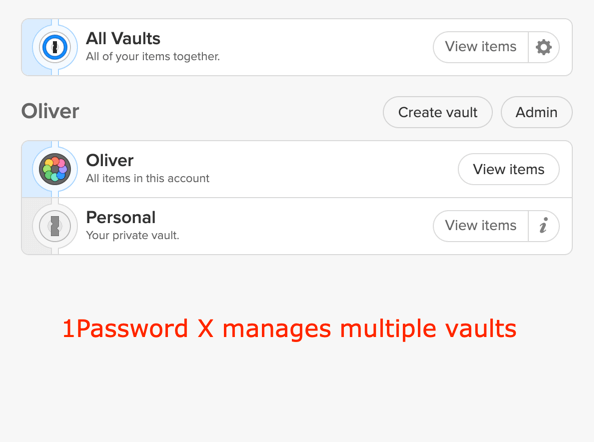 1Password X will automatically lock when not in use for a while or if your computer falls asleep. Also, the extension works with Chromium-based browsers such as Opera and Vivaldi.
Plans and Pricing
To start, we have the personal plan. This paid version provides an app for Mac, iOS, Windows, Android, Linux and Chrome OS. It also provides unlimited passwords and information storage, with a gigabyte of document storage.
With this plan, you also receive access to 24/7 email support, the aforementioned Travel Mode, 2FA, and a 365-day history to restore any deleted information.
For a little more each month, the Family plan provides all of the features mentioned above, for up to 5 people. The master can choose which information is available to who, including passwords and credit card information. Also, users can recover an account for any family members who gets locked out.
1Password Teams is similar to the Family plan, however it enables the 1GB storage on a per-person basis rather than for the whole account. That, and there is an endless amount of shared vaults and storage for employees to access.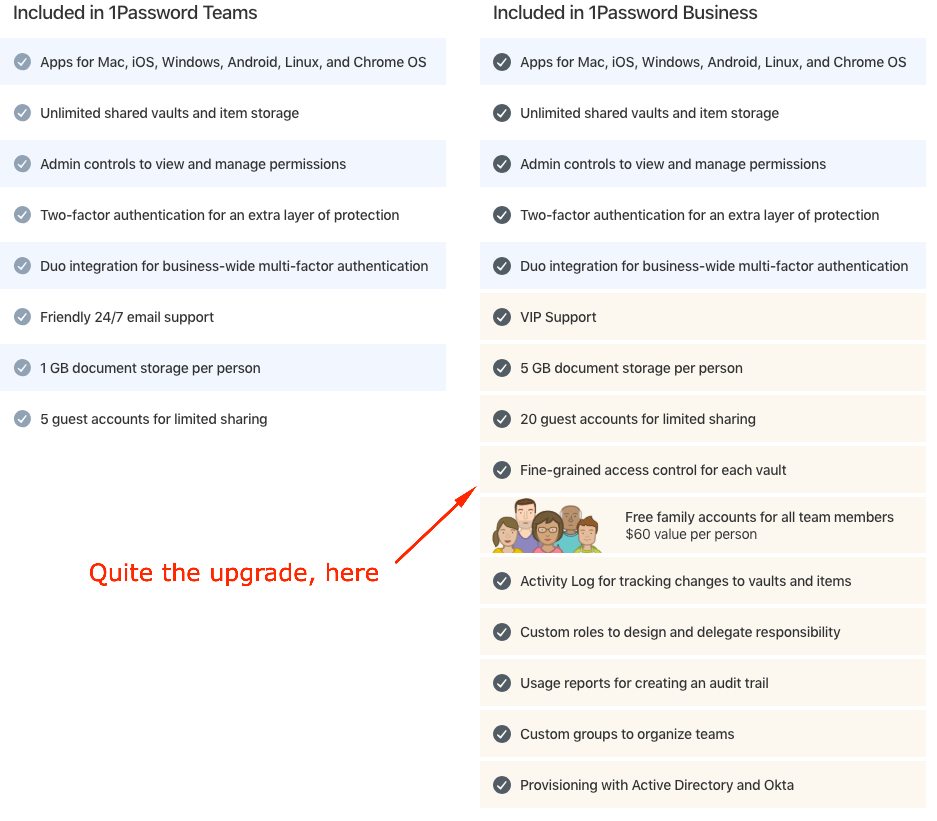 The Business plan provides a whole host of extra features. Companies on this plan are given VIP Support, 5GB document storage per employee, complete control over vault access, an activity log, custom role creation, usage reports, custom groups and more. Fantastically, this plan also gives each employee a free Family plan for their personal use.
However, LastPass offers a similar business plan at a lower price. It does limit you to 50 users, but you're saving more money in the long run.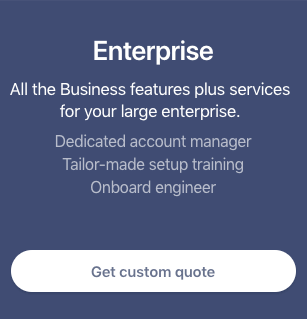 Finally, 1Password has its Enterprise plan. This plan provides a dedicated account manager, an engineer for your specific business and top-tier training for your employees. However, it requires you to get a custom quote with the company, so I can't say how reasonable the price is.
Regardless of your plan, 1Password provides a 30-day free trial for you to test out that can be cancelled at any time. That said, there isn't any completely free plan, which is a bit of a shame. Other apps like RoboForm or LastPass allow you to keep using the service after the free trial.
The average prices here are similar to Abine Blur. However, the family plan at Keeper is similar to 1Password, but Keeper's offers 10GB of storage to 1Password's 1GB storage.
Ease of Use and Setup
1Password sets up in minutes. Once the install is ready, you simply put in your master password and get to setting up.
Unfortunately, the import feature here is quite limited. While other managers allow you to import passwords from browsers and similar avenues, this one only supports previous 1Password versions, LastPass, SplashID or a CSV/1PIF file.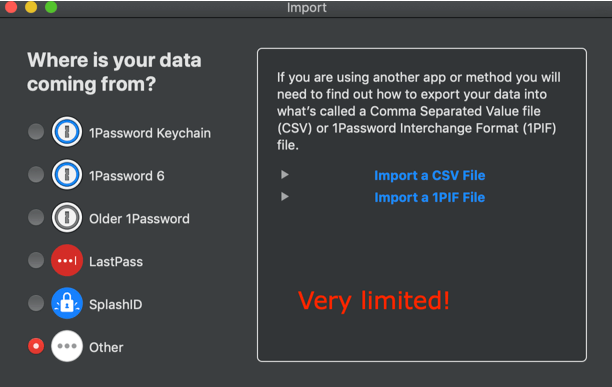 To be fair, it isn't too difficult to export your passwords into a CSV within another manager, but that still adds an extra step that some other managers work around.
However, once information is imported, organization is quick and easy. Information is broken into multiple categories, including but not limited to logins, secure notes, credit cards and identities.

What's nice here is the built-in tagging system. Each piece of info can be sorted into custom tags that you create for any category necessary. For example, I put my Facebook information under the tags "personal," "Facebook" and "social media."
The user interface also includes your password and secret key ratings, alongside a link to the login page and even an "open and fill" option for automatic login.
However, there isn't any form of folder organization like in RoboForm. There are categories for your different sets of data, but these aren't customizable. Organization is still fine, but you aren't given as much power as you could be.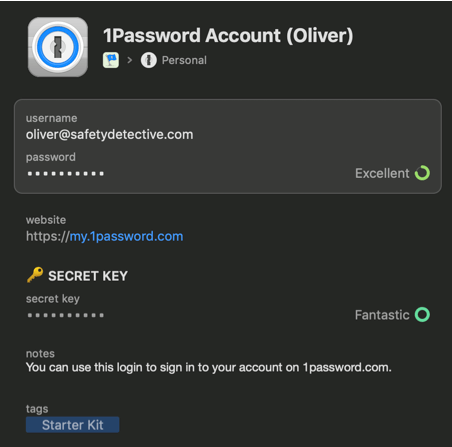 The 1Password X web extension provides access to the Watchtower and information categories alongside a password generator. Here, you can customize the length of the password, if you want numbers or symbols, and if you want the key to be random, memorable, or even just a PIN number.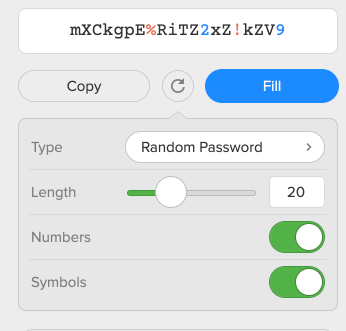 You can also lock this extension at any time, requiring your master password once again to login. Also, while the web extension is useful for managing information, it's much easier to enter and set up the data in the desktop app.
Regarding the mobile application, 1Password's Emergency Kit ensured this set up was a breeze thanks to the QR code. If your phone has fingerprint unlock support, you can use that for instant logins after the first one. You'll also enjoy autofill features within apps and browsers and automatic syncing between all app iterations. Unfortunately, the 1Password mobile app prevents screenshots as to keep your information completely secure.
Security
1Password protects your information with 256-bit AES encryption. Of course, this is industry standard, but it still works fantastically. All of your information is stored locally, and is transferred via secure TLS/SSL network lines.
The platform doesn't store your master password online at all – 1Password follows the "Zero Knowledge" model. Instead, the only place that your information is stored in the aforementioned Emergency Kit PDF and wherever you've written it down. While this ensures for a completely secure master password, keep in mind that the 1Password team cannot help you if you ever forget it.
I mentioned the "secret key" earlier, which is also stored in the Emergency Kit. This is 1Password's form of 2FA, as it is entirely unique to you and is required any time someone tries to sign into your account on a new device. While this isn't a traditional form of 2FA, it's a solid barrier that stands in the way of any would-be hackers and attackers.
Also, if you really want it, 1Password supports Authy or Google Authenticator, which can be enabled in your profile settings. The platform also supports YubiKey, a hardware security key you have to plug into your device to start the 2FA process. Without this key, nobody can access your account from a new device.
Keep in mind that members on the Family plan can help others recover their account should they forget a password.
The entire platform is built on top of Amazon Web Services, ensuring high scalability and constant uptime. It's also one of the only password managers on WebCrypto, which provides cryptographically secure access to the platform's random number generator within your web browser. WebCrypto is also 10x faster than other password libraries.
All of this information and more can be read within its whitepaper. It's nice to know that this software is peer-reviewed by experts who ensure everything is up to snuff.
Customer Support
1Password's customer support is incredibly limited. There is no phone line to call nor a live chat service. Instead, users can only communicate via email, Twitter or a forum post.
Credit where it's due, the forum is full of information and the team is constantly replying to user questions and inquiries. According to their support page, the 1Password team responds "24 hours a day, 7 days a week." I've found that to be true, as I got a forum response less than 10 minutes after posting an inquiry.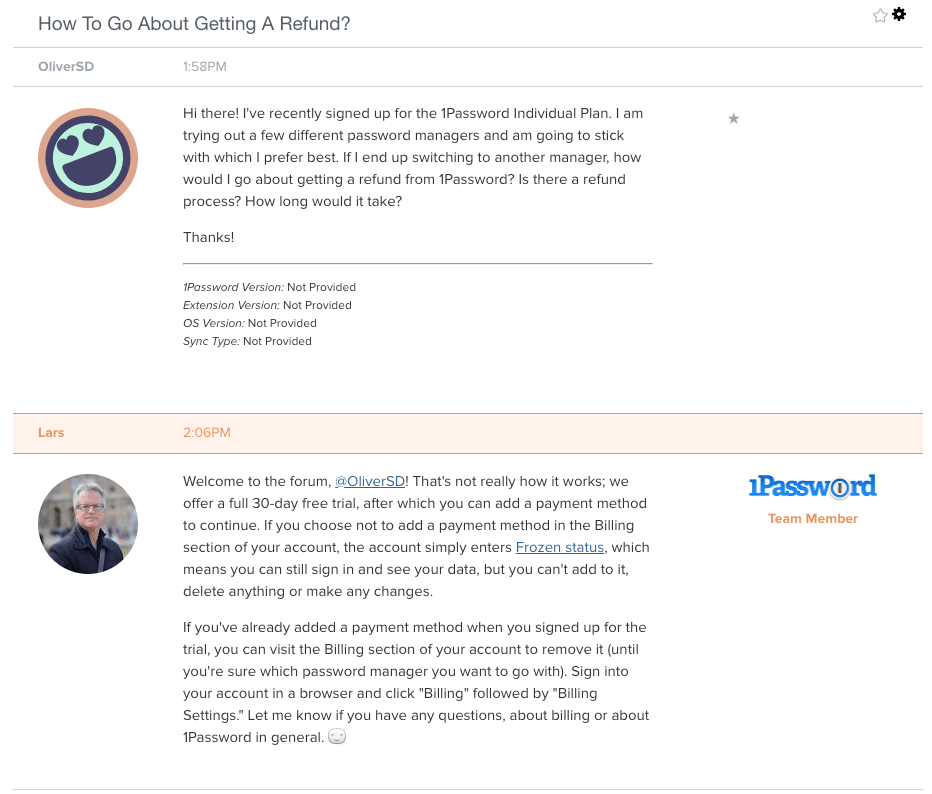 Their email support is slower, with the page stating that users will get faster support on either the forum or Twitter.
However, the platform has a fleshed out FAQ segment with categories for each app version, tons of information on software upgrades/extension questions and a YouTube account dedicated to different features provided by the application. Most user questions should be answered here.
It should also be noted that Business plans get VIP support, and will most likely always be catered to first.