Malwarebytes has definitely responded to doubts about its real-time scanning and antivirus powers. This software now offers some powerful antivirus capabilities.
When performing this Malwarebytes review, I really wanted to focus on one thing. I hear so many critics claim that Malwarebytes is only good for detecting malware, and that it fails to fully protect against anything else. So, I put those claims to the test — and here's what I found.
Malwarebytes Security Features
Malwarebytes doesn't compromise when it comes to security features. This antivirus program is more than capable of combating common threats such as:
Malware.

Spyware.

Ransomware.

Rootkits.

Phishing.

Compromised websites.

Hijacked applications.
Anyone that tells you otherwise is either lying or trying to sell you something. Malwarebytes is powerful, well-rounded, and completely capable of functioning as a full security suite.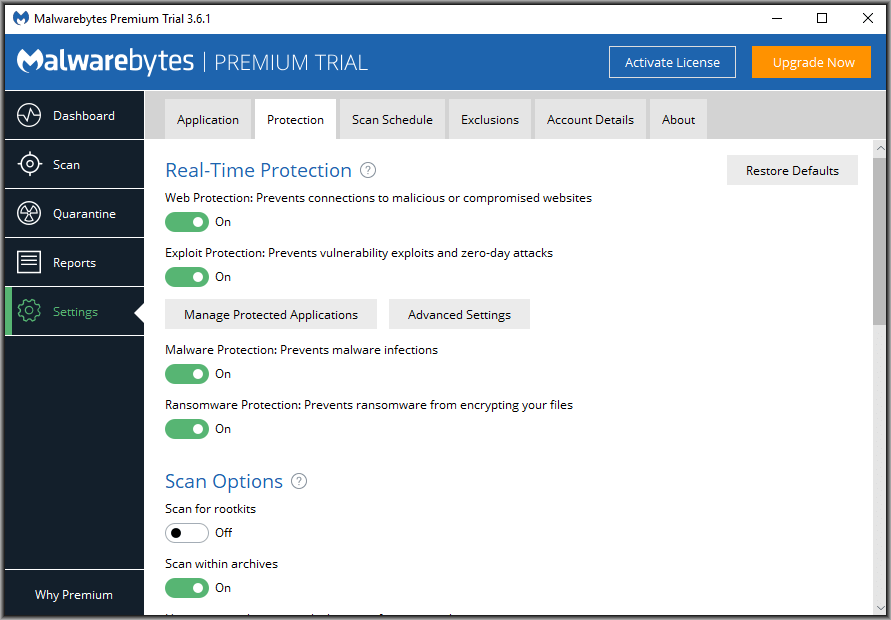 Scanning Modes for All Occasions
The most comprehensive scanning mode is "Threat Scan", which looks for a variety of threats, including unauthorized registry edits, trojans, and worms.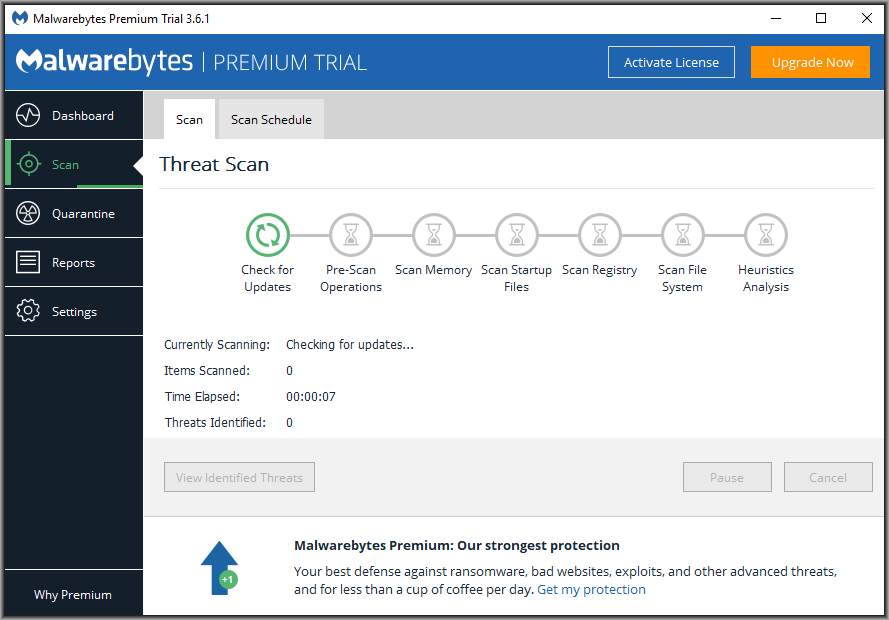 There's also the "Custom Scan" — where you can choose which aspects of your system need to be scanned. And the "Hyper Scan" — a fast scan which will search through your memory and startup objects for any potential threats.
Malwarebytes also offers real-time protection — which looks for zero-day attacks, ransomware, and unpatched vulnerabilities.
The real-time protection feature uses four simultaneous layers — including web protection — to block access to harmful websites, and a behavioral (heuristic) analysis scanner to block programs that are behaving suspiciously.
I tested the web scanner with a list of phishing URLs, and the blocking feature worked seamlessly out of the box with no need for browser extensions.
Granular Real-Time Protection Control
The real-time protection is configurable on a per-application basis. The "Manage Protected Applications" feature lets you decide which programs to monitor in real-time. It's even pre-populated to include common applications like the VLC multimedia player and Microsoft Office suite.
You can manually add programs that it doesn't auto-detect. The advanced anti-exploit settings provide complete control over how the malware protection interacts with installed programs. This feature is great for people with a technical background that want more control.
I was able to toggle Data Execution Prevention (DEP) protection for Google Chrome and could enforce BottomUp ALSR Enforcement on all installed PDF readers. DEP protection monitors for potentially unsafe program memory use in real-time. And the ability to apply it across an entire genre of programs (such as "media players") or to a suite of programs (such as all Microsoft Office tools) will save a lot of configuration work.
Real-time protection is one of the main selling points of this product. The company claims that Malwarebytes' signature-based definitions now catch more than 97% of viruses and malware threats. This shows that the real-time protection feature is doing almost all of the work, and it's the reason why I strongly encourage users to invest in a premium subscription.
Fast Scanning, Inconclusive Benchmark Results
The scanning itself runs extremely quickly (mine took under three minutes). It offers a nice chain-link diagram that shows you exactly where the engine is in the file-checking process.
I was able to watch as the scanner moved from checking the startup files to scanning the Windows registry. This entire process eventually concluded when it conducted a heuristics analysis on all running processes.
The scan detected all the virus samples I copied into the test folder. But it did miss one piece of malware. The program has a somewhat spotty track record with independent benchmarks.
Still, it's more than capable of serving as a system's only antivirus tool.
A detailed report provides plenty of helpful diagnostics when the scan completes. This report includes information such as the scan type, the selected database for the scan, and the build number of your operating system.
Customizable Scan Control Settings
All aspects of the scanning process are customizable. Users may wish to enable rootkit scanning (which is disabled by default) as well as malware and ransomware scanning and exploit protection. You can also turn off scanning for Potentially Unwanted Programs (PUPs) and Potentially Unwanted Modifications (PUMs) if you want to conserve CPU resources.
One super cool feature is that Malwarebytes allows the user to decide whether they want to use the program as their primary antivirus. I appreciated having the ability to decide which scanning methods to enable, and I noticed there were no prompts to override the built-in Windows Defender or Windows Firewall.
A dedicated self-protection module ensures other tools don't corrupt the program itself on the system. This feature is helpful for users who run the program with another tool.
Schedule Scans Exactly When You Want Them to Run
The antivirus scanner provides a comprehensive scheduled scans management tool.
I was able to do things like:
Create and edit an unlimited number of scheduled scans.

Configure recurrence intervals.

Instruct the program on whether it should conduct an update check before initiating the scan.
The scheduler also has a "recovery option" that allows you to execute a missed scan. This level of enhanced control is better than many other options on the market.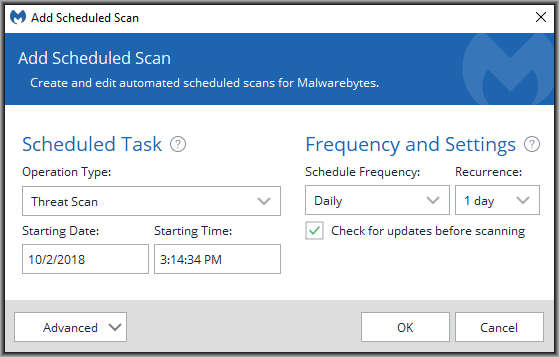 Malwarebytes even operates a "Bug Bounty" program where users can earn up to $1,000 in rewards. It's clear that the company strives to innovate, and takes its position as a top antivirus program very seriously.
Check Complete Scanning History in Report Area
Malwarebytes features a dedicated reports module which aggregates all of the system scans. The reports are ordered chronologically, and entire scan reports are accessible at the click of a button.
This is useful for seeing how many infected files various scanning methods have identified. Users may wish to employ a less thorough scan if the reports are consistently "clean" for quarantined files.
Instant Popup Notifications Let You Take Decisive Action
Premium users can enjoy access to instant popup notifications when any of the four real-time protection layers identify a threat. This includes:
Known phishing websites that the program blocked.

Quarantined viruses.

Any suspicious program modifications that were identified.
The software also provides helpful guidance on how to handle these threats by providing access to detailed resources.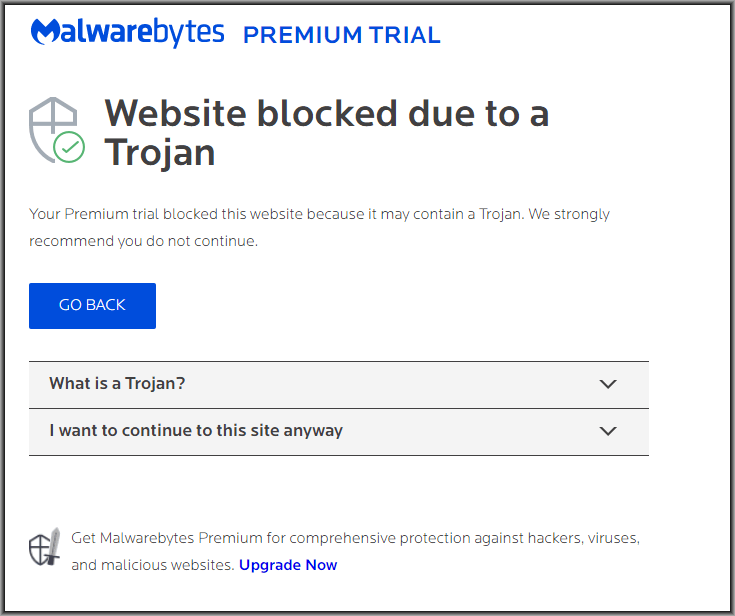 Convenient Dashboard Provides Key Status Updates
It's not uncommon for feature-rich programs to seem overwhelming. Malwarebytes has a good User Interface (UI) and a dashboard that shows which system components are engaged. A green check-mark circle shows that the system is in good running order. The real-time protection sidebar allows you to toggle the four layers without entering into the settings menus.
The dashboard shows when the last scan was, when the next scheduled scan is, and whether the program's definitions are updated.
Seamless Internet Security Browser Integration
Malwarebytes' internet security and blocking integrate directly with web browsers without having to install add-on tools or extensions (which can use RAM and affect search results).
I tested phishing URLs on Google Chrome, Microsoft Edge, and Mozilla Firefox, and the program prevented me from accessing the website each time.
Malwarebytes Plans and Pricing
Malwarebytes Premium is available to purchase online as either a one or two-year subscription for Windows, macOS, and Android. Note: The iOS version is only purchasable from the Apple App Store.
Pricing tiers support between one and ten devices — and at the top end of that scale, the price really becomes a bargain.
Malwarebytes offers a 60-day money-back guarantee. This is one of the longest guarantee periods in the industry. They even let new users test the software using a free 14-day trial.
Malwarebytes offers three plans for at-home use:
Malwarebytes Free.

This is a good compliment to your antivirus and is only compatible with Windows.

Malwarebytes Premium FOR YOU.

This plan is designed to replace your existing antivirus.

Malwarebytes Premium FOR HOME.

This plan comes with the same features as the FOR YOU plan, but it covers three devices by default and can scale up to ten.
We've compiled this table to help you compare the differences between the plans.
| | | |
| --- | --- | --- |
| Feature | Free version | Premium version |
| Real-time protection | No | Yes |
| Ransomware protection | No | Yes |
| Instant notifications with recommended action advice | No | Yes |
| Scan scheduling | No | Yes |
| Advanced scan options, including "Hyper Scan" mode | No | Yes |
The only notable drawback is that you need to purchase the Premium plan if you want access to the best features. The free version really only serves as a complimentary tool to your existing antivirus. So the best recommendation is either invest in the Premium version or don't use it at all.
That said, the FOR HOME plan is great for families looking for total protection. You can easily protect all of your devices from online threats with a high-quality antivirus program.
Malwarebytes Ease of Use
Malwarebytes is a very user-friendly program. It's simple enough for novices and has enough advanced controls for highly-skilled users.
Installing Malwarebytes is also incredibly easy. Just open the file, follow the prompts, and that's it. There's no hidden bloatware, sneaky offers, or anything suspicious. The software package is under 250 MB — a surprisingly light program given most other antivirus packages on the market can go up to and above 1 GB.
Installation took under three minutes from download to first opening the dashboard. I didn't need to install any additional components in order to use all of the features.
Here's what I like about the Malwarebytes interface:
The dashboard is easy to follow — you don't get lost searching for a specific setting.

All of the menu options on the left sidebar are clear.

Notifications sent by the software are relevant and not distracting — they will appear as a bell icon on the dashboard.

The chain-linked diagram shows what the program is looking for during a scan.

Windows users can even choose whether or not to show the program's features within context menus in Windows Explorer.
Malwarebytes provides comprehensive support for both private and business users. The company operates an extensive online support area which includes a searchable index of troubleshooting and user guides for each supported platform (Windows, macOS, iOS, and Android).
You can also browse video content for common tasks, such as activating product licenses.
Dedicated Support Program for Ticket Monitoring
The company has a dedicated remote support option called "Malwarebytes Support Tool". This standalone program provides a convenient means for looking up open support tickets and creating new ones without opening your browser or email.
I filled out the support form, and the program immediately gathered logs for me. This all took place before confirming the ticket or providing me with a number.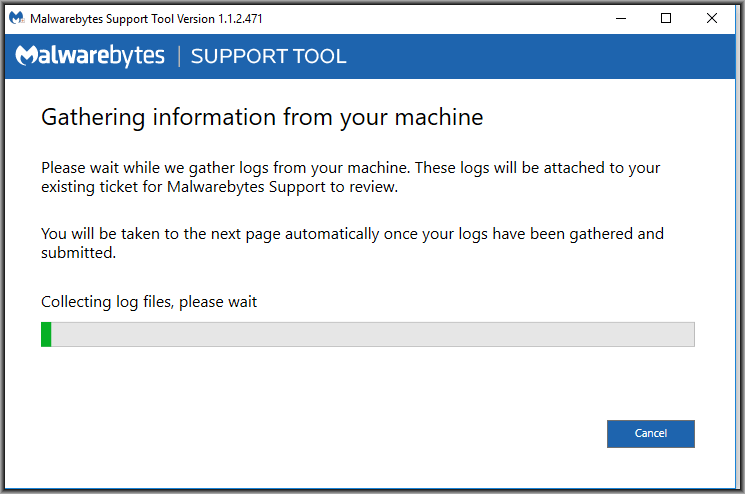 The company provides a user support forum where you can request advice from other users and staff members. You can also start a live chat session. Malwarebytes has offices in California, Estonia, and Ireland, and operates US and EMEA telephone support centers for both sets of business hours.
The support team seems to be very competent. I wanted to know whether newly installed programs are automatically included in the real-time protection scanning (the answer, by the way, is yes), and their response was quick and professional.