Total Security is Kaspersky's leading internet security and antivirus. Unfortunately, its developer is mired in controversy for its close ties to Russian intelligence services. I tested out its features to see whether I can still confidently recommend it for consumers.
Security
Kaspersky includes a very impressive antivirus engine that has earned praise from independent testing laboratories. Likewise, its Android and iOS tools have been highly rated within the mobile antivirus community. Its online banking tool has received a prestigious Browser Security Test rating form MRG Effitas and proven adept at eliminating even the most stubborn forms of malware.
It passed my own mixed virus/malware sample test with flying colors, effectively weeding out a dummy rootkit, trojan, and macro virus. The company has done a good job at making its antivirus and internet security tools available to as wide an audience as possible. Besides Windows, which is backward compatible as far as XP, Kaspersky also has a Mac version as well as tools for Android and iOS.
That may sound impressive, but that's where my praise for Kaspersky's antivirus product ends.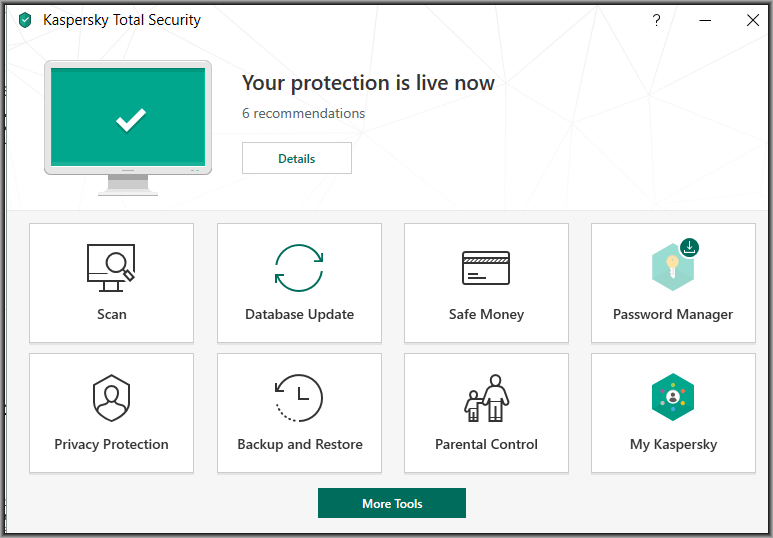 More than 400 million users worldwide have been deceived into trusting Kaspersky—and I strongly recommend that you avoid becoming their next victim. As Israeli cyber-researchers uncovered last year, the Russians have exploited Kaspersky's large user-base to devastating effect. The software appears to prowl through users' files and folders for potentially useful information and then remit its findings back to the company's headquarters. Although the company recently pumped a whopping $12M into a charm offensive that shifted its headquarters from Russia to Switzerland—and even opened a so-called "Transparency Center"—there are plenty of concerns about the company's connections to Russian intelligence that remain unaddressed.
Here's one example of how the company was caught red-handed: One National Security Agency (NSA) employee who had unsecurely stored sensitive work documents on his home computer had them scooped up by the program and sent back to the cloud for the program's Russian controllers to inspect. It was only when the Israeli team notified their American counterparts of the data intrusion that the shocking truth about what Kaspersky really does became apparent. Given these revelations about Russian control over the company, it's also difficult not to see its multi-platform offering and long backward comparability on Windows as anything other than an attempt to cast as wide a net as possible in terms of gathering user data.
Kaspersky Security Network (KSN) – Virus Protection Network Or Intelligence-Gathering Front?
For years, the developer has touted the advantages of its Kaspersky Security Network (KSN), a centralized security analysis center which claims to provide an early warning system for emerging cyberthreats.
In light of the recent revelations surrounding the company, however, KSN may really be a digital front operation for the Russian government where potentially useful user files are assessed. In fact, some tech researchers have gone so far as to speculate that KSN might actually function as a "Google search for sensitive information." For anyone intent on using Kaspersky, I would strongly recommend disabling the KSN feature and with any other setting that remits information to the company. Any setting labeled "reporting" should also be carefully deactivated.
Features
My concerns about the program's true nature notwithstanding, it's difficult to argue with the fact that Kaspersky does provide some very granular scanning options that put a lot of control in the user's hands. I liked the fact that I could choose whether to scan internal or external resources (like a USB drive). Some basic scheduling functionalities also provide users with some control over when to configure the scans to run—however, these were more basic than some other solutions I've investigated.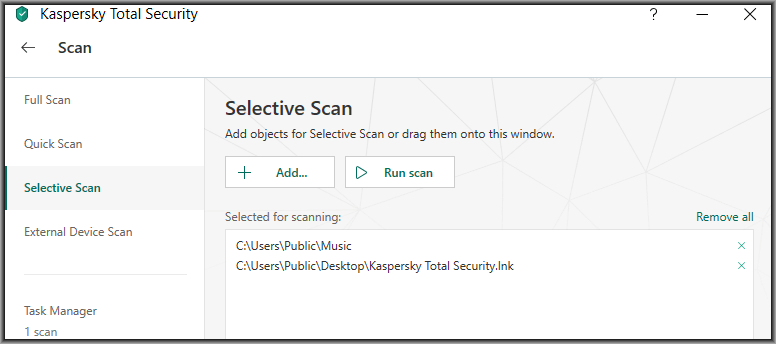 Perhaps I'm being a little paranoid since these features are nice in theory, but I wouldn't be comfortable giving Kaspersky access to anything more than basic system files and default-installed programs. Because of the very legitimate concern that the engine will siphon user data back to the company—and pass that information on to Soviet agents, I chose to disable scanning of all my cloud-connected and external volumes and strongly recommend that any privacy-conscious user do the same.
Other Tools to Avoid: Virtual Keyboard, File Encryption, VPN
Unfortunately, the scanning options are far from the only trap the Russians may have laid for unsuspecting Kaspersky users.
Keylogging detection programs prevent the bad guys from recording and capturing every keystroke—whether virtual or digital. Keyloggers can capture a treasure trove of information including passwords, usernames, and messages typed in any program, so it's vital to avoid them.
While most security suites work by detecting and blocking malicious programs, Kaspersky has chosen to provide a virtual keyboard for users to type on. In case that wasn't clear, this means that the company can effectively digitally eavesdrop on your every online communication. For that reason, although Kaspersky is quick to say it maintains an online database of banking websites—and add that the purpose of the virtual keyboard is to avoid hackers intercepting financial data—I would strongly recommend against enabling this feature.
For the same reason, I would advise against using Total Security's built-in file encryption functionality. The only truly safe form of file encryption is a system that you operate yourself. While Kaspersky may convince some users that its encryption tool secures their files, the company may have provided itself a backdoor decryption key and may be able to decipher users' supposedly secured documents.
Parental Control That Lets the Russians Know What You've Been Up To Online
This is another Kaspersky feature that should be disabled. While the parental control tool contains many common and potentially useful features (such as locking down websites by category and creating whitelists and blacklists), I consider it too risky to use in light of the now well-established connection between Kaspersky and the Russian FSB.
Although many business clients need web filtering as part of their security software, even major banks have stopped enabling this feature of Kaspersky's product. Based on concerns from the UK intelligence agency GCHQ, multinational bank Barclay's has ended its arrangement with Kaspersky—despite the fact that at one time it had provided the software to over 250,000 of its customers.
Why? While web filtering can help protect minors from inappropriate content, this security tool needs access to browser histories in order to generate reports. There's no guarantee that the information will be used strictly for intended purposes.
Don't Trust Kaspersky Secure Connection
Total Security customers also get the Kaspersky Secure Connection VPN. Using a VPN is a good idea whenever you're connecting to a network that may be unsecure like a public WiFI hotspot, but I cannot recommend using this one.
Although VPN traffic is encrypted between the user's computer and the VPN server, the VPN operator does retain the ability to decrypt the connection and read both the packets and DNS requests. Instead, use a reliable third-party tool that isn't operated by a company with suspected connections to Russia. By the way, Kaspersky Secure Connection is limited to just 200MB per day, an insufficient amount for many people.
"Safe" Money, Backup and Restore
Two final components of the suite are Safe Money, which is enabled by default, and Backup and Restore. The first feature works by disabling screenshot tools whenever you use an online banking or e-commerce website, and it provides a dedicated secure browser environment for connecting to these websites. I tested the tool out by accessing a full online banking URLs and found that the feature worked as expected.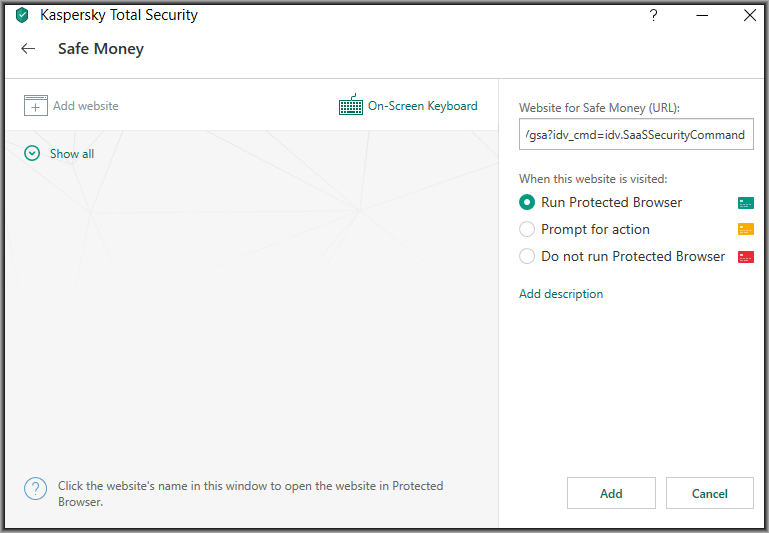 Ease of use
Total Security is not the easiest antivirus solution to install and use. After downloading the large file, I had to manually approve the program through Windows' User Access Control (UAC). Definitions also had to be downloaded following installation. I had to manually initiate the first definitions update, although the UI did display a prompt for this.
Kaspersky also hasn't made the tool rookie-friendly. Although some may appreciate the detailed options provided throughout the program, I often found them to be confusing. When I wanted to test out the data deletion options, for instance, I was given eight different options for which "data deletion method" I wanted to use. Although some users will specifically want the VSITR standard instead of the Bruce Schneier Algorithm, for example, the vast majority of users will be confused.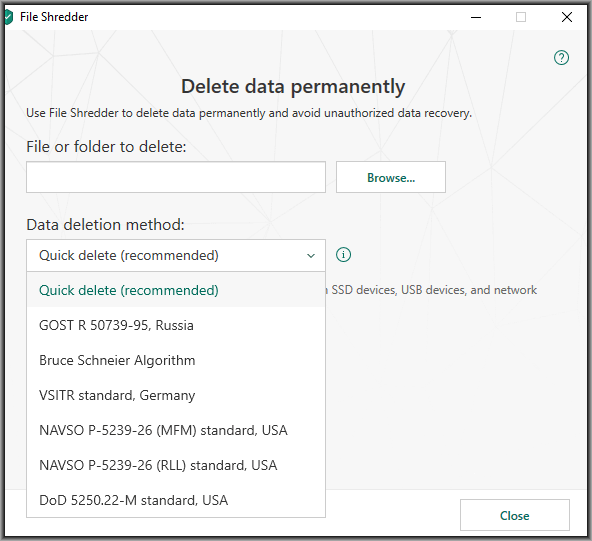 It was also an intrusive piece of software. The "protected browser" feature occasionally popped open without any action on my part, and the notification icon was constantly prompting me to take action. Chrome, Firefox, and Internet Explorer users will face prompts to install the Kaspersky Protection browser extension. This clutters up search result pages with multiple security rankings that the company has assigned to the URLs. This can identify potentially harmful websites before clicking on them, but I prefer when the warning and blocking process takes place in the background.
Finally, Kaspersky Total Security is certainly not the lightest product on the market in terms of its impact on system resources. My system felt noticeably slower running it, and when I checked in Windows Task Manager (without any scans running and with the UI at the dashboard), the program was consuming 5% of my total available CPU. When running a deep scan, the use of RAM and CPU can easily climb beyond 20%. Kaspersky is not the best choice for a computer with older hardware.
Support
While Kaspersky provides a fairly comprehensive array of support options it is a case of quantity, not quality.
Many users have reported difficulty getting the company to offer refunds and comply with simple billing requests. In my own experience, the support representatives did not go the extra mile to address my query about how to configure internal-only scans.
I encountered the same unhelpful attitude from both the live chat and telephone support representatives. Although they did guide me to the correct support resources, they were not willing to engage on a more step-by-step basis. Ticket response times were also on the slow side of the industry average.
In terms of the non-personalized help channels, I also didn't find these particularly helpful. The knowledge-base is full of basic troubleshooting and simple step-by-step guides, but a company of Kaspersky's size could have invested more documentation with better use of multimedia.
Users should also be aware that Kaspersky technicians will sometimes offer to resolve user difficulties through gaining remote access with Teamviewer. In light of the legitimate security concerns raised about the company, I can't recommend this.
Pricing
Kaspersky is one of the most expensive solutions on the market, particularly at the single device level. Although users can save money by opting for the five-device plan, I don't believe that it represents very good value for money.
Its redeeming price feature, though, is the thirty-day free trial, which is certainly one of the more generous periods on the market. Given that there are large parts of the software to avoid (including money protection, parental control, and password management), most users will find better value for money elsewhere.