Bitdefender's lineup impressed me, with even the Antivirus Free being a top performer in my tests. If you're looking for a strong and flexible antivirus to match your personal preferences, Bitdefender has the features and the customizability you're looking for. Bitdefender's Internet Security also gives you several levels of protection against ransomware attacks and can even prevent your webcam from being taken over. Although I would have liked to see some additional features like a VPN included, I was happy to see Bitdefender does give you some great perks. The company's scans are still the fastest and most thorough, and they don't impact your PC's performance, so you can always be safe.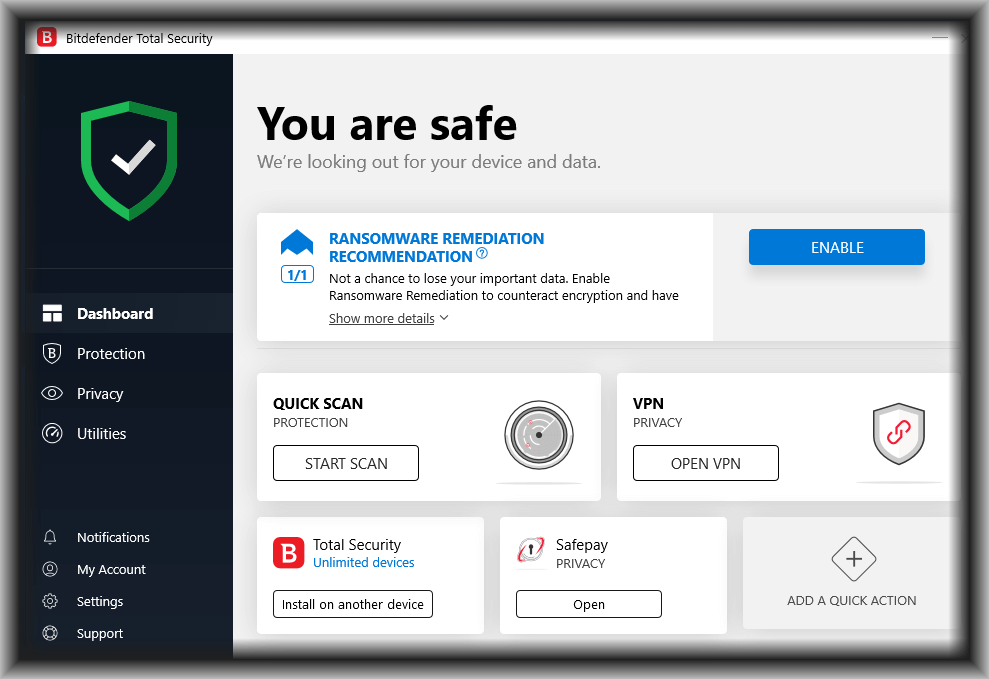 Security
I found that the core of Bitdefender's antivirus is its powerful engine for scanning files. When you install it, Bitdefender continuously scans your computer for any suspicious files that match a list of threats the company updates almost daily. These powerful scans are available on all of Bitdefender's products, even the free version. If you're in a rush, then Bitdefender's powerful scans are ideal, as they clocked some of the fastest times I've seen for antiviruses.
Excellent Behavior Scans
Another feature I really like is the company's behavior scans, which checks your computer and files to make sure they're not acting fishy.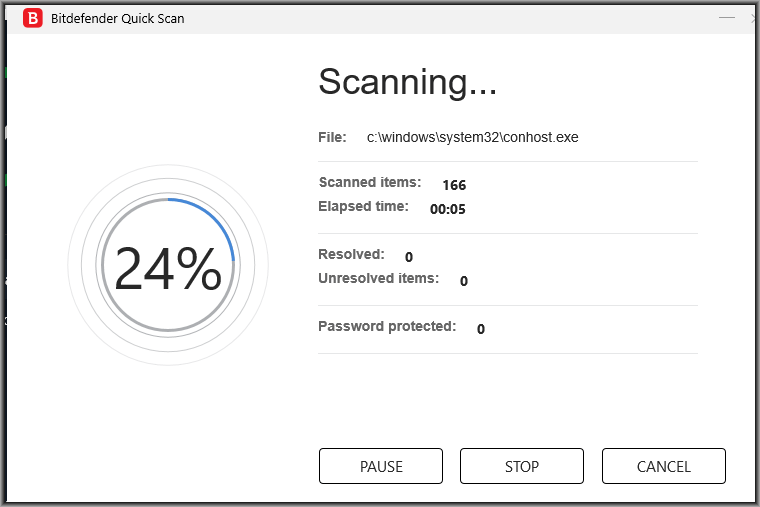 This is different from most scans that just look at what's in files, which is not always a great clue that they're malware. These scans also give Bitdefender a great extra layer of protection that stops any attacks on your computer before they become serious. If you have any files that you definitely can't afford to lose, you can put them in Bitdefender's Safe File digital vault, which encrypts them and prevents any changes to the files. Even better, it's available both in the free antivirus option and the company's Internet Security subscription. To make changes to vaulted files, I had to give permission and then remove them from their storage.
External Protection
If you're constantly connecting external hard drives, USB drives, and other devices to your PC, you'll also like Bitdefender's scans of hardware, which check any new device you connect to and make sure they're safe and clean. You can even do this manually by moving the device's icon into the space highlighted on your computer's desktop.
Protects Your Privacy
I'm also usually concerned about my privacy when I browse the web, so I was happy to find Bitdefender's privacy tools that used to be exclusive to major names such as Kaspersky. My favorite feature is the company's webcam filter, which is becoming an increasingly way for hackers to steal your identity. By blocking your webcam from being hacked, you can rest easy knowing no one is snooping on you.
Features
Scanners That Find Virtually Every Virus
I was impressed with how thorough Bitdefender's scanning tools are for PC users. The company has been constantly dinged by Mac reviewers who claim the scanner is not as effective for Mac Malware though most testing labs disagree with that. Even so, the company's PC scanners look both at what's inside a file and how that file acts. Because malware is good at hiding in seemingly safe files, it's important to scan what it does as much as what it's made of. The antivirus keeps an ever-growing list of known viruses and malware and can always react instantly if it finds something shady on your PC. I was also happy to see the company's performance is on the same level as other major names. Most importantly, I was surprised that the company's powerful scans barely affected my computer's performance.
SafePay Boosts Your Confidence When Shopping Online
Shopping online is a part of everyday life now, but it's also a dangerous activity if you're not careful. Bitdefender understands that and added a great tool with their SafePay browser which lets users visit their favorite banking and shopping websites safely. I wish SafePay was open for general browsing, but the portal is currently exclusive for shopping and banking. Even so, it was great to see a virtual keyboard pop up when I tried to log in to my accounts. This may seem silly, but it helps prevent keyloggers—malware that detects which keys you type to steal your passwords—from learning your secrets and keeps you safe. SafePay also blocks browser extensions from working, which can install themselves without you knowing and affect your performance. More importantly, it doesn't let you access unsecured websites (those that don't start with HTTPS).
The Password Manager is a Bank for Your Credentials
Visiting multiple websites every day means you probably have several passwords and logins. Keeping track of all of them and keeping them safe without writing them down is hard. Bitdefender's great Password Manager lets you store all your login details in a single place and gives you a pop-up when you want to pay online and access accounts to log in with a single click. You can also choose a master password to keep all your details locked away and your vault safe from hackers.
AutoPilot Keeps Pace with Your PC
One feature Bitdefender includes that many competitors don't is its excellent Autopilot tool. Autopilot constantly scans your PC to measure how it's performing and will adjust its defenses to match it. When you add specific applications that you know are safe to its White List, Autopilot works even faster.
Quick Risk Checker Lets You Browse Confidently
If you don't have time to run a full scan, which I usually don't, Bitdefender offers its Quick Risk Checker. This great little utility runs a super-fast version of a scan that checks files, internet connections, and more, in less than a minute in my case.
Keep Prying Eyes Away with Webcam filter
To prevent hackers and other prying eyes from seeing what I'm doing on my PC, I usually resort to placing tape on my webcam. I was excited to learn that Bitdefender includes a Webcam filter that protects your camera from being taken over. This includes any programs on your computer that want to use your webcam. You can choose which programs have access, and block those you don't want.
Safe Files and File Shredder for "Your Eyes Only"
Sometimes, I don't want any program to see my most important files, or even scan them. In these cases, it's nice to keep them somewhere secure, so I love Bitdefender's Safe Files. When you put any file into this folder, they can't be changed or even read by any program without your permission. When you want to make sure your files are fully erased from your PC, you can delete them with the File Shredder. This removes any trace of the files from your computer permanently.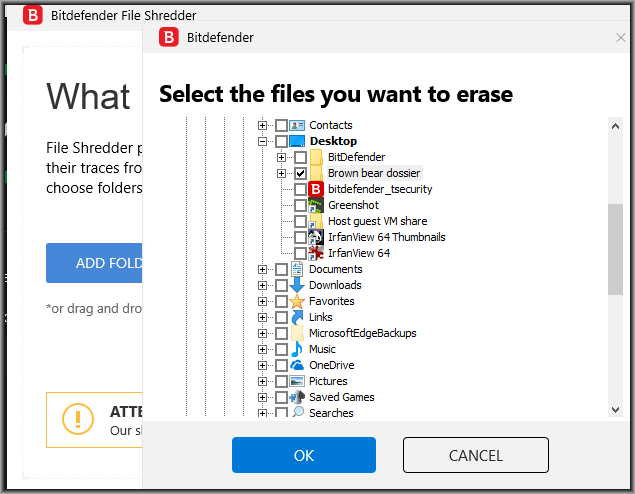 Ease of use
One of my favorite things about Bitdefender is how easy it was to use, and how quickly I learned the whole system. The antivirus' features are straightforward and simple to find, and you can customize several settings to maximize your security. You can add safe programs and websites to your whitelist, change your scan settings, and more. I did find that some screens were a bit cluttered, which wasn't a major problem but a little annoying. If you use several Bitdefender tools, you may find your desktop getting a little crowded.
Even so, Bitdefender is great at sorting their tools conveniently and keeping them out of sight. When I set up the Password Manager, I had to create my password and finalize my settings. Once I completed that, however, I never had to find it again, as it works automatically when I attempt to log in to a website. The company mostly offers PC tools, but I was pleased with their Antivirus for Mac, which has similar features to the Antivirus Plus subscription.
Support
I found that while I did have some questions and small issues when I used Bitdefender, there were few answers I needed to find from a support agent. The company's website has a great collection of articles, guides, and other information about most of the common issues users have. I didn't have any problems fixing most problems, but when I did, I was happy to see the company's support team is available by email, phone, and even live chat. However, Antivirus Free users don't have the phone option.
I was pleased with how well the company's support team operates. They answered all my questions quickly and effectively and were very professional. Even for non-users, you can still download many of the company's tools for no charge.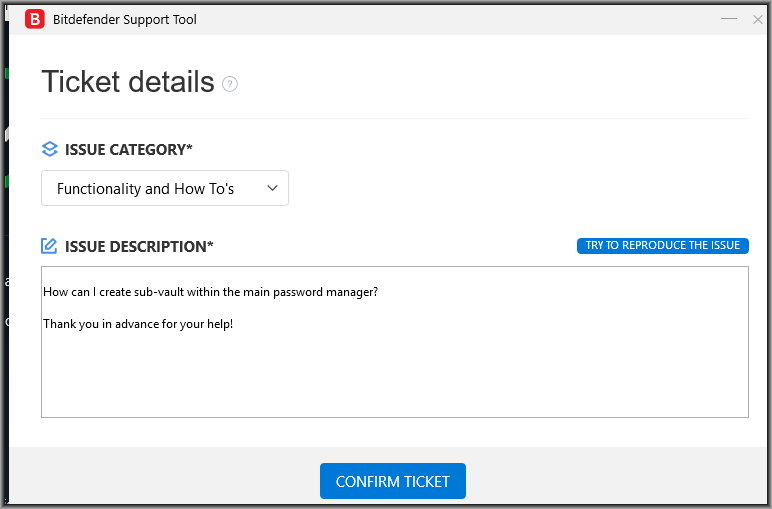 Pricing
I recommend that first-time antivirus users check out the Free Edition of Bitdefender before subscribing to a more advanced package. This will teach you how to do the most basic scans, but it's missing the more worthwhile features of the Antivirus Plus and Internet Security packages. If you want a few more features, the Antivirus Plus package is reasonably priced and lets you protect more than one device. You also get free phone support around the clock and the company's private tools.
The Internet Security plan is slightly more expensive, but it adds the Webcam Filter tool, a parental control utility, and a stronger firewall. If you have more than one PC in your house and want to keep your family protected, this is likely your best option. It's worth it to keep in mind that Bitdefender automatically renews your subscription once a year and charges your credit card for the same subscription you chose originally. You can always cancel it at any time, but it can be hard to remember at times.