What We Like:
A solid free plan.

Malware, ransomware, and anti-phishing protection.

Light system impact.

Very easy to use.

Excellent customer support.

Praised by independent testers such as AV-Comparatives and AV-Test.

30-day free trial of all Bitdefender Premium plans.
What We Don't Like:
Most plans designed specifically for newer Windows OS.

Doesn't support Windows XP or Vista.

Full system scans can be slow, although run in the background.
Try One of Bitdefender's Premium Plans FREE!
Bitdefender's Security and Protection
All of Bitdefender's antivirus products use the same technology, meaning that you get identical core protection on every plan.
Bitdefender keeps an ever-growing list of known viruses and malware and can react instantly if it finds something potentially harmful on your PC.
User browsing history and other activities are gathered alongside potentially dangerous files, although you can opt-out of this data collection if it makes you uneasy. Regardless of your decision, you'll still receive malware signature updates.
Because malware is good at hiding in seemingly safe files, it's important to scan what it does as much as what it's made of. Bitdefender's file scanner looks both at what's inside a file and also the file's behavior.
Safe Files — another feature that provides total security — protects essential folders and files from malware by encrypting them and preventing any changes. To make changes to vaulted files, I just gave permission and then took the files back out of storage.
Additionally, a behavior monitor stops ransomware from encrypting files. Also, the program's Ransomware Remediation backs up targeted files as soon as the program detects ransomware behavior.
Bitdefender's phishing detection is also worth a mention. The program uses a "Web Shield" — a feature that protects against phishing as well as access to malware and other dangerous sites. Most impressively, Web Shield safeguards all network activities. For example, it will detect dangerous links in a document.
AV-Comparatives, a third-party test lab, approved Bitdefender for anti-phishing protection. Antivirus programs must detect and block at least 85% of phishing URLs without causing false alarms to pass the AV-Comparatives test. Bitdefender blocked as many as 98% of phishing URLs tested.
Reliability
AV-Test, an independent organization that evaluates security software for Windows and Android operating systems, gave Bitdefender a score of 5.5/6.
In a series of tests, Bitdefender detected 100% zero-day malware attacks in May and 98.8% attacks in June. Bitdefender flagged only one harmless app as a potential threat in May and two in June (the industry average is three).
Over the same period, Norton Security received a perfect score of 6/6, registering three false-positives in May and zero false-positives in June. Microsoft and Kaspersky also delivered spot-on results with zero false-positives.
AV-Comparatives awarded Bitdefender three out of three stars (Advanced+) in its Real-World Protection Test. At 99.9% and only 2 false-positives, Bitdefender's protection rating is near-perfect.
Only three antivirus programs — Avira, F-Secure, and Kaspersky — received a rating of 100%, but F-Secure racked up 20 false positives (Avira and Kaspersky identified one and zero false positives, respectively).
In SE Labs' tests conducted in the first half of 2018, Bitdefender came in 7th out of 13 antivirus products evaluated. Overall, Bitdefender received a rating of 96%, lower than Norton and Kaspersky, but higher than Avira and F-Security.
While Bitdefender detected all malware in SE Labs' tests, it only neutralized several threats instead of blocking them, and it missed a few attacks that you'd see in an advanced surveillance campaign. Overall, however, SE Labs named Bitdefender as one of the most effective antivirus programs on the market.
Check out Bitdefender's premium antivirus software now.
Ease of Use
One of my favorite things about Bitdefender is how easy it is to use. I was able to learn the whole system super quickly.
The antivirus' features are straightforward and simple, and you can customize several settings to maximize your security.
Installation
Before I could download Bitdefender, I had to create a Bitdefender Central Account. That meant handing over my email address. However, that's not unusual — most security companies require that you sign up before the installation process can begin.
Besides, having an account comes with several advantages. For example, I thought that it was pretty neat how I could check up on my device's security status via Bitdefender's web console.
The setup process was quick and smooth and took about five minutes in total. However, it's worth noting that there's no "compatibility mode" with Bitdefender. As such, if you have another security program on your device, you'll more than likely have to remove it before Bitdefender's installation process can begin.
As soon as I launched the antivirus, Bitdefender gave me a quick tour of the program.
Interface
Bitdefender's interface isn't exactly minimalistic. Nonetheless, the program is both user-friendly and informative. The dashboard lets you know whether your device is safe or not in a really intuitive way.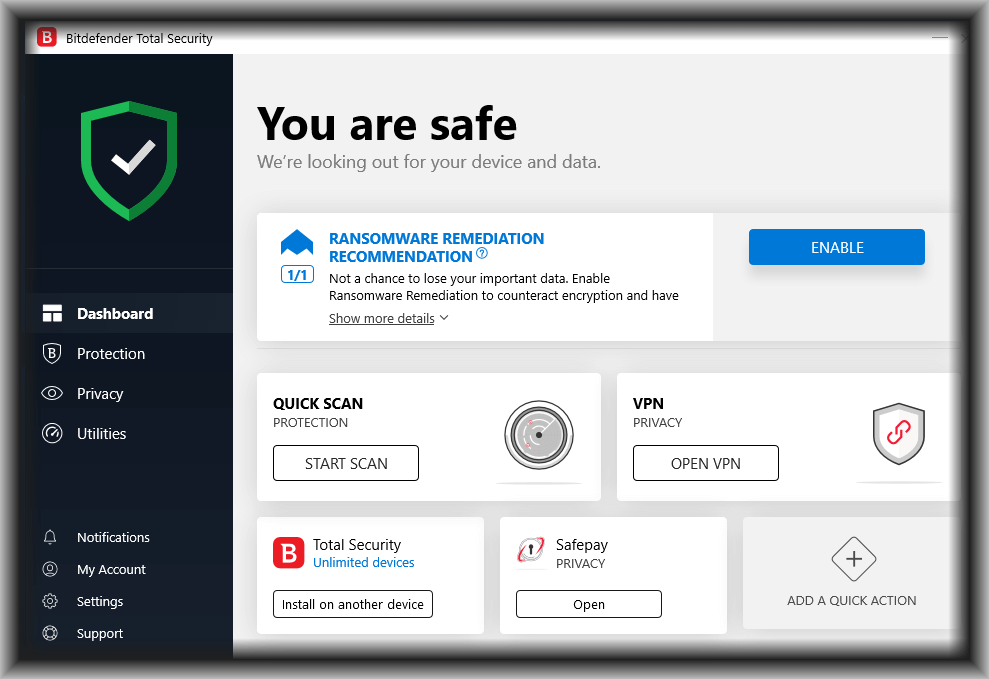 The top half of the dashboard is taken over by "Autopilot Recommendations" or your "personal security advisor". The Autopilot recommends actions you should take to make your device run smoother.
The dashboard also links to the Quick Scan, the Safeway browser, and the VPN. However, you can customize the central console by replacing default options with features that you're more likely to use.
For example, if you want to replace the VPN, you can edit it by clicking on the pencil icon on the right-hand corner. Then, choose another feature in its place.
The exact same can be achieved by selecting Add a Quick Action at the bottom right-hand side of the program, too.
Some of the features that can be added as "Quick Actions" include:
System Scan

Vulnerability Scan

Wallets

File Shredder

Startup Optimized

Disc Cleanup
Note that as soon as you add a new feature to your dashboard via the "Add a Quick Action" button, the button will disappear. That's because you can only have five "Quick Actions" on your home screen at any one time. But these can always be edited using the pencil icon.
The Protection tab on the left brings you to features such as the Full Scan, Firewall, Anti-Spam, and Safe Files. On the other hand, the Password Manager, Parental Add-Ons, and Anti-Tracker can be found under the Privacy tab. When you want to make your device run faster, go to the Utilities tab and work with the options there.
If you want to access more advanced settings, you'll find them under the Settings tab at the bottom of the program. For example, it's in "Settings" that you can turn off Bitdefender's marketing notifications.
Overall, the interface is simple to navigate. Even a complete novice will be able to make sense of the program. That said, I did find that some screens were a bit cluttered, which wasn't a major problem, but it was a little annoying.
If you use several Bitdefender tools, you may find your desktop getting a little crowded. Even so, Bitdefender is great at sorting their tools in a convenient way and keeping them out of sight.
Get protected with Bitdefender now.
Scanning Options
I found that the core of Bitdefender's antivirus is its powerful engine for scanning files.
When you install it, Bitdefender continuously scans your computer for any suspicious files that the company compares against a list of daily updated security threats. These powerful scans are available on all of Bitdefender's products, even the free version.
Another feature I really like is the company's behavior scans, which check your PC's files to make sure they're not acting fishy. If they are, Bitdefender blocks them as fast as possible, killing even as of yet undiscovered ransomware.
If you're constantly connecting external hard drives, USB drives, and other devices to your computer, you'll also like Bitdefender's hardware scans. These scans check any new device you connect to, making sure it's all safe.
If you don't have time to run a full scan, which I usually don't, Bitdefender offers a Quick Scan. This great little utility runs a super-fast version of a scan that checks files, internet connections, and other typical things which could cause problems. In my case, this scan was started and completed in less than a minute, although it takes longer when you run it for the first time.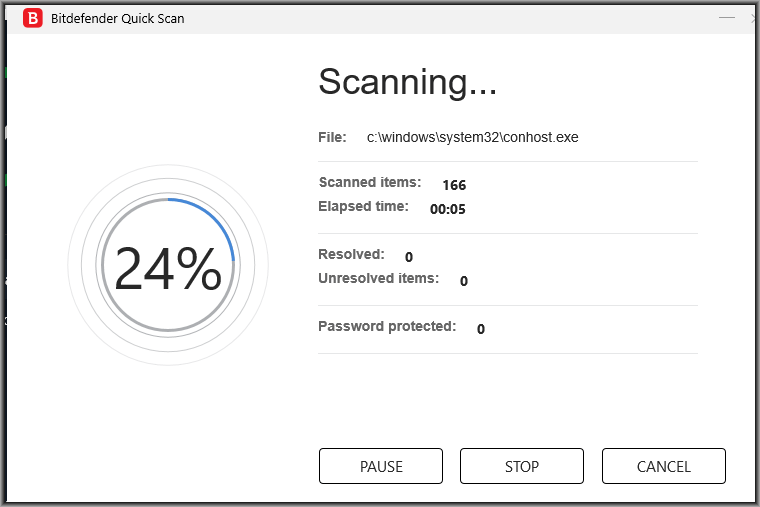 There's also a vulnerability scanner that checks your device for various types of vulnerabilities, whether operating system vulnerabilities or network connection ones. The latter two are found by Bitdefender's Wi-Fi Security Advisor, a feature that gives you a security verdict on all of your wireless networks.
You can schedule scans, too, which is handy if you spend most of your waking hours on your computer. Use the Manage Scans tool to arrange for the antivirus to run at night or when you're away from home. This tool also gives you the option to create new scan types, making it easy to check specific folders and files.
The really cool thing about Bitdefender is that it allows you to run multiple scans simultaneously. Even if a full system scan is in progress, you can nonetheless launch an on-demand scan of anything suspicious, such as a recent download.
On the other hand, if you have password-protected files on your PC, Bitdefender is going to disappoint you. While you can press Skip in the scan window whenever the scan engine bothers you about a password-protected folder, this will only work for the current scan.
Excluding specific files from future scans isn't going to work either. The scan log doesn't provide names of password-protected files you've chosen to ignore. Manually noting the name of the file and excluding it as the scan proceeds is your only option.
Bitdefender's Notable Features
Webcam Filter
I was happy to find Bitdefender is now including privacy features that used to be exclusive to major names such as Kaspersky.
My favorite feature is the Webcam Filter. To prevent hackers and other prying eyes from hacking my webcam and spying on me while I'm using my computer, Bitdefender includes a webcam filter that protects your camera from being taken over.
This also includes privileges given to any programs on your computer that want to use your webcam. You can choose which programs you want to have access and block those you don't want.
SafePay
Bitdefender also understands that online shopping is a part of everyday life now, and they understand it's a dangerous activity if you're not careful. That's why they've added a great tool to help you stay protected while shopping.
The SafePay browser lets users visit their favorite banking and shopping websites with measures that help safeguard against hackers.
It was great to see a virtual keyboard pop up when I tried to log in to my banking accounts. This may seem silly, but it helps prevent keyloggers — malware that detects what you type — from learning your secrets and keeps you safe.
SafePay also blocks browser extensions from working, which can install themselves without you knowing and affect your performance. More importantly, it doesn't let you access unsecured websites (those that don't start with HTTPS).
I kind of wish SafePay was open for general browsing, but the portal is currently only for shopping and banking.
Password Manager
Visiting multiple websites every day means you probably have several passwords and logins to keep track of. But remembering that information and keeping it safe without writing it down is hard.
Bitdefender's amazing Password Manager lets you store all of your login details in a single place. It also safeguards your credit card details and other personal information. You can set up multiple password databases, syncing them across all Bitdefender-protected devices.
While this feature won't replace a dedicated password manager — such as LastPass — it's nonetheless handy if you don't currently have a password manager.
Safe Files
Sometimes, I want my most important files to remain private from certain programs. In these cases, it's nice to keep them somewhere secure. That's why I love Bitdefender's Safe Files function. When you put any file into this folder, it can't be changed or even read by any program without your permission.
And when you want to make sure your files are fully erased from your machine, you can delete them with the File Shredder — permanently removing any trace of the files from your computer.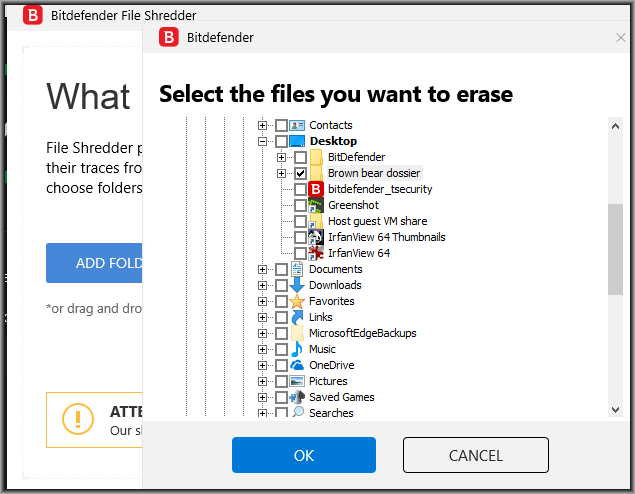 Anti-Tracking Feature
Everytime you browse online, websites collect information about your behavior (such as when they ask you to "accept cookies"). Some do it in an effort to show you more relevant ads whereas others share your activities with other companies. Either way, more often than not, you have no idea that a page is spying on you.
In an effort to protect your online privacy, Bitdefender offers its users an Anti-Tracking extension that detects and blocks intrusive web trackers. By hiding your online activities, Bitdefender's Anti-Tracking feature automatically reduces the amount of time that a website needs to load.
You can learn more about blocked trackers — such as the categories to which they belong — by clicking the extension's icon which is located beside the search bar in your web browser. You can also allow trackers on a specific website or in a particular category.
The extension isn't enabled by default, but you can get it working in no time by going to your plan's settings.
Bitdefender VPN
If like me you often find yourself browsing the internet on a public network, you'll be relieved to learn that Bitdefender gives its users access to a VPN.
Bitdefender VPN — powered by Hotspot Shield — accompanies every Bitdefender product by default. However, unlike Bitdefender's Premium VPN, the free edition only offers 200 MB daily traffic per device. Furthermore, it doesn't give you the option to change your location. The free version is really only good for basic web browsing.
You can add Bitdefender VPN to your package by clicking the "Premium VPN" option at the checkout.
But beware: Bitdefender's Premium VPN is rather expensive, even if it does cover up to five devices. That being said, a one-year plan purchased directly from Hotspot Shield would cost you almost 2x that, so you're still getting a really good deal.
Visit Bitdefender and see how you can stay protected.
Other Features
In addition to the features discussed above, Bitdefender also gets you a mail Spam Filter, which is compatible with Windows Mail (32 bit), Mozilla Thunderbird, Microsoft Outlook 2007 and 2010, and Outlook Express (32 bit).
This add-on allows you to whitelist and blacklist certain addresses, mark emails as "Spam" and "Not Spam" and block messages with Cyrillic or Asian characters.
Beyond that, Bitdefender's new Microphone Monitor feature alerts you whenever an app accesses your microphone. However, unlike Bitdefender's Webcam Protection, the Microphone Monitor doesn't allow you to block apps with access to your microphone.
Several of Bitdefender's packages (Internet Security and Total Security) come with parental controls that allow you to schedule kids' online access and block questionable sites. Parental controls also give you the option to remove inappropriate content, track device location, and allow kids to check in via Safe Check-In mode.
And some of Bitdefender's plans are accompanied by an anti-theft add-on. If your device ever gets stolen, this nifty feature will allow you to pinpoint your PC's location and disable it so that no one else can use it.
Bitdefender also comes with Game, Movie, and Work modes. It's always good to know that the program won't disturb you with scans or notifications when you're busy doing something else.
Similarly, Bitdefender's Profile system makes it easy to customize the program's behavior. For example, if you're running low on battery, you can limit background activity. Also, this feature can boost your protection when you connect to an unknown Wi-Fi network.
Finally, Bitdefender's Firewall works as it should, deciding which apps can be allowed safely online, and which can't. If you want, you can tweak Firewall's settings for IP addresses, ports, and more.
Performance
Bitdefender's impact on my system was light, and it didn't put a strain on my device. There was almost no effect on my CPU.
AV-Test gave Bitdefender a score of 6/6 for its performance whereas AV-Comparatives awarded Bitdefender 3/3 stars (Advanced+) in its latest performance tests.
In the latter test, Bitdefender received an impact score of 8.3. The program did worse than other antivirus programs such as Panda (impact score of 6.6), Kaspersky (7.9), and Avast (6.2), but better than Microsoft (27.3), Avira (16.1), and F-Secure (10.4).
Customer Support
While I did have some questions and minor issues using Bitdefender, there were few answers I needed to get from a support agent. The company's website has a vast collection of articles, guides, and other information about most of the common issues users have.
But when I did require help, I was happy to see the company's support team is available by email, phone, and live chat.
I was pleased with how well the company's support team operated. They answered all my questions quickly and effectively, and they were very professional. However, neither 24/7 customer care nor phone support is available to users on the free plan.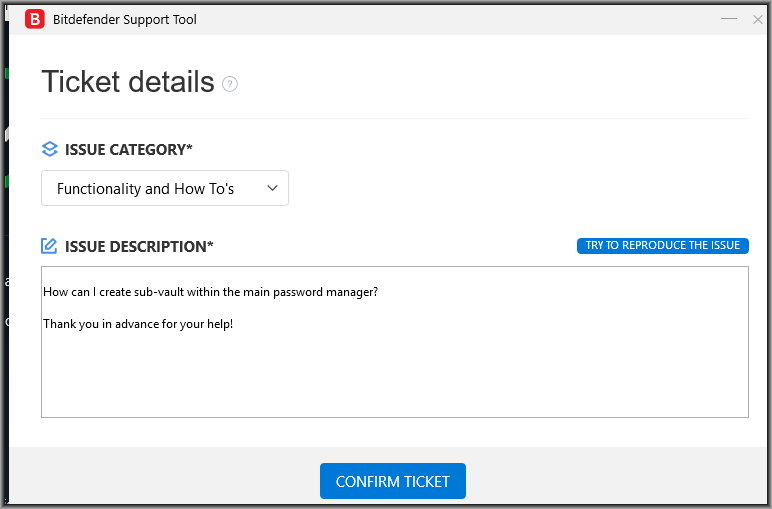 Bitdefender's Plans
Bitdefender offers a wide variety of antivirus plans, including a completely free version of its product. Below we take a look at Bitdefender's numerous home solutions. However, this antivirus provider also offers many business products suitable for small and medium organizations as well as larger enterprises.
Practically all of Bitdefender's premium plans are available as a 30-day free trial. To check out this offer, head on over to Bitdefender's site, choose the plan you want to try out, and create an account.
When purchasing a plan, you can pick how many devices you want to protect. The more devices you choose, the more you'll end up paying.
Similarly, with any plan you select, you can also add on a premium VPN or an Install & Set Up package. The latter allows you to sit back as Bitdefender's engineers configure the antivirus on your device via a secure remote connection.
Bitdefender's products support Windows 7 with Service Pack 1, 8, 8.1, and 10. Unfortunately, Bitdefender no longer offers Internet Security for XP and Vista.
Bitdefender additional licenses require at least macOS X Yosemite (10.10) or later, Android 4.1 or later, or iOS 11. 2 or later to operate. While the versions available for other operating systems aren't anywhere near as powerful, they nonetheless provide the functionality you'd expect from a security program.
Overall, Bitdefender's packages are slightly more expensive than those offered by competitors such as Kaspersky and Panda. However, Bitdefender is known for its generous discounts.
One thing to note when purchasing Bitdefender is that auto-renewal is turned on by default. If you're not sure whether or not you'll want to stick with the company in the future, click on the grey 'auto-renewal' link to turn it off.
Bitdefender Free
Bitdefender Antivirus Free Edition performs essential antivirus functions such as detecting and preventing malware infection. As the most basic version of Bitdefender, this plan lacks advanced features.
However, this lack of complexity is not necessarily a bad thing. As soon as you set up this program, you can forget all about it since it'll perform all of the essential functions for you.
Nonetheless, if you're looking for slightly more control, you can always download some of Bitdefender's free add-ons from the company's website or upgrade to a premium version.
I recommend that first-time antivirus users start with the free version of Bitdefender before subscribing to an advanced plan. This will teach you how to perform some of the more basic operations.
Bitdefender Antivirus Plus
A starter antivirus package, Bitdefender Antivirus Plus provides not only the essentials but also quite a few extras too. Most of these extras are not available in similarly priced rival products.
Bitdefender Antivirus Plus features include:
Multi-layer ransomware protection.

200 MB of encrypted daily traffic for a VPN.

Password manager.

Online banking protection.

Wi-Fi security advisor.

Social network protection.

Anti-tracker to keep your browsing data private.

Vulnerability assessment detects outdated software.

Game, Movie & Work modes.

File shredder.

Safe Files.

Anti-fraud and anti-phishing protection.

Battery mode saves battery life.

Rescue mode reboots your PC for clean-up.

24/7 support.
Bitdefender Internet Security
Bitdefender Internet Security comes with all of the features mentioned above but also includes extra security add-ons.
These privacy-focused add-ons include:
Privacy firewall.

Anti-spam filter.

Microphone monitor.

Webcam protection.

File encryption creates password protected vaults on your device.

Parental controls.
Bitdefender Total Security
With Bitdefender Total Security, you can protect not only Windows OS, but also devices that run on iOS, Mac OS, and Android.
Much like Bitdefender's Internet Security package, this plan boasts all of the features mentioned above as well as:
Anti-theft tools with remote access from anywhere in the world via Bitdefender Central account.

OneClick Optimizer improves the performance of your devices.
Special Deal: If you're from the US, go here for 50% off the Total Security plan and here if you're from Australia.
Bitdefender Family Pack
Bitdefender Family Pack is identical to the Bitdefender Total Security plan. The only difference is that the Family Pack allows you to protect up to 15 devices per plan.
Bitdefender Antivirus for Mac
Explicitly designed with Mac OS in mind, Bitdefender Antivirus for Mac is relatively similar to Bitdefender Plus, both in terms of the price and the features offered.
This plan detects and protects against both malware targeting Mac OS and threats directed at Windows OS.
Bitdefender Mobile Security for Android/iOS
Bitdefender offers two Mobile Security plans: Mobile Security for Android and Mobile Security for iOS. Both plans are pretty much the same. You can expect a friendly interface and minimal impact on your device's battery life.
Additional features include:
Remote location, locking, and wiping of your device if it gets stolen.

Account privacy makes it easy to check if your accounts have been breached.

Web Shield.

Parental controls.

200 MB of daily traffic for a VPN.

Option to purchase a premium VPN.
Bitdefender Box
The most advanced offering, Bitdefender Box, is essentially a router that protects every device in your household. It can either run alongside your current networking kit or replace it entirely.
The router's 80s.11a/b/g/n/ac AC1900 setup takes care of the WiFi and gives you access to two ports, 1 LAN port, and 1 WAN port. Both ports support Gigabit Ethernet.
This plan gets you a year's subscription for Bitdefender Total Security for unlimited devices and free shipping. The price of the plan goes down after the first year since the company doesn't have to ship you another router.
In addition to gaining access to Bitdefender's Total Security feature set, you'll also get enhanced parental control, including add-ons such as notifications about verbal attacks and inappropriate requests.