Avira is well-loved for its security-first approach to antivirus tools which protects you both online and offline. But did you know that the company's features also include real-time defenses, which protect you from any incoming attacks at any time, as well as strong malware protection? I found that Avira was also excellent at detecting a variety of malware thanks to its massive library of threats and a powerful scanner. Avira even protects you from potentially unwanted applications, which can install themselves on your PC even when you least expect it.
Security
I was really impressed with Avira's security services, and it seems most major testing labs agree with my assessment. The company's antivirus tools, which are focused exclusively on protecting against malware, have top testing scores. It gave three perfect scores for protection, performance, and ease of use. Avira was able to protect all malware attacks it detected. The company also got nearly perfect scores from testing labs, getting a 99.99% rating.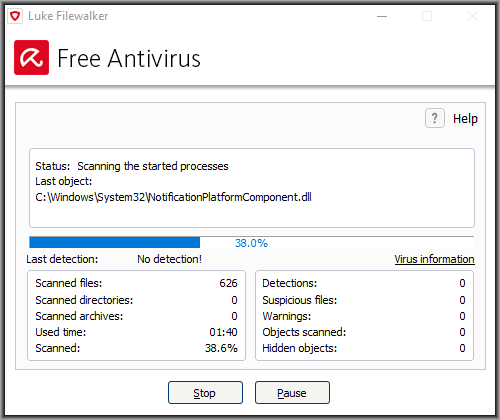 Customizable Scans
While Avira is easy to use if you just want a set-it-and-forget-it antivirus, you can also customize the way the program scans your computer.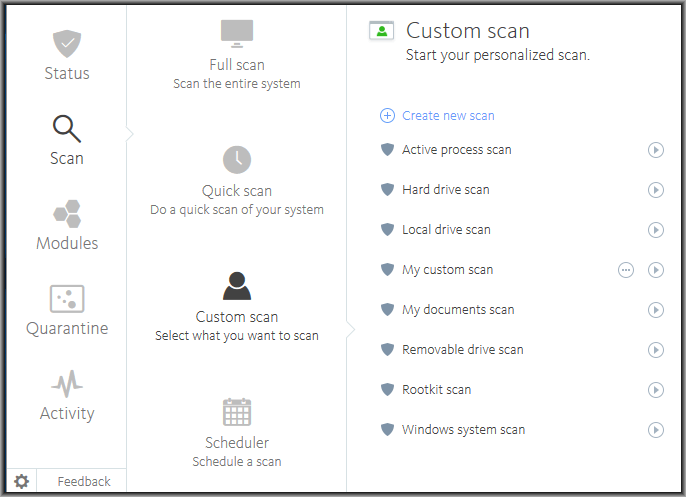 You can choose from full or quick scans, which only look at major files and folders, and you can even look at specific folders you're concerned about. The scans check for any active malware and other viruses that may have infected your PC. While these tools are better if you're confident with computers, I was happy to see the company gives you the option to choose your own security level. I also found that Avira was great at both fighting off malware it found on my computer and preventing new ones from even attacking my PC at all.
Automatic Malware Removal
One other great feature Avira has is that it automatically takes care of any malware it detects, even when you're not running a scan. In some cases, it even found and deleted files before even notifying me. I was even surprised to see that the antivirus can delete malware that is just hiding on your computer, even if it's not active. I was a little unhappy to see the company doesn't have its own firewall, which is important in preventing hackers and malware from reaching your computer, but they do help you optimize your Windows firewall.
Features
Keep Unwanted Apps and Attacks Away
A major advantage of installing Avira on your PC is that it keeps unwanted apps and ransomware out of your files and devices. Avira's anti-ransomware tools keep your files safe from attackers who can hold them hostage in exchange for money. By putting them around a "fenced in" part of your computer, it prevents hackers from finding them. The antivirus is also great at finding other unwanted applications you may have installed and getting rid of them. This includes programs that were hidden in other applications you installed, adware, and other software that snuck into your PC. Avira can even get rid of toolbars and add-ons you may have installed in your web browser. These applications are not as dangerous as malware for your computer, but they can slow it down and make it harder to use. They're also tough to remove, so I was happy Avira was so effective at getting rid of them. Avira also gives you protection from phishing attacks on websites by scanning for shady links, fake websites, and more.
Avira Protects Users' Finances
Aside from blocking phishing attempts, Avira keeps you safe when you're paying for products and services online and when you're checking your finances. The company's payment protections keep you safe from banking trojans, fake shopping carts, and bank websites that have been infected by viruses. This helps you steer clear of websites that are suspicious and preventing you from sharing your credit card and personal details with hackers.
Compare Prices When Shopping
While Avira does away with many of the bells and whistles present in other antivirus suites, I was enthused to discover a price comparison tool in the Antivirus Free version. While it requires the Avira extension for Google Chrome, the tool helps users identify the best prices when shopping online. By comparing prices from different websites and stores around the web, users can easily find the shipping option that meets all their respective criteria.
Real-Time Protection Against Threats You Can't See
Sometimes you may download a file or an attachment without knowing exactly what's inside. This can result in getting infected with malware or other viruses. Avira scans any files in real-time before you open them, and lets you know if it's dangerous or not. If it does detect a threat, it will update its library to make sure you don't get hacked again. This is great because it keeps you safe from malware and other attacks that may still be unknown to security companies.
Keep Your Applications Up to Date
One of the most common ways malware gets into your PC is by taking advantage of software you haven't updated. Software makers always release updates that fix problems in their programs and improve defenses against threats. I was happy to see that Avira scanned all my applications and other areas and downloaded updates for everything that was out of date. This is excellent because, on top of improving your security, updated software also works better since it has newer features and fewer bugs. It's also great if you always have to be the first with the newest features.
Ease of use
Avira recently redesigned its antivirus to make it easier and better to use, and the new design really works great. Installing Avira only took a few minutes after I downloaded the application and started the installation wizard. Once you're done, the main screen will give you a general picture of your computer's health. All of the big categories like Antivirus, Firewall, Web Protection, and more have icons that tell you if they're on and what their status is.
You can check out your different modules in the Module Tabs and see your scan logs in the Activity section. Avira doesn't give you that many options to customize it, the antivirus makes up for it with its sleek and streamlined interface. I was happy to see the program is just as easy to use on Mac, with many of the same tools and screens the PC version has. I was also pleased to see the company offers an app for Android devices, though iOS users are unlucky in this regard.
Support
If you have any problems or just need to find something out about your Avira products, the company's support webpage is a great resource. Avira's knowledge base answers some of the most common questions and problems and even gives you a library of articles and video tutorials that can help you better defend your PC. If you want to learn more about antivirus and possible threats, you can check out the company's Virus Lab, which constantly adds new information about viruses and malware. If you need personal assistance, you can call the company's phone number, or request answers through their email ticket form.
I found that the company was professional and that they were able to answer all my questions and helped solve most of my problems. More importantly, I only waited a few minutes to get help. My email requests were answered within a few work days, and the answers were useful and easy to understand. I would have liked to see a live chat feature to make support quicker, but overall the company has excellent customer support.
Pricing
Avira's Antivirus is free, and it includes their scanning tool, real-time protection against unknown files, and their defenses against potentially unwanted apps. It also includes a great add-on for Chrome browsers that keeps you safe when you're browsing online thanks to a tracking blocker and safe browsing option. The company's Internet Security suite has all the antivirus tools available, and it also adds software updates for your applications. If you're looking for a more affordable solution, you can pay once for the Internet Security option to update your programs and revert to the free version once your computer is up to date. Overall, Avira's prices are competitive and excellent if you're looking for an affordable protection solution.