I'll admit to having some concerns when I began this review. After all, TotalAV isn't McAffee, Symantec, MalwareBytes, or any of the other big names in the world of consumer antivirus. In addition, the application doesn't exactly make itself easy to try. In fact, there are some issues with the way that TotalAV presents its free version, which are frankly going to color the rest of the review.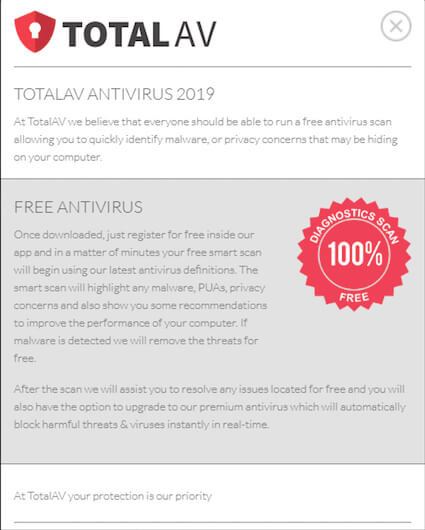 The fine print for the TotalAV free version. Confusing, hard to read, and ultimately inaccurate
On the main TotalAV page, they don't advertise that there's a free version of the program – just a free trial. The second Google result, however, advertises "free antivirus."
Click on that link, and sure enough, you'll find a link to download the program for free. There's also some fine print saying that once you have downloaded the program, you'll get one free AV scan, then you'll have to register the program and presumably start a limited free trial period.
Here's where it starts to get confusing.
Once I opened their website to learn more about their features, pricing tiers, support options, and so on – things that any reasonable consumer might do before deciding to make a purchase – I found that their original homepage had gone.
In its place was this: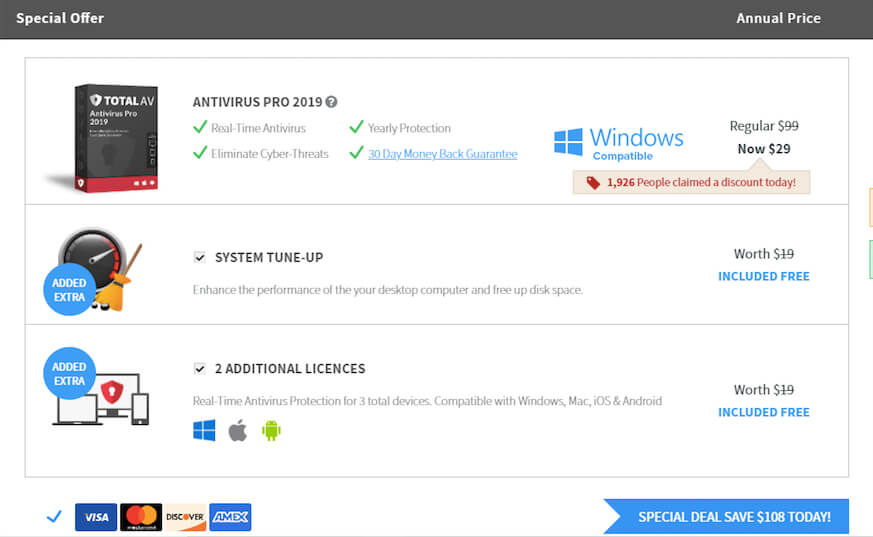 The TotalAV upsell page. Be prepared to see a lot of this
TotalAV apparently redirects anyone who has downloaded their product, but not purchased a full license, to this sales page. Every link I clicked to their original website was redirected to their sales page, and I eventually was forced to open the site in an incognito tab in order to get basic information on their product.
To me, this feels like an invasive tactic, which makes it difficult to do research on the product. In short, was already put off by the company's choices, and I hadn't even begun to review its features.
Security
TotalAV is a white-label of the Avira antivirus engine. That means that they have licensed their primary antivirus detection engine from the German software manufacturer, and then re-skinned the user interface while offering some unique features of their own.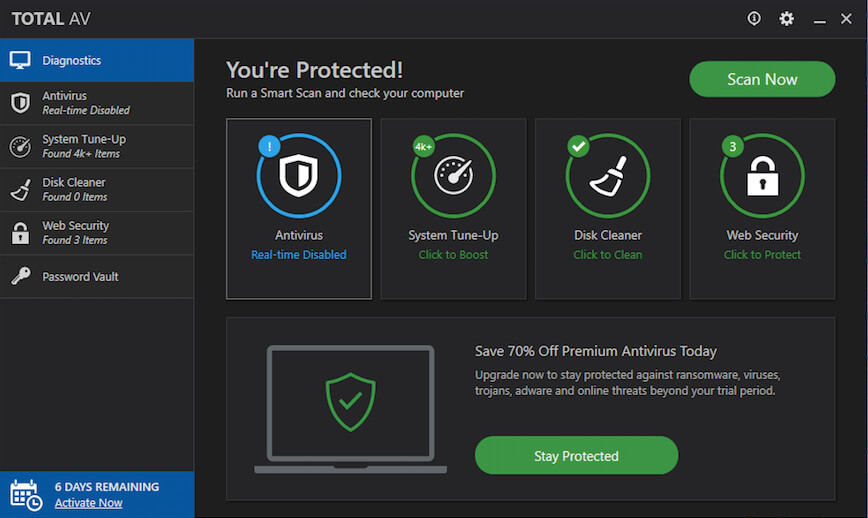 The TotalAV homescreen
Avira is a very well-reviewed and well-known antivirus product – TotalAV is not. The free version of Avira – as well as many other antivirus platforms – offers what's known as "Real-Time Protection." In other words, their antivirus engines will automatically detect malware at every stage of the kill chain: when you download it, when it tries to run, when it tries to communicate with an attacker, and when it tries to execute its payload.
The free version of TotalAV, on the other hand, does not offer Real Time Protection. It only detects malware when you actively run or schedule a scan, meaning that malware has time to run for hours or days on your computer before you're protected. Right off the bat, if your budget for antivirus software is "free," then TotalAV doesn't exactly stack up to other antivirus brands.
Antivirus Results Were Good
First of all, I should note that TotalAV did detect and remove the four EICARS files that comprise a basic antivirus test. However, these tests simply confirm that the antivirus is working, not that it's working well. In addition, a beta version of the antivirus software was able to detect all of the samples on my machine, and independent testing has shown similar levels of accuracy.
Once upgraded to its full version and with Real Time Protection enabled, TotalAV performance achieved parity with other major antivirus brands such as Avira. However, as already noted, you can get real-time protection from those brands for free – you can even get real time protection from the Microsoft Defender software that's build into every copy of Windows 10. What's more, the protection offered by TotalAV was entirely uneven, allowing processes to execute and even partially install themselves before detection, quarantine, and removal.
Lastly, an additional beta feature allows users to choose between a "smart" scan that scans files that are most likely to be infected with malware, versus a full scan that scans every file on your computer. To TotalAV's credit, both scans perform evenly, but the smart scan is both faster and less resource-intensive.
Additional Web Security Features – Too High a Cost?
In addition to its primary function as an antivirus product, TotalAV offers a host of other features. Almost all of them are not directly related to security, but there is a quartet of web security functions. These include:
Safe Browsing (VPN function)
Web Shield (Protection against phishing sites)
Identity Protection (various account security features)
Ad Block Pro
These are actually nice additions!
Safe Browsing – the built-in VPN – is in fact another white label, relying on the Windscribe network of VPN servers. Windscribe is a decent VPN, and TotalAV implements it well. Selecting a server and connecting to it was smooth and easy, and there are a multitude of server locations for a convenient, low-latency experience. It is important to note, however, that this component is not included in the free trial – it can either be purchased separately for $39 per year or bundled with the Pro version of the AV software.
Web Shield is also decent as far as phishing protection is concerned. Phishing protection is distinct from Real Time Protection – the former blocks sites intended to steal your account data via deception, while the latter blocks sites that try to inject malware into your browser. Usefully, phishing protection is bundled with the free version of the software. This feature also blocked 9 out of 10 phishing sites, which beats the built-in protection that you find with browsers such as Chrome.
Identity Protection is… yet another white label, this one powered by Experian. This service purports to scan the entire internet, including the Dark Web, for instances where your credit card or social media number is being sold, your account information has been hacked, or where people are impersonating your identity. In addition, it offers the ability to monitor your children's social media accounts and computer usage. While this list of features is comprehensive, it's also not very competitively priced, costing up to $80 per year.
Finally, TotalAV offers Ad Block Pro, a feature that blocks ads on the internet. This is also a feature that can be purchased as part of a paid bundle, or separately for $24 per year. In testing, however, it's unclear whether this feature offers improved performance compared to any number of free ad-block programs which are already available.
To summarize, these additional security features seem to work fine – at least to the extent to which it's practical to test them – but there are still severe caveats. Namely, you can find most of these features as part of standalone security products which work just as well, and which are usually free or at least lower-priced than these offerings.
Features
Lastly, TotalAV offers a suite of features that are related more to one's digital quality-of-life, as opposed to benefiting one's security. Unlike the primary security features on offer, these features are bundled with the free version of Total AV. In addition, testing indicates that they work well and do a thorough job. Together, these programs perform a function similar to standalone programs such as CCleaner, which are intended to improve the performance of your desktop or laptop.
The first feature is known as System Tune-Up. System Tune-Up is a basic computer audit that identifies programs which may be slowing down your computer performance. For example, it identifies programs that launch automatically when you start your computer. When too many computer programs start at once when you boot your computer, it will take longer for your computer to boot.
The computer I'm testing on is fairly new, which means that there aren't a great deal of programs installed. With that said, System Tune-Up was able to identify all 5 startup programs on my system. Another feature was able to identify all the programs currently installed on my computer and pull together a list which would allow me to uninstall them.
Nothing That You Can't Do on Your Own
While these features worked as intended, it's important to note that these features don't represent anything that you couldn't do with your computer already. As detailed in our guide to removing unwanted programs, you can easily use your Task Manager and your Control Panel to view and audit your installed and startup programs. System Tune-Up doesn't offer any usability improvements over features that are already built-in to your computer – for instance, they don't contextualize whether a currently-installed program is malware, bloatware, or a vital computer driver.
Lastly for System Tune-Up, this feature offers a browser manager. Again, this works as intended – it scans your installed browsers, scans your history entries and cookies, and gives you a list for review. You can then clear these entries if you feel they're slowing down your browser performance.
Once again, this feature doesn't give you anything to do that your browser can't do already. In fact, your browser will usually give you an option to clear your cookies and your browser history separately. TotalAV does not.
In terms of quality-of-life features, TotalAV also offers a second option known as Junk Cleanup. This feature identifies files that are doing nothing but taking up space on your hard drive. This, for example, includes copies of files that are the same in every respect except for their names. Computer users often end up with duplicate files of this nature, and it's difficult to find them once they end up this way.
In addition, uninstalled programs often leave behind large chunks of files that are no longer useful. You can't find them by using the Task Manager – they're just large chunks of inert data that clog your hard drive. Some unnecessary files include Windows Update files, recycle bin contents, error reporting logs, and more. Junk Cleanup handily finds these and deletes them.
To summarize, these features are good – they perform useful functions and work as intended. What they don't do, however, is justify the utility of TotalAV as an antivirus product. Although TotalAV makes it easier to clean up your computer, it is barely more difficult to do these things on your own. For more significant computer-cleaning tasks, free programs such as CCleaner do the job just as well if not better – and they don't come attached to a substandard virus detection offering.
Ease of use
TotalAV has a decent user interface featuring a dark gray and green color palette that's easy on the eyes, and a straightforward, user-friendly navigation menu. Four big tiles lead to the four primary functions of the application – Antivirus, System Tune-Up, Disk Cleaner, and Web Security. Clicking on a tile brings you to another submenu that highlights various functions in another system of tiles.
All-in-all, this configuration is decent – if you aren't a tech-savvy user, you'll still be able to grasp the important functions of the application and use them.
Power users will also be somewhat satisfied. I'll say that since the free version of the application doesn't offer real-time protection, it would be nice if you could at least schedule a scan once a day in order to achieve an approximation of security, but the task scheduler only lets you schedule scans on daily intervals. With that said, security veterans may appreciate the option to customize Real Time Protection settings, such as excluding certain tasks or only scanning certain file types.
Too Many Pop-ups Prompting User to Upgrade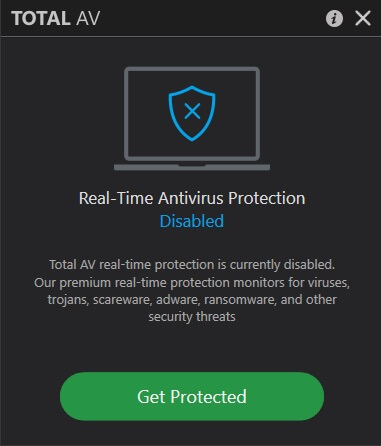 One of many, many system tray ads
The free version of the application is heavy on the upsell. Every time you complete a task within the application, it pops open a new browser window that prompts the user to purchase the full version. Roughly one-third of the application screen is taken up by a similar ad, and the program also produces giant pop-up ads from the system tray. Overall, I felt the program included too many prompts to upgrade to the paid version.
Support
TotalAV offers decently responsive support with a wide menu of options to get in touch. Email, live chat, and even telephone support are on offer. Phone support is very welcome – I enjoy talking to a real human when it comes time to escalate an issue – but true 24/7 support is only available when you upgrade to the Ultimate Antivirus suite.
If you'd prefer not to speak with anyone at all, TotalAV also has a decent knowledgebase on their site, which will help you through the basic mechanics of using the platform. Some upgrade tiers also include a free ebook on information security.
Pricing

The big print giveth, the small print taketh away
As previously mentioned, TotalAV's pricing scheme is somewhat confusing. For example, the "Essential Antivirus 2019" edition advertises itself as being initially available at a very low cost per year.
Here's the thing: when you get to the bottom of the pricing page, you get this message. "Promotional prices are available to new customers for the initial term only. All services automatically renew at the regular rate using the same payment method, unless you request a change. Prices exclude VAT."
In other words, you get your basic antivirus package for one year a low cost – then you forget about it. A year later, your card gets charged for five times the original amount you paid.