Lookout Security Review: Quick Expert Summary
Lookout has been in the mobile security game for over ten years. "Security & Antivirus" is its Android product, although the program itself is simply branded with the company name. With about one million reviews on the Google Play Store and a 4.5-star average, I was keen to see whether it lived up to the praise.
Security
Lookout divides its "security" tab into apps, web, Wi-Fi, and privacy. The app scanner probes the user's installed apps and will flag any that are known virus, trojans, or other malware.
It took no time to identify the Test Virus app by Itus Mobile Security, and it also flagged Multiple Accounts by Zhuoan Technology as a piece of malware. That program—which allows you to clone popular messaging apps such as WhatsApp and Facebook—has always worked well for me, and after researching it, I believe this was a false positive.
Recently, the company has stopped submitting to independent bench-marking tests. Without this data to go by, it's difficult to know how effective its detection really is. As far as I could tell, only apps (and not the filesystem itself) are being scanned. There's also no option to schedule scans and manually running them is far from ideal.
Speedy VPN But Difficult to Disconnect
The web security module works by setting up a VPN connection that will automatically block known malware and phishing sources. The connection was speedy and reliable and succeeded in blocking access to five known phishing URLs that I tested, providing popup notifications and causing an HTTP error to show within Chrome.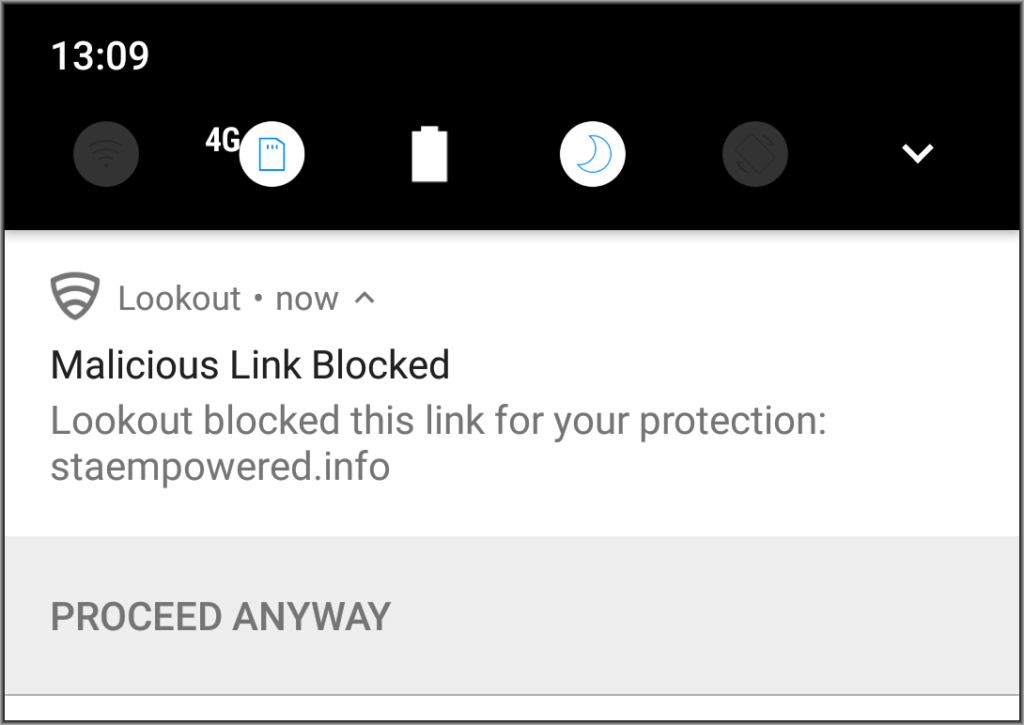 However, the program provided no user-friendly means of disconnecting it, which I found surprising. After trying but failing to find a "disconnect VPN" in the main menus, I had to resort to navigating to my handset's connectivity settings to return to regular, unencrypted browsing. The WiFi tab turned out to do little more than alert me if I was not connected through a VPN—if not, the network was automatically deemed "unsafe," even if it was my home connection—and provide some graphics about the risks of using unsafe connections.
The privacy tab provides a dockable list of which apps have been granted permissions on your handset, such as read/write access on your Google Calendar. After seeing that list of individual apps, you can click into them to see what other permissions they have on your device. Much of this functionality is available within the stock menus, but Lookout has certainly done a nice of job of making the information more presentable.
Features
In addition to its security functions, Lookout includes:
Anti-Theft Protection With Advanced Lock-Down Options
This is an impressive feature with multiple options for remotely locking down the handset in the event of theft or loss. The theft-protection sequence can be triggered for conditions such as SIM card removal, airplane mode being enabled, or even uninstalling the app itself. In the event of detected theft, the program will use all the handset's available cameras to take a photo of the presumptive thief and send them to the email registered on the account.
I tested the program and although it did not succeed in taking a photo from my forward-facing camera, one clear photograph was taken and I received the alert email in a matter of seconds. There's also the ability to remotely lock the device, trigger a screaming sound to embarrass a potential thief, and remotely wipe the system memory to protect sensitive data.
Breach Reports From Around the Mobile Web
Lookout also contains a "Breach Report" screen which aggregates reports of data breaches from a large number of Android apps. If you happen to be running any of those apps, they will be populated under a "your services" screen along with information about any recent data breaches that may have taken place. Although I wasn't affected, I was able to read a report on a Facebook breach that impacted more than 50 million users.
Backup Contacts, Photos, and Call Logs
Finally, Lookout contains a tool to automatically back up contacts, photos, and call logs. Users are able to manually configure which of the three to use, and whether to conduct the backups when connected to WiFi or any mobile network. Given that most Android users are syncing contacts and photos to Google's cloud, this tool may not be helpful for most users.
Ease of use
Lookout is easy to install and navigate. The multiple theft alerts are easy to set up and configure, and the company provides lots of useful information in its various menus. Once registered, users also have access to the online portal where they can activate the remote device triggers and view its location on a world map. Basic device information, such as the carrier, handset model, and IMSI (International Mobile Subscriber Identity) number, is also found there; these are often required to report the theft to law enforcement.
Support
Lookout claims to have the "best mobile security support team in the world," but falls slightly short of that claim with its user resources.
The online knowledge base provides detailed guides to tackle common issues. While the content may lack in visual aids like photos and videos, it links to the company's blog posts that feature clear, step-by-step instructions, complemented by plenty of screenshots.
It took a bit of effort to track down the personalized support channels, which only consist of ticketing support. I received a quick response to my test query, but a live chat system would have been a helpful addition.
Pricing
Lookout follows a freemium model and includes a 14-day free trial for users to evaluate the full product. The Premium tool is available as a monthly or annual subscription, and although I wasn't wowed by many of the features, it represents a fair value for money. Also, it's great that you can easily cancel your subscription and get a refund. The free plan doesn't have the backup function, theft alerts, remote lock and wipe, or VPN ( without which the app is almost useless).