Detailed Expert Review
Sophos Home Premium Antivirus is the top tier program in Sophos' consumer-grade protection series. But do the company's consumer-grade programs match the power and sophistication of its enterprise workstation tools?
Security
When configuring local scanning settings, Sophos Home Premium certainly isn't full of options. There's a "Clean My Computer" button on the home screen which runs a default scan of your files and directories. You can configure exceptions like filetypes and websites and exclude folders from the scanning process, but that's it.
While the options may seem simple (and in some ways, they are), there's a lot more than meets the eye. Sophos has put a lot of the deeper configuration settings on the cloud admin panel which the local program uses as it runs.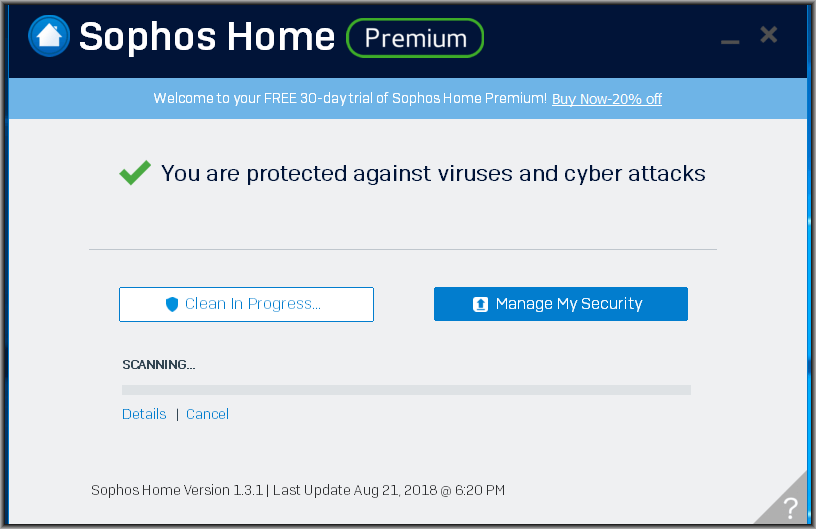 On this dashboard, users can toggle on and off real-time protection which uses behavior-based analysis to detect zero-day threats, malicious traffic detection which detects and blocks programs attempting to connect to malicious servers, and protection against potentially unwanted applications (PUAs) such as junkware.
There's also the option to configure master boot record (MBR) protection which prevents ransomware from interfering with it and protection against ransomware that runs remotely. The local program still lacks some common features such as the ability to run scans on certain folders and remote drives, but there's clearly a lot of enterprise-level protection running behind the scenes.
Unfortunately, the software failed my most basic virus test—using the industry-standard EICAR file—absolutely miserably. After loading the EICAR test virus into a directory, I ran a scan. And guess what? The program completely missed it! If Sophos is incapable of detecting the most basic test virus in the industry, I wouldn't want to know how it would fare against much more sophisticated vectors such as zero-day attacks and rootkits.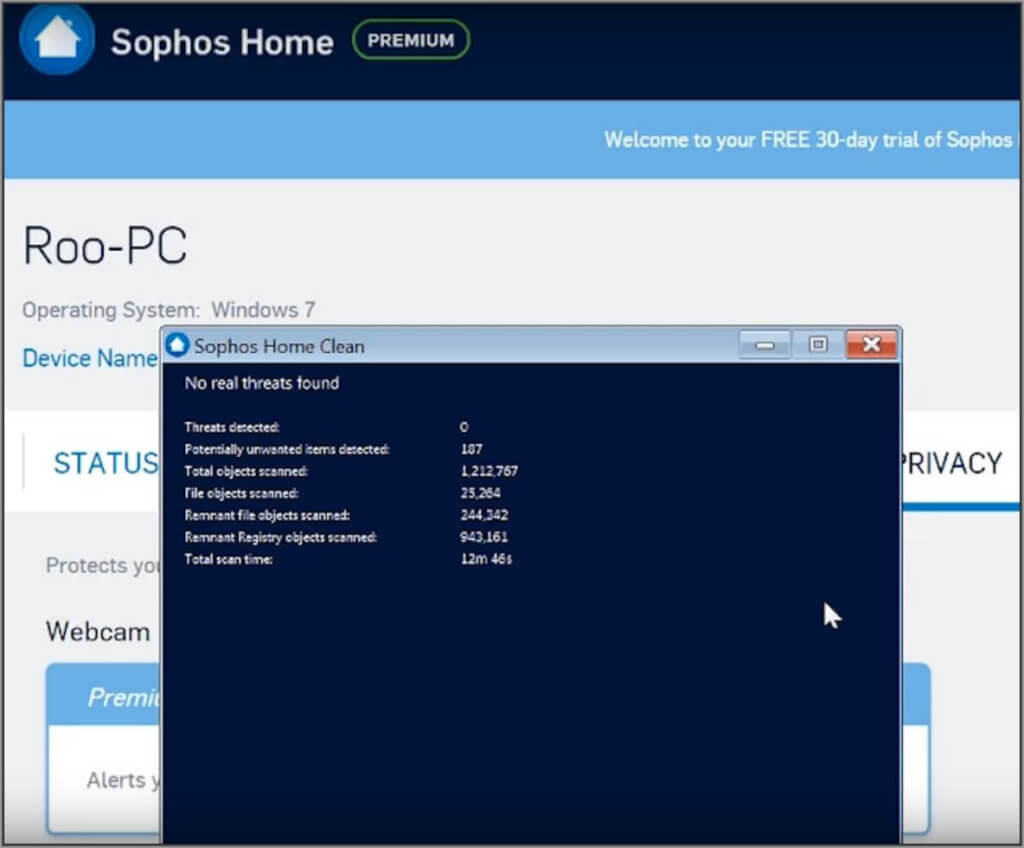 Features
On the internet security side, all settings are configured and updated on the cloud rather than locally. There's a fairly basic web filtering function which lets users allow access to, warn about, or block certain categories of websites. A whitelist can also be set up to automatically allow certain websites. A parental control tools lets users block, or provide access to, certain categories.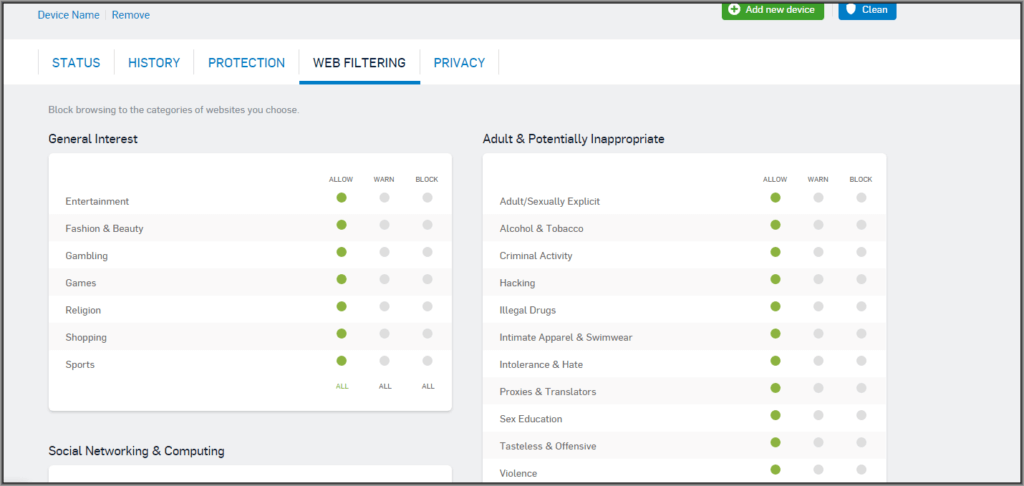 There's also a safe online banking menu with keylogger protection and a safe browsing environment whenever the user logs onto an online banking website. The webcam protection automatically notifies you about any programs or websites attempting to access your webcam.
Finally, users can access an alerts log from the web-based interface to see any threats that the system has been protecting against. To centrally administer a network of computers running the software, adding additional devices or removing some from the management area is as simple as clicking a button.
Ease of use
Downloading and installing Sophos was very straightforward and took me less than five minutes from start to finish. Sophos Home Premium is really a piece of software that lives on the cloud—therefore getting around the local management platform is extremely straightforward (there are four buttons and only page!). Configuring changes to settings on the Sophos website is thankfully also quick and easy. Settings are broken up by function, so everything related to virus protection, website protection, and privacy protection is managed on a separate page.
Support
Sophos has provided a knowledge-base full of useful information on commonly encountered issues. Clicking the "submit a request" button on the support dashboard takes you into the ticketing system. It includes a button for adding attachments, so it's easy to share things like screenshots and logs with the team. Although live chat is provided, it's available from a separate landing page so some users might miss this option. It's not the speediest system I've encountered (when I tested it out, I had to wait five minutes for a queue of two users to clear), but the help I received was otherwise prompt and courteous.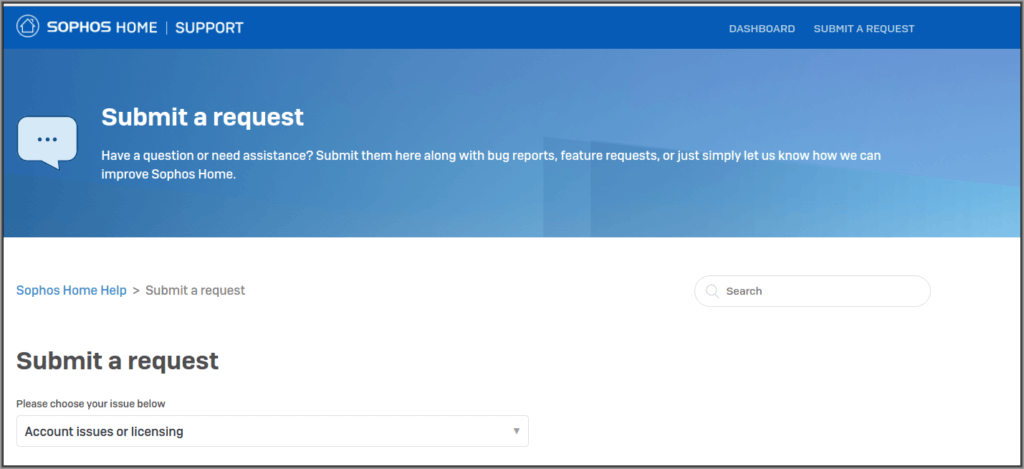 Pricing
Sophos Home Premium is available for a yearly subscription—and it's a bargain when multiple devices are protected. The step-up in protection between the free and premium versions is also quite notable. Premium users get access to advanced ransomware protection, real-time zero-day protection, privacy protection, and customer support.
The best part, however, is that each Home Premium license covers 10 devices. Sophos' specialty is securing large, centrally managed enterprise deployments. Protecting a large family network with multiple computers while managing all settings and devices in one convenient location should consider Premium.