Adaware Review: Quick Expert Summary
Many users may not realize that Adaware Total Security sits at the top of the company's antivirus and internet security product line. Its multi-layered protection and impressive list of additional features include everything from file shredding to advanced network monitoring and download protection – more than most of the competition.
Security
Adaware has received top scores from various independent testing laboratories and its high ratings seem justified. I put together a folder full of known viruses, malware, and adware samples and it successfully identified them during both the quick and full scans.
It was immediately obvious that this is a very comprehensive program. Besides three scanning modes, users are able to tweak the scanning speed to manage impact on system performance.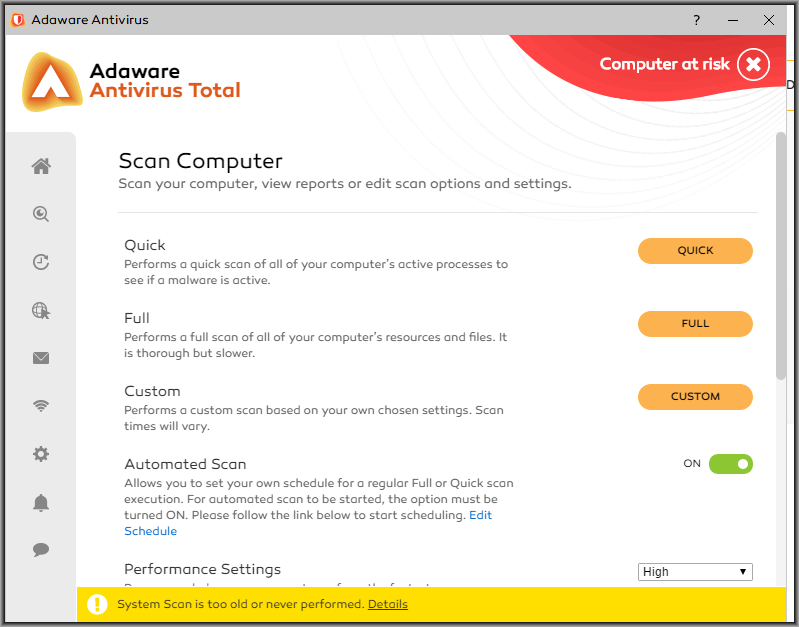 I was doing some pretty processor-intensive work during the review process, so set the performance setting to low and even while running a virtual machine, the performance impact of the full scan was negligible. There's also the ability to configure file and folder exclusions. What I liked about this was that the settings held up for every scan type, including full.
In addition to virus scanning, Adaware's real-time protection uses behavior monitoring to block suspected unknown malware. Although both real-time and web protection require the installation of additional components (and rebooting the system each time), I strongly recommend it. I threw an assortment of phishing URLs into the browser and it flagged every single one. This feature didn't require the installation of any additional browser extensions.
Features
Adaware Total Security's features don't disappoint. The list is long, but these features stood out.
Network Protection: Network protection adds a twist to the way antivirus programs typically handle port and firewall protection. Total Security shows you a list of network adapters from the system hardware and allows you to assign a profile to each one. Users can also configure applications rules which dictate the way programs interact with the internet. There's also a handy button to control port scanning, which is by default set to on. Hackers scan open system ports for vulnerabilities, so I was glad to see this protection automatically enabled.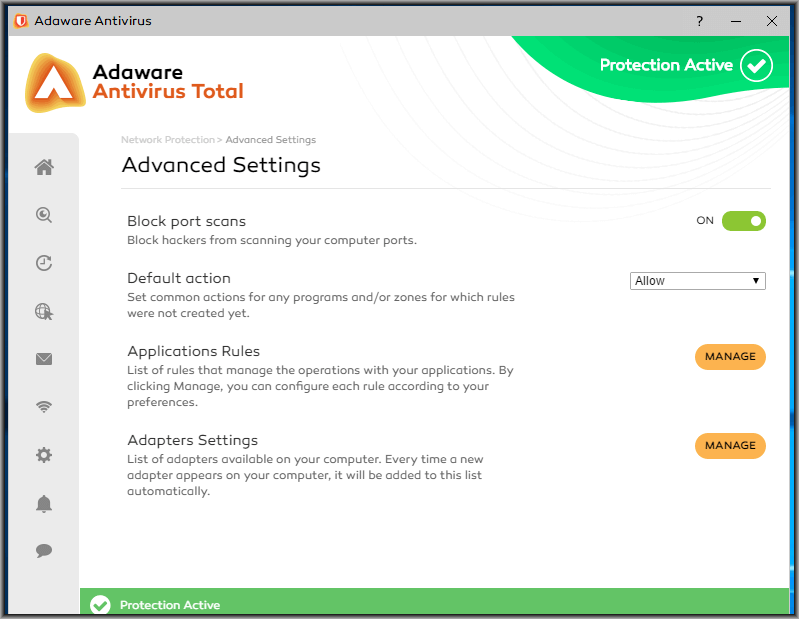 Parental Control: Adaware Total Security also includes parental controls. The system provides handy age-based templates so that you don't have to manually configure categories for each user. Some of the default choices struck me as a little amusing (retirement home options are automatically banned for young adults in the 18-21 age bracket!). It's therefore worth tweaking to make sure they're appropriate for your users or creating your own templates. I didn't see the ability to lock down access by time period, day, or hour, which would have been a useful addition.
Email protection: Adaware includes an email protection tool that integrates with popular desktop email applications. One feature that stood out to me was the ability to create and manage a safe sender list. This allows users to prevent scanning emails from trusted senders, thereby avoiding unnecessary scans.
Ease of use
After purchasing the product, the download process was relatively straightforward. However, the initial definitions download (about 200MB) was quite slow and Adaware's servers weren't the fastest. I also had to put the system through two reboots to install the real-time and web protection components. These components are essential and I would have liked to see them installed from the start.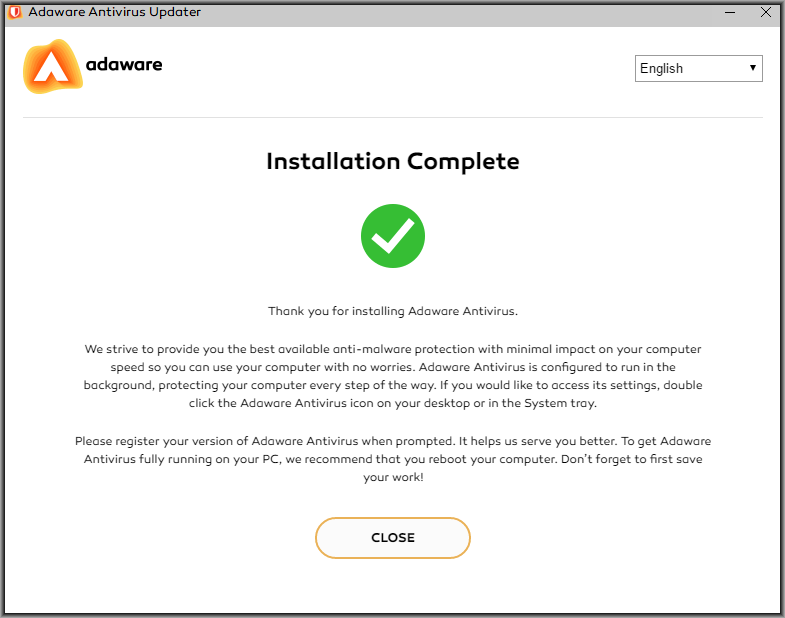 Besides that, the user interface is very well designed and easy to navigate. Features are grouped into areas which can be undocked from the sidebar at the click of a button, and most settings can be toggled on and off by moving a simple slider.
Support
Adaware has some good support options but lacks phone or chat support. What it does have can be found online as well as within the program itself. These include a downloadable PDF manual, an FAQ section, a community forum, and a ticketing system. Despite that, the "contact support" form could be completed from within the product and includes the option to submit your scanning logs. My support ticket got a response in under three hours, which is not the fastest but still a very acceptable response time.
Pricing
Adaware Total Security can be purchased in bulk directly through the website and is priced on a sliding scale—as more device licenses are purchased, the price per device decreases.
The price for even a single device is an exceedingly good value, and if you're purchasing this for a larger install-base, it becomes even more of a bargain. Major credit cards are accepted and there's a 30-day full-refund satisfaction guarantee.