Zone Alarm Review: Quick Expert Summary
Check Point's Zone Alarm family of antivirus solutions promises to take cyberattack protection to the next level and is trusted by over 100 million users worldwide to do so. But do these products' performance match the company's slick marketing efforts?
I put Extreme Security and Pro Antivirus and Firewall through their paces to see whether they really are capable of giving users protection from "all types of cyber attacks" and live up to the glowing coverage that they have received from user reviews. I found out that this is indeed the case.
Security
Extreme Security does indeed sport some impressive features that give users of this product total peace of mind that they are doing everything in their power to keep their PCs running clean.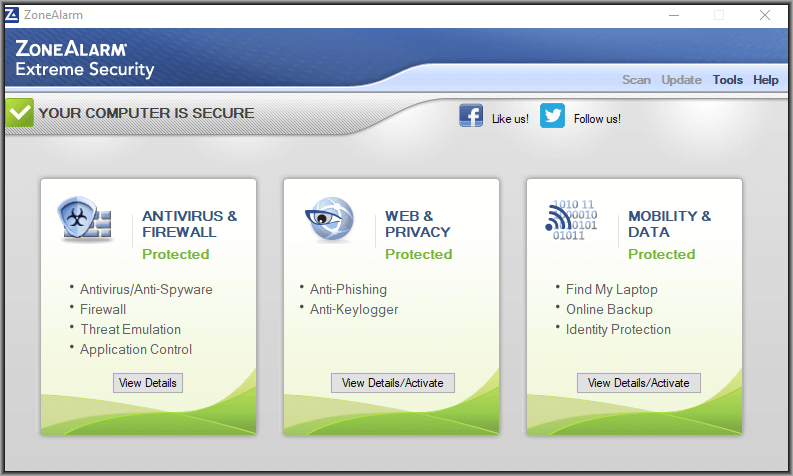 Firstly, Extreme Security offers protection against all zero-day attacks – those emerging cybersecurity threats that target vulnerabilities which haven't even been formally documented yet. This is made possible thanks to the technology's cloud signature database which the system checks in real time.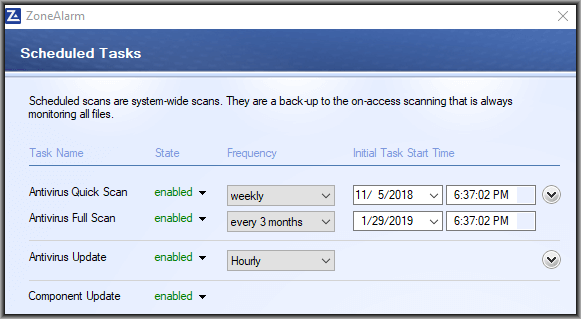 When you're running an antivirus that manages to keep ahead of even the software companies, you know you're on to a winner.
Sandboxing Secures Virus Removal
Extreme Security also features a nice virtual sandboxing environment which allows users to send all email attachments to a virtual machine within their computer where they can be safely quarantined. Once there, the files are scanned against cloud-based virus definitions to ensure that they do not contain any malicious code. This "threat emulation" process follows a rigid four-stage procedure. Any code found to be malicious while being analyzed in the sandbox environment is even immediately relayed to the Zone Alarm network to help protect other users. And it works: I was able to successfully test the sandboxed environment against a dummy piece of malware which the program successfully segregated, scanned, and identified. All that was left for me to do was click a button to delete it from the operating system and bask in the knowledge that I may have kept countless other users safe in the process.
Both products include Zone Alarm's acclaimed antivirus protection which prides itself on the advanced and real-time nature of its protection. Zone Alarm protects against an entire alphabet soup of cybersecurity threats, including viruses, malware, Trojans, worms, and bots – not to mention zero-day attacks.
Kernel Level Scanning for Deep Protection
It's also important to note that Zone Alarm's antivirus programs work at the kernel level of the operating system – which is essentially its most basic element. There are also some nice-to-haves like deeply customizable scan modes and a signature list that updates far quicker than many market competitors.
Running any of this company's products, I would feel very confident about having the best-in-class protection against whatever threats might be waiting to target my Windows machines.
What's particularly notable about the Zone Alarm family's protection (besides its wide nature of threat coverage, of course) is the fact that its definitions are updated in real-time against a cloud database. Thanks to this, and the diligence of the Zone Alarm team, users can have total confidence that they always have protection against even the latest exploits hackers are planning on using to break into unsuspecting users' systems.
A Top-Notch Firewall – From the Inventors!
Extreme Security also comes with an advanced firewall that includes a proprietary technology, OSFirewall, that keeps a close watch for programs trying to use unusual tricks to route around traditional firewall protection methodologies. These include SCM and COM attacks, as well as raw data access exploit attempts. It's also a two-way firewall which monitors outbound traffic from the local to the public network. Built-in Kill Controls can disable programs trying to leak information out of the network before they have a chance to load up.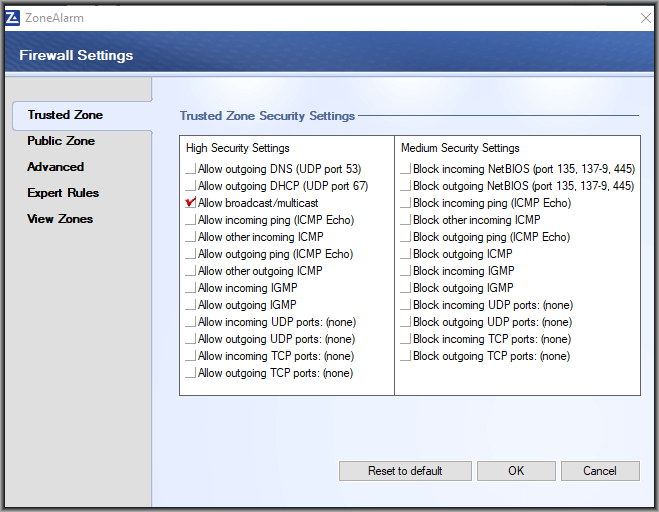 The Firewall also offers protection during the earliest boost stages—when most security systems, and programs, haven't even begun operating—as well as an application control that does the same for individual programs. Truly, Zone Alarm has gone out of its way to build a labyrinthine system of measures and double-measures that could pose a serious challenge for any would-be hacker.
As if that's not enough, Zone Alarm's firewall also includes an Automatic Wireless Network Security tool which intelligently analyzes wireless networks to determine, and to apply, the most appropriate firewall policy. For security-conscious business users (like the author!) who find themselves frequently shuffling between public hotspots and more secure networks, not having to continuously update firewall settings is a feature worth its weight in (digital) gold. Then again, that Check Point includes what's just about the best firewall in the industry really shouldn't come as an enormous surprise. The company is credited with inventing the first Stateful Firewall system in 1994.
Between the real-time threat detection, bulletproof firewall, and an enormous range of threats being protected against, I would have no hesitation trusting my network's security to any of the Zone Alarm programs.
Features
Both Zone Alarm products I tried out include a wide selection of additional features that put them well ahead of the chasing pack in the competitive high-end antivirus protection market.
Here are some of those that particularly impressed me:
Anti-Phishing Chrome Extension
Zone Alarm offers an anti-phishing extension for the Google Chrome browser which adds another significant layer of protection for users (this is included in both the Pro Antivirus + Firewall and Extreme Security packages).
Let's face reality: few of us that have the option not to continue to use desktop-based email programs. Email and online banking are just two of the areas where hackers are waiting in droves to grab hold of unprotected users' details. The addition of an anti-phishing engine that lives inside a web browser is a worthy addition to both products' feature offerings.
The Chrome extension builds on the company's Enhanced Browser Protection feature that scans URLs to prevent users from ever accessing websites that are known to carry security threats. When your internet security system is both checking URLs for threats before they load and then scanning their contents for phishing afterward, you know that you're running some robust protection.
Keylogger
The Extreme Security program includes an anti-keylogger feature which detects and prevents keyloggers from operating on users' computers. Keyloggers are programs that record users' keystrokes in order to work out usernames and passwords which can then be passed on to would-be identity thieves. Adding a keylogger to a stellar antivirus engine greatly limits the possible ways in which hackers can compromise your system—or worse—steal your identity.
Online Backup Space
Zone Alarm generously offers users 5GB of storage space in which users can hold their most system-critical data. Backing up personal data is simply a must for any user hoping to operate a truly secure and reliable computer; unfortunately, too few providers offer this as part of their online security and antivirus products, so I was more than glad to see that Zone Alarm has broken ranks and includes this as part of their product. The Online Backup utility features file versioning, continuous backup support, and the ability to map drives—it's truly an all-around fully capable solution and an impressive addition to the product.
Find My Laptop
Extreme Security includes Zone Alarm's aptly named "Find My Laptop" utility which gives laptop users the best possible chance of recovering and locking down their stolen laptop. Did you hear the story about the company whose missing laptop cost them over $2m? Laptop theft has the potential to cause enormous financial damage—for both companies and private citizens. Zone Alarm's laptop recovery utility can notify you after three failed login attempts, remotely lock access and recover files, and—of course— display the device's location on a map. I tested the feature on my Windows 10 laptop and can vouch for how well this feature works in practice.
DefenseNet™
Zone Alarm isn't alone in maintaining a real-time network of virus definitions that propagates identified viruses from other users, but it certainly puts the "real time" back in "real time!" DefenseNet™ works in perfect harmony with the programs' ability to pull definitions from the cloud in near real-time to ensure that users have the very latest in protection from boot-up to shutdown.
Ease of use
Usability is, of course, a non-negotiable for antivirus and internet security tools. Zone Alarm has clearly gone to enormous lengths to make their products as feature-rich as possible, so I wouldn't have been surprised to encounter a complex and difficult user interface as a result. Thankfully, this isn't the case.
For the PRO Antivirus + Firewall product, the company has done well to clearly separate features into three main areas:
antivirus and firewall
web and privacy – includes the anti-keylogger and privacy control settings pages
mobility and data – includes "Find My Laptop," online backup, and identity protection
The main dashboard also provides everything users need to gain a quick overview of the virus definitions, account, and scan states. On the browser side, the Anti-Phishing tool doesn't provide the usual deluge of popups and threat alerts. Instead, where a suspicious page is detected, users are redirected away from the site to a warning page and provided with a reference code should they wish to dive deeper into why the page was blocked.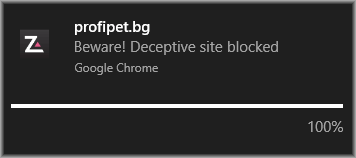 Overall, I think Zone Alarm has done a great job at organizing their products' powerful feature sets in ways that do not feel at all overwhelming to the average user.
Support
Zone Alarm certainly delivers when it comes to their products' features and user interfaces, but how about support?
The products' parent company, Check Point, has devoted quite a number of resources to putting together a support center that's reasonably comprehensive.
My first port of call was to test out the live chat support. I asked "Cid C" whether my laptop would need to have "location services" enabled in order for the "laptop finding feature" to work.
Despite deliberately mixing up terminology from the Android and desktop computing worlds and butchering the name of the feature (it's called "Find My Laptop") Cid shot back a response within a few seconds explaining that the feature works as long as the computer has three active WiFi spots and offered additional assistance if required. So far, so good!
If live chat isn't your preferred mode of communication, the company also maintains a ticketing system (my ticket got a response in just under 30 minutes!) as well as an active user community. There are also helpful online tutorials and the company does maintain a toll-free number for billing support, although "Cid C" recommended that technical issues be resolved using the live chat interface rather than over the phone (this makes sense—a phone number is conspicuously absent from their support homepage). This is one area where I feel the company could improve. When it comes to ironing out difficult installation questions, I always prefer communicating over the telephone if at all possible.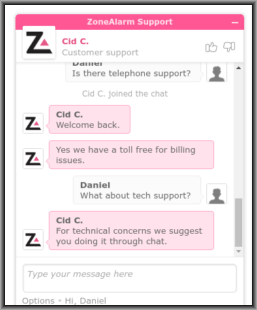 Pricing
ZoneAlarm offers two free products (an antivirus and firewall) in addition to its paid offerings, including ZoneAlarm Extreme Security and ZoneAlarm Pro Antivirus and Firewall.
Extreme Security is the more expensive of the two products, but it does include some very impressive features that more than justify the price difference in my opinion (these include the anti-keylogger tool as well as the virtualized thread emulation system which is the best means possible of avoiding zero-day attacks). If for no other reason than that the threat sandboxing area provides an extremely secure means of ensuring that email attachments do not contain unwanted viruses and malware irrespective of where you receive them, I recommend forking out the difference.
Pro Antivirus and Firewall is available for one and two years (with options to cover 1 or 5 PCs) while Extreme Security is also available for 3 months. Both products are available for free 30-day trials and the company accepts major credit cards in addition to PayPal.
Most importantly: do these products represent value for money? In my opinion, the answer is a resounding yes. When you consider some of the additional features that both packages provide (such as the online backup utility), you're looking at considerable cost savings compared to what it would cost to cobble together all the internet security and antivirus tools from different providers.