Super Cleaner Review: Quick Expert Summary
Super Cleaner is an all-in-one antivirus and junk cleaner for Android trusted by 95 million users worldwide. It is part of the "Super" app family which includes a battery saver and private browser.
Security
Super Cleaner's main security feature is its antivirus scanner which checks all installed apps for malware and privacy liabilities.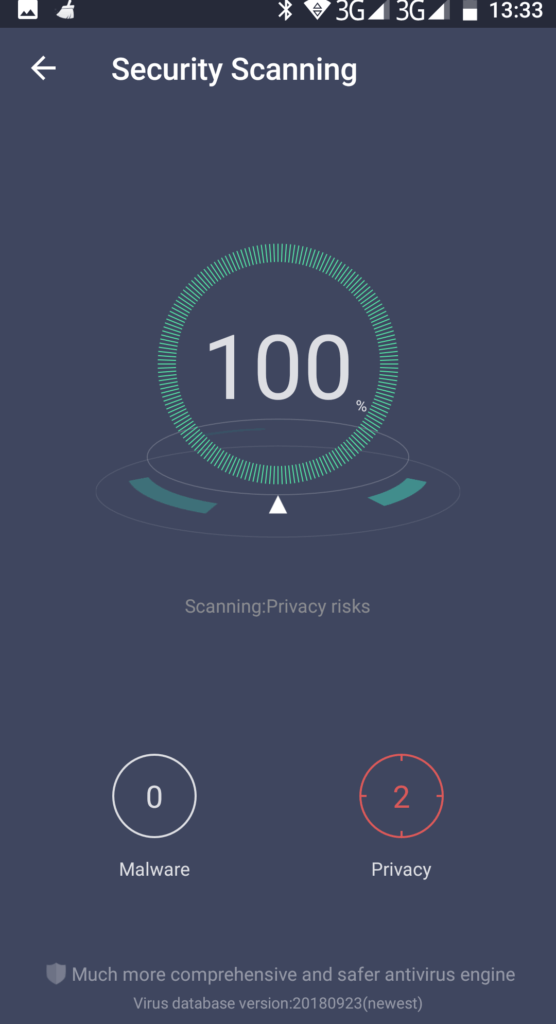 It's important to note, however, that this only scans installed applications by default. To check the files and folders on my device, I had to push an additional button that only appeared after the basic initial scan had completed. Although the scan did succeed in identifying my test virus, I was suspicious that it finished both scans in about 10 seconds.
Nevertheless, the app did flag a couple of privacy concerns, including the fact that I had a two-factor authentication (TFA) code currently saved on my clipboard. I appreciated the warning. Although forgoing the copy and paste functionality altogether would be extremely challenging, Android's stock clipboard is notoriously insecure and many users prefer to use third-party clipboard managers for that reason.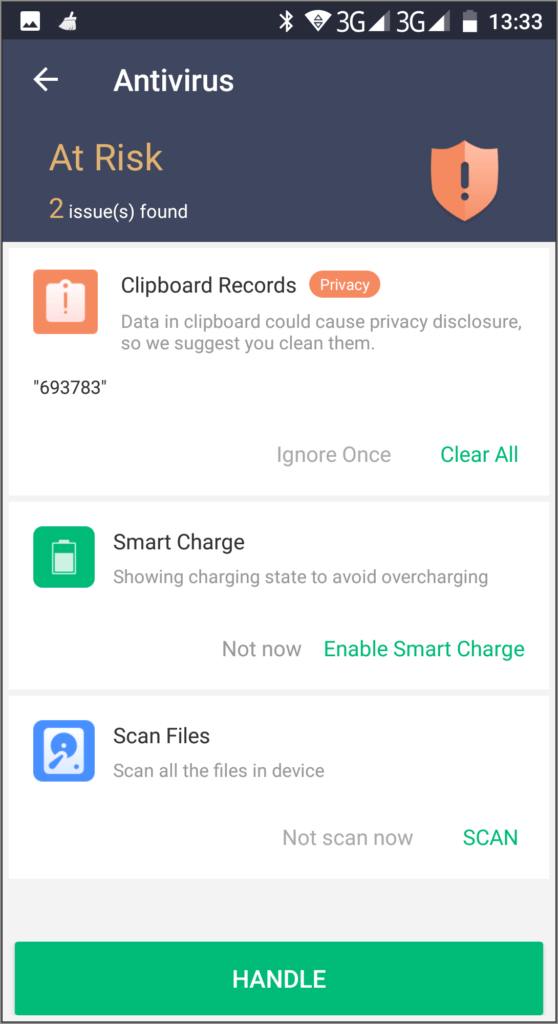 Scheduled scanning can be set up, which is important since it's not enabled by default. The interval options are fairly limited, and the setting is near the end of the main settings menu.
Features
Although Super Cleaner didn't wow as an antivirus, it came with additional features that were somewhat more impressive.
The main additional tools are the junk file remover and the phone boost program. The junk file remover identifies and removes unnecessary files such as app caches, while the phone boost tool identifies and forcibly closes background processes that could be draining the battery and consuming processing resources.
Junk Scanner Frees Valuable Space
The junk cleaner did a good job at organizing things into distinct categories, such as "App Residual," "Obsolete APKs," and "AD Junk." I was able to inspect each category and mark or unmark files for removal. In total, the app flagged 2.50GB of files for deletion, including the remnants of several other antiviruses that I had recently tested. However, many of the caches belonged to apps that I use every day, so I chose to manually remove them. Super Clean has the potential to free up lots of valuable space, but you have to be careful about destroying necessary files.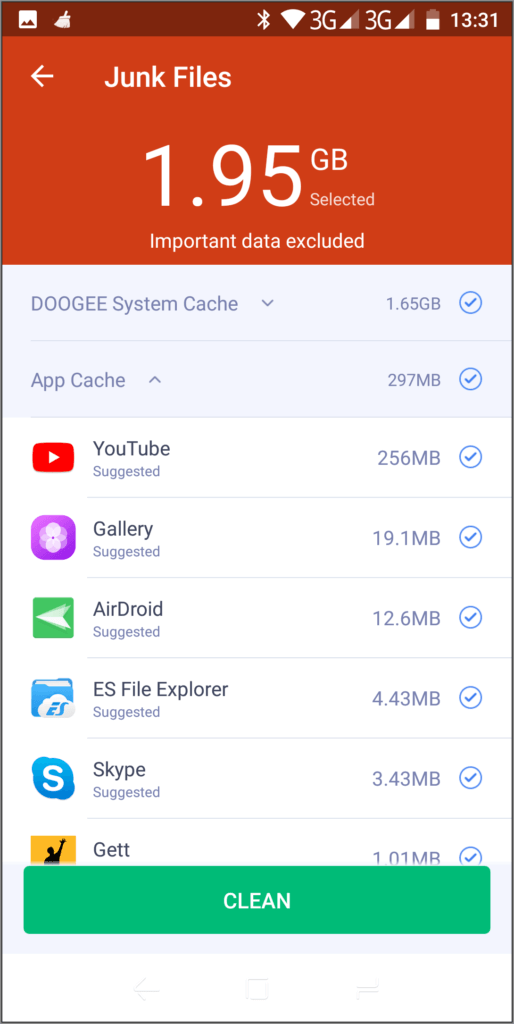 I ran into the same issue with the phone boost tool. Although my handset was keeping certain apps open in the background that I didn't require (such as a car parking app), others—such as IFTTT and a VOIP client—need to keep running to remain functional. It worked as expected, but I had to manually inspect and untick certain apps before proceeding.
Battery Saver Optimizes Power Draw
There's also a battery saver (which scans for apps consuming power) but its recommendations were a mixed bag. While I seized the opportunity to close a third-party email client I rarely use, the system also recommended closing WhatsApp Business which I use almost as frequently as the regular version.
In addition to the various cleaners, there's a long list of additional tools, which include:
An Applock which allows users to configure additional password protection for certain apps
A Big File Clean tool which automatically scans for larger files and presents them for deletion to free up space.
A Smart Charge function which provides additional optimization prompts whenever the device is charging.
Ease of use
Super Cleaner is quick and easy to install from the Play Store. Once running, however, I found it impossible to locate information on its current virus database and when the last update took place. Although Super Clean has clearly made ease of use its top priority, this is valuable information that I like to have. Additionally, although scheduled scanning can be configured, I had to go through almost all of the settings to be able to configure it. Not an ideal placement for such an important feature.
Support
The basic version of Super Cleaner is completely free so I was pleased to see a basic support ticket option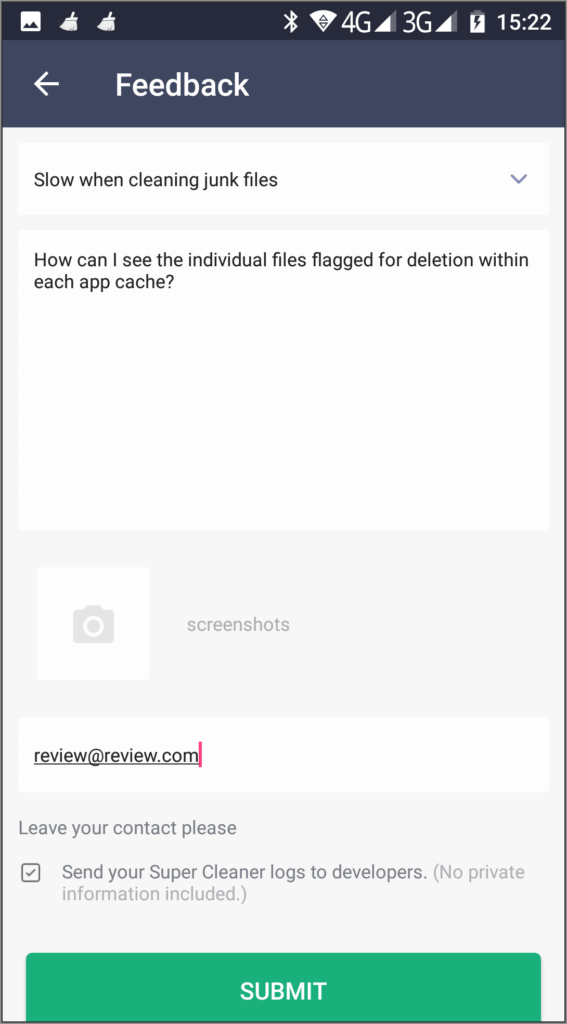 This is accessed by clicking on feedback in the "Me" screen, so some users may have trouble finding it. Users are able to enter text, attach screenshots, and even send the app log to the support team for inspection. My support ticket inquiring where to find individual files proposed for deletion received a response, although it took the better part of a day, a slower response time than most premium providers deliver. There was no knowledge base, live chat, and in-app user documentation, but most users will probably manage with intuition and using the ticket system if required.
Pricing
Super Cleaner is completely free and appears to be supported by both ads and affiliate referrals. Despite this, the app does a good job at not bombarding users with ads.