Dr.Web Review: Quick Expert Summary
Dr. Web is a Russian antivirus provider that offers antivirus solutions for Windows, Linux, and Mac. I tested out its Dr. Web Security Space (and the included Dr. Web Scanner tool) to see whether this tool has enough firepower to offer solid threat protection.
Security
Dr. Web offers three streamlined scanning options in its main menu. Although the custom scanning tool seemed to lack some of the sophistication seen from better-known providers, I quickly came to appreciate the simplicity of it. The full scan covers both drives and removable media (such as USB drives), while an express scan targets critical system paths. That's more than enough to meet the needs of most users.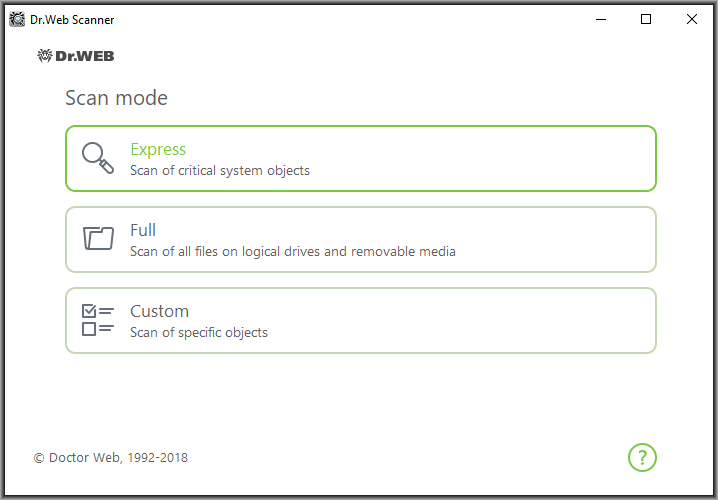 Heuristic and Definition-Based Protection
But how good is its protection? It's difficult to replicate a dedicated virus testing laboratory's methodologies, but the program detected and quarantined the small pool of 10 viruses and pieces of known malware that I threw at it. Since version 11.0, the program has also sported the Enhanced Dr. Web Process heuristic technology which is designed to thwart attacks involving zero-day exploits in most common Windows applications, including Mozilla Firefox, Google Chrome, and MS Office.
The antivirus engine is also updated in real-time with information drawn from Dr. Web Cloud to ensure that its virus definitions are as current as can be, even when not connected to the internet. The combination of heuristic behavioral analysis and a real-time cloud-updated antivirus engine provides more than enough protection.
Features
Dr. Web features a small selection of tools that complement its main antivirus functions. Its data loss prevention utility creates local duplicates of critical files which remain accessible in the event that the originals are corrupted or destroyed.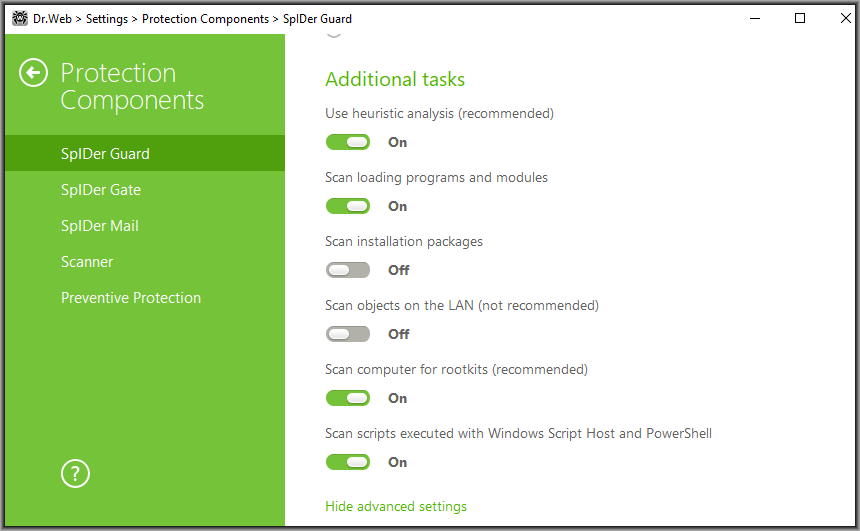 There's also a separate quarantine manager where users are able to inspect, delete, and release files that the engine has identified as suspicious. I was able to change the notifications that would appear if a troublesome program was detected.
Parental Control With Detailed Configuration Choices
Dr. Web includes a parental control service, and I was surprised to see plenty of safety options. The configuration settings can be easily imported and exported using a drag-and-drop menu, so replicating them on multiple devices is quick and easy. The advanced settings also provide plenty of control over what kind of scanning process to follow (normal for a faster, lower level scan or 'paranoid' for a more comprehensive check) and gave me the option to toggle on and off scanning of LAN objects and rootkits.
Ease of use
It's impossible to fault Dr. Web's level of user-friendliness. The welcome screen is so deceptively simple that I doubted how powerful it would be. Dr. Web is a delightfully easy program to navigate, and installation took less than three minutes. If you're looking for straightforward scanning options (without unnecessary options), it has everything you need.
Support
Dr. Web provides some good tutorials in its online support center and also maintains a global telephone center where its team helps with customer queries. Some resources (such as the ticket opening form) are only available in Russian, but agents are able to speak English and are quick to respond. Ticket support is staffed 24/7, which is great if a critical issue arises outside of the company's business hours.
Pricing
Dr. Web Security Space offers a very affordable protection plan which covers one desktop (PC/Mac) and mobile device for one year. The Dr. Web KATANA (Kill Active Threats and New Attacks) is described as "your second anti-virus for Windows." It includes some of the company's latest non-signature anti-virus and anti-ransomware detection algorithms. Given how both the products compare to others on the market, I recommend buying them both.