Clean Master Review: Quick Expert Summary
CleanMaster is one of the most popular junk-cleaning and system optimization tools for Android, featuring everything from social media app notification control to a dedicated WhatsApp scrubber. Despite 43 million reviews on the Google Play Store—most of which are positive— the jury is very much out on whether optimization apps like CleanMaster help or harm system performance. Although cleanup tools can free up valuable space, they can also drain battery life and impede system performance. To see if CleanMaster is beneficial, I dug through its extensive set of features to discover the truth behind the hype.
Security
CleanMaster does contain an antivirus tool which can be launched by clicking on the antivirus button on the home screen. The program runs a "Safety Scanning" utility in less than ten seconds. Although I was able to see what the scan was doing ("checking for malicious apps" and "checking for vulnerabilities" flashed on my screen), I didn't get any kind of report on which directories and apps had been investigated. I was also unable to change the type of scan.
The antivirus impressed a little more with its reminders about required updates. The update frequency can be set to daily, every three days, or every five days, and the program displays the version the app is currently using.
So how effective is the antivirus component? Without much in the way of logs, it's difficult to know. However, CleanMaster has previously received the prestigious Best Android Antivirus Product award. I installed the "Test Virus" application from Itus Mobile Security, which installs the EICAR test virus. CleanMaster flagged the test piece of malware within seconds, although it didn't warn about some things I had deliberately installed by enabling unknown sources in the security settings. Although this isn't what many power users would prefer, it automatically scans newly installed apps and is quick to flag any potential sources of danger.
Features
CleanMaster is much more than just an antivirus tool, however. In fact, most of its functionalities fall under the "system optimization" header. Here are some of its standout features.
Junk File Cleaner Streamlines System
CleanMaster's junk file cleaner is designed to free up as much space on your device as is safe. The tool needs permission to view and delete system files, but CleanMaster does an exceptionally thorough job at finding files and folders that can be deleted. On my first run, the program identified 3.45 GB of files that it thought I could live without—potentially an enormous disk capacity saving.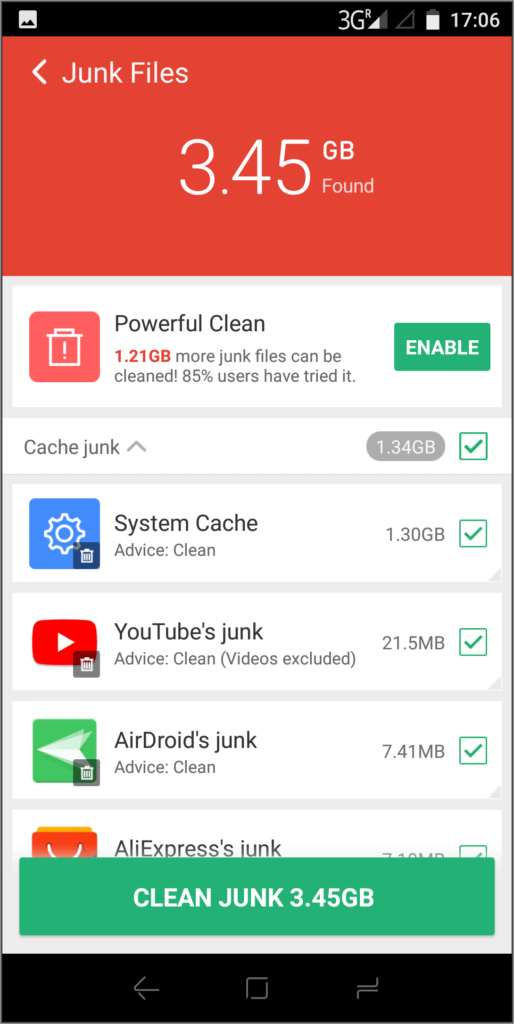 Thankfully, unlike the antivirus program, the junk file cleaner provides ample detail as to what files it has flagged for removal. Within the system cache category, for instance, I was able to view the disposable cache size by each installed app and even chose to clean them one by one. This provides great flexibility for users who may be concerned with removing important settings information, such as WhatsApp configuration files.
In addition to cache junk, CleanMaster also does an excellent job at detecting and removing residual junk files. These are settings and configuration files that previously installed programs left behind even after uninstalling them. I do a lot of app testing on my main Android device so wasn't surprised to see that a number of these—including 360 Security—had left files in their wake.
The majority of the junk files were what it called "obsolete APK files." Android Package Kits (APKs) are used to distribute and install Android programs, like .exe installers in Windows. While APKs lying around a file system could be unofficial package installers that the user forgot to delete, in my case these were files that my backup and restore app had intentionally created. Thankfully, I noticed this in time and chose not to delete them.
In addition to the basic junk files scanner, there's a powerful junk scanner which promises to flag even more files for removal. This requires enabling access for CleanMaster, but didn't add any time to the junk scanning process. Using the powerful scanner it found an additional 500MB of files for removal. This included the system memories of some apps I use for transport and call management. I appreciated the fact that it was possible to click into each program and add it to an "ignore list" so that it would not be removed if I hit the "clean junk" button.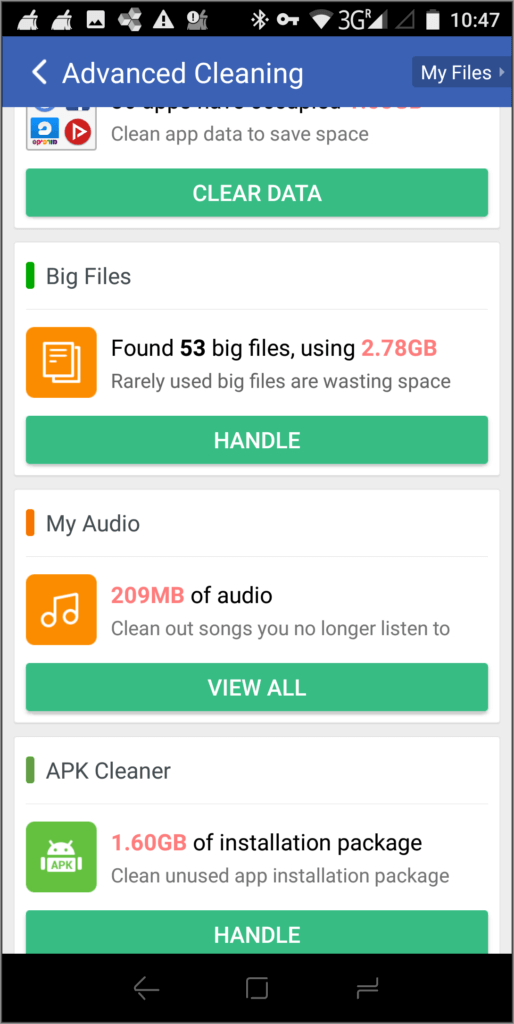 Phone Boost Attempts to Improve Operating State
In addition to removing files that are no longer required, CleanMaster provides users with the option to boost the current operating state of the phone by closing unnecessary processes running in the background.
Smartphone users are accustomed to clicking through many apps but often forget to close them when finished. The result can be a large number of processes running in the background and dramatically slow down device performance.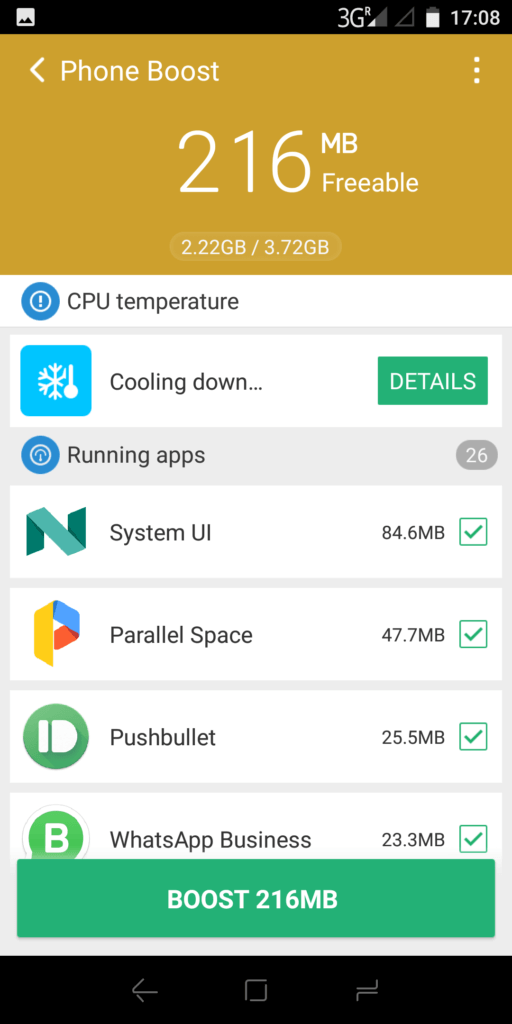 I was surprised to learn that I was running 36 apps during the testing process—only a fraction of them was visible to me by using the application selector hardware button on my handset. Among those taking up substantial amounts of memory were the transport app I hadn't used since the morning, Google Maps, and a number of secure end-to-end communication tools, including Signal and Biocoded, which need to be constantly running to receive calls.
The system attempted to automatically uncheck those applications that it thought shouldn't be forced out of the background. While it did make some accurate guesses (including deselecting the Twilight blue light filter which needs to run continuously), it got others horribly wrong. Among those the system wanted to automatically close were my smart home control app, Pushbullet, AirDroid, a dual SIM control tool, the communications tools, and FolderSync Pro—a tool I use for automatically syncing local folders with my cloud storage.
The result of forcing all these apps out of the background could have been pretty calamitous—important file transfer would not have taken place, my air conditioner would not have turned on, calls could have been missed, and I would not have received any PushBullet notifications which I frequently send from my desktop. If you're going to use a junk cleaner, manually inspect all proposed changes and don't delete essential files or close required background processes.
CPU Cooler Prevents Overheating
Keeping too many apps or background processes open can put a strain on a smartphone's CPU and result in overheating. This, in turn, can significantly shorten the lifespan of the CPU, degrade lithium-ion batteries, and—in extreme cases—render the device inoperable.
Android contains some built-in features to prevent this, including throttling back voltage and resources if it detects the CPU is overheating, but CleanMaster makes the process more transparent for the user. A visual thermometer icon displays whether the CPU temperature is within normal limits(in which case the thermometer is set against a blue background) or overheating (in which case it's set against red and notifications are triggered).
Although the feature is intuitive and nicely designed, I couldn't see a difference between the app's proposed cool-down strategy (closing down running apps) and what the system suggested to do in the phone boost menu. Given the fact that the phone boost tool also outputs the CPU temperature, I tend to think that there is enormous overlap between these two features.
Flag Abnormal RAM Usage
Granting access opens up one more optimization tool: detecting abnormal RAM usage. This monitor triggers when an app is using more than a certain level of RAM, which would slow down resources and could be indicative of malware. This alert didn't trigger during my evaluation, but if it works as stated, it could be a nice performance booster and a way to avoid viruses.
WhatsApp Cleaner Frees Space Without Erasing Personal Memories
Over one billion people use WhatsApp every day and CleanMaster deemed it worthy of its own cleanup utility within the app. The WhatsApp cleaner flags content in the WhatsApp memory according to filetype. I was able to review images, video messages (which were occupying 340MB of space), and voice messages and even inspect the files within each category. I appreciated that the WhatsApp Cleaner tool provided such a clear breakdown before deleting things that might be special.
Other Utilities
CleanMaster also includes an SD card scanner. These cards can be loaded with viruses or rootkits from desktop devices, so it's excellent that CleanMaster included a dedicated tool for this.
A message security tool protects user privacy by hiding the contents of messages from messaging service notifications, such as Facebook Messenger and WhatsApp. This is a nice feature but duplicates a lot of functionality found in the stock notification management tools.
The CM AppLock tool scans your systems for apps that you want to secure with a PIN code or unlock pattern. This can be used in tandem with your device's primary security settings or independently of it. Either way, it provides users with the reassurance that even if they leave their locked device exposed, critical programs containing potentially sensitive information can still be locked down.
Ease of use
CleanMaster can be downloaded and installed in under a minute from the Google Play Store.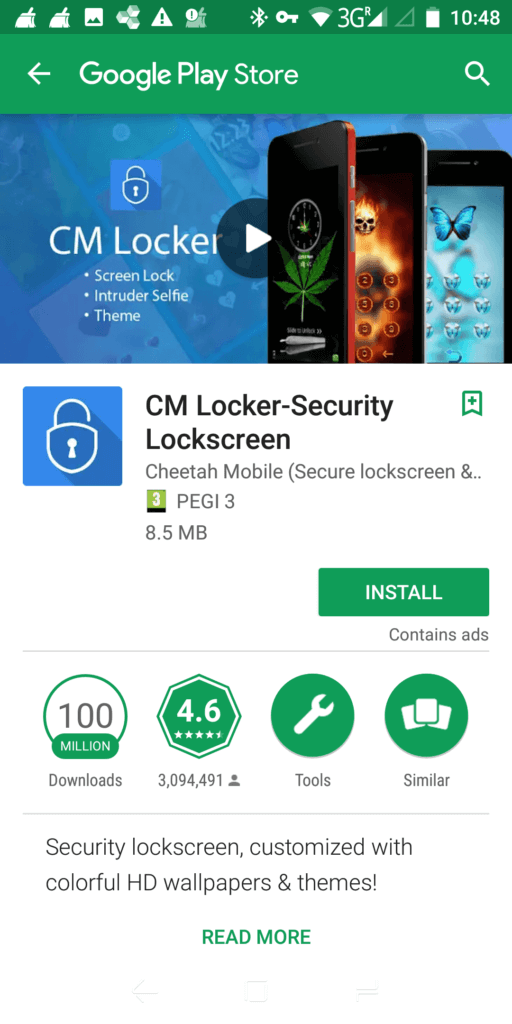 Thankfully, the download contained all required features and the program didn't inundate me with requests to install add-in apps. CleanMaster even has a lightweight version, Clean Master Lite, which is intended for users with low-end hardware (specifically, devices running less than 1GB of RAM) and has been downloaded more than 50 million times. Although the vast majority of handsets on the market can run the full version, there are still plenty of ultra-budget models, including the Elephone G1, that don't. It's great that Clean Master can be installed on virtually all Android handsets.
Navigating through the app is straightforward. The home dashboard provides two speedometer-style indicators which show how much RAM is in use and how much storage is available on the device. Below that, four buttons lead to the app's core functions. The "tools" page provides access to tools of secondary importance, such as the WhatsApp Cleaner and charging monitor tool.
Support
Locating support resources was a little bit tricky. I couldn't find a support button so signed up for a "CM account" which promised to personalize my in-app experience. After fumbling around my inbox for the verification message, I finally found it in my spam folder (Gmail and G-Suite users, you have been warned!), but sadly the expanded "Me" screen did not provide a "contact us" button as I had expected.
The support overall fell far short of my expectations. It's basically limited to an FAQ page where all the questions refer to its use on PCs. Mobile users have no clear means to contact the manufacturers or access a user forum, making support lacking in this aspect.
Pricing
CleanMaster is completely free and doesn't have a premium version to upsell. Thankfully, the advertising isn't too overwhelming. I did encounter a few annoying interstitial ads during the testing process, but these were not very frequent. The sponsored parts of the program, which include a theme selector and a VOIP calling utility, are also relegated to the end of the second-page menu.
CleanMaster does not provide a paid version. Its Android app is completely free, but iOS is not supported at this time.