SplashID Review: Quick Expert Summary
SplashID is one of the most limited password managers I've ever seen. While it manages to store your information and even offers some decent organization features, it falls behind competitors like 1Password and RoboForm, which automate actions — like importing passwords and password capturing — that in SplashID, the user has to do manually. This is a big turn off and caters only to those who are experts in password management software. And if that is the case, those users will already be using a manager that provides them much better options. All of this in combination with a poor support system leave much to be desired.
I've reviewed over 70 password managers in the past. Because of this, I'm able to give you a thorough review regarding SplashID, and can tell you why the app's free plan and support systems are so limited compared to its modern counterparts. Read on to see my thoughts on the platform and why you're going to want to stay away from this password manager.
Features
SplashID Features Overview
Security
2-Factor Authentication
Yes
Encryption level
AES-256 encryption
Multi-device sync
Yes - paid
Backup and recovery
Yes - paid
Mobile apps available
Yes - Android, iOS
Password generator
Yes - paid
Browser extensions
No
Password Auto-import
No
Form autofill
Yes
Support
Email
Yes
Live Chat
No
Phone
No
FAQs
Yes
Languages available
English
24/7 support
On the forum
Before getting into the features, note that while SplashID does have a free plan,
a majority of the features, such as multi-device use and automated backups, are only available on a paid plan
. The free plan nets you little more than basic password management. Other free managers like RoboForm provide much more, like password strength detection, without a fee.
Key Safe
Unlike many password managers we've reviewed like LastPass or 1Password, SplashID has a licensed hardware device called a key safe. Holding up to 4GBs of information, this USB stick holds your information offline for ultimate protection. Plug it into a Windows or Mac device and the SplashID application will open up with all of your data. Once removed, none of that information is stored on the device. Of course, this is a fee on top of the traditional software, but there are bundle plans that include a year of the software with purchase of the hardware.
The key safe can be refunded as well, and even works with existing accounts should you buy one later on.
Dashboard
The SplashID Dashboard is similar to the strength detectors in LastPass and Dashlane. Here, the software provides an overall record of all of your passwords, noting which are weak, which are old and need to be changed, and which are repeated.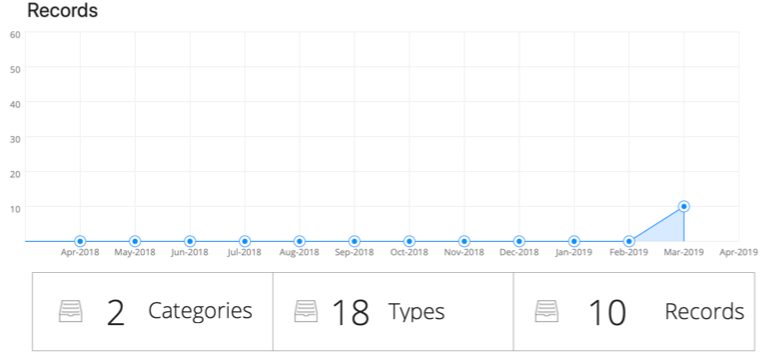 You can list the affected categories based on their issue, however, you must go in and manually change each password from there. The feature previously mentioned in Dashlane and LastPass sorts your passwords by strength and can even automate the changing process depending on the website. SplashID's simply informs you of the issue and you must go back and change it yourself.

Overall, the dashboard is pretty basic. It tells you the amount of password records, which types they are, like credit card numbers or a driver's license, and then the categories your info is broken into, such as business or personal logins. It does, however, show you your last five data backups and provides a link to the backup page, in which you can download, unlock or share the backed-up information.
Information Sharing
SplashID allows you to share any of your information with the other users or even non-users with the click of a button. Of course, this is a fairly standard feature, with managers like RoboForm offering it as well.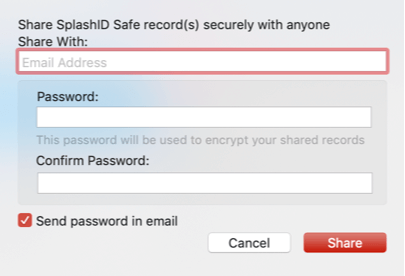 That said, it is done very simply here. All you need to do is enter the email of the user you want to share with, and a password for them to unlock it. It's recommended that you uncheck the box that reads "send password in email," as that is a insecure way to share information. If someone unintended reads that email, they will have access to your data.
Once received, the user simply enters the password and a web page details the shared information. Unfortunately, someone with SplashID can't automatically integrate this data into their SplashID client unlike with DashLane or LastPass. The integration must be done manually. That, and those competitors keep the password private—a feature that SplashID does not support. Also, this link is only valid for 24 hours.
Password Generator
SplashID's password generator is just fine. It offers the baseline features for a generator and nothing more, unlike 1Password's which allows you to customize the generator to be a PIN or a memorable password instead of a random one. That said, a generated password is still much more secure than a memorable one.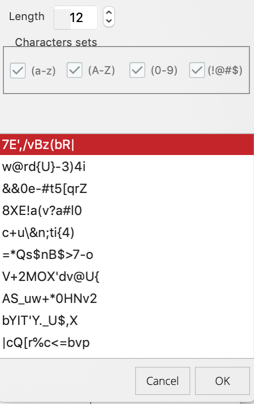 With this one, you can choose the character length and which special characters you'd like. The software then generates 10 passwords for you to pick between based on the criteria. An odd touch, however, is that you can generate any field in the software—not just passwords. This is an oversight, as you can accidentally overwrite something like a website URL or your health insurance policy number with a few misclicks. This is unlikely to happen, but still entirely possible. Fortunately, the software asks you to save changes before leaving, so if you accidentally do something, it probably won't save.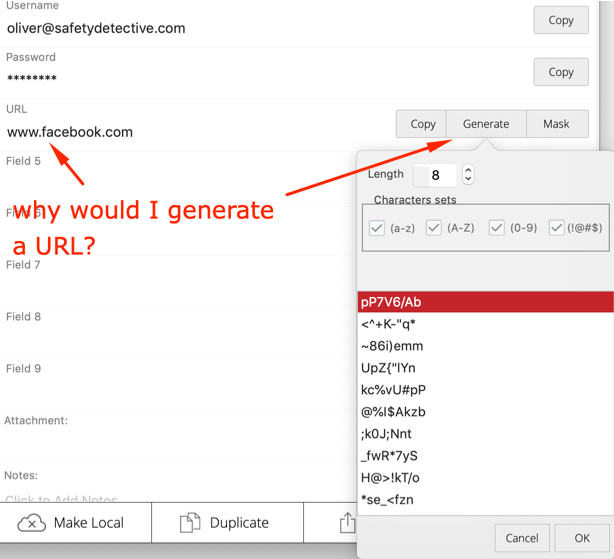 Plans and Pricing
As mentioned above, SplashID's free plan offers little more than a password storage solution. If that's all that you're looking for, feel free to try it out. That said, you can only install the software on one device—either your phone, tablet or desktop, via the free plan. Keep in mind that even trying out the software on a device means it's stuck on that one, so download only on the device you'd like to use SplashID on.
Most other password managers like RoboForm and LastPass offer fleshed out free plans. Fortunately, the SplashID Pro plan is incredibly cheap for both its monthly and yearly plans. In fact, the prices are so cheap that it almost makes up for SplashID not having a browser extension like just about every other password manager in 2019.
Paying gives you access to the app on multiple devices such as iOS, Android, Windows Phone, MacOS, Windows and, for some reason, Blackberry. You also gain access to the platform's cloud back ups. However, while the cloud is secure, it isn't foolproof. Those with extra sensitive data may want to stick with SplashID's local storage to mitigate that risk, or even buy the hardware key safe mentioned earlier. Fortunately, you can pick and choose which information is shared by modifying it with each entry.
You also gain access to the Dashboard with the paid plan, alongside the aforementioned sharing features. Paid users will also see priority support when interacting with the SplashID team.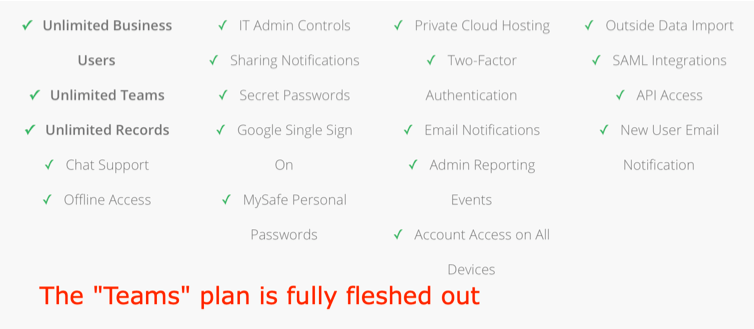 There is a "teams" plan that the SplashID website links to, but this is an entirely different software built off of the SplashID network. This platform offers a host of features like unlimited users, two-factor authentication and data imports — a much closer offering to password managers in 2019. Interested users can take advantage of a 14-day free trial.
Ease of Use and Setup
SplashID takes only minutes to install. From there, you log in with your master password or you can create a swipe pattern that works with both the desktop app and the mobile one. However, the setup past that is time-consuming and much more difficult than it needs to be.
To start, you can only import features via a CSV file or through a previous SplashID account. There is no browser bookmark import feature like in RoboForm or support for other managers like in 1Password. With the lack of a browser extension as well, you're stuck entering in all of your information manually. Also, there is no way to change the language from English, leaving most countries in the world unable to use the platform.
In terms of data, all of your information is stored in the SplashID Safe. The software comes with default info types like bank account, insurance, phone numbers and more, with the ability to create a custom one.

This process is actually quite intuitive. All you must do is click "Add new type" and you can create the name and any fields you'd like to enter. Of course, this feature is in nearly every password manager, but it's done very easily here.
These types can be organized even further into categories. The app launches with "Personal" and "Business" categories, but you can create custom ones from within the software. On the main page, you can then sort entries by their category, type or by which you've marked as your favorite, which you can do by clicking the star next to its name.
Rather annoyingly, SplashID doesn't autofill any of your information, a feature, again, part of pretty much every modern password manager. Instead, the app does allow some form of login, allowing you to automatically open the web page and enter in information via the login button on the top right-hand side of any entry. You can also change the settings to have SplashID autofill these settings with or without auto submitting as well.

A nice personal touch is SplashID's sample entries. You can choose to launch these when starting the application, which fills your safe with sample checking accounts, credit cards, logins and more. Users with almost no experience using password managers will appreciate this, as it shows exactly what sort of information you should be putting in to better your experience.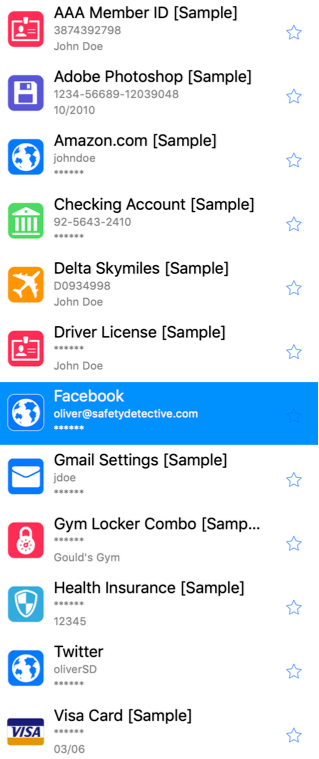 This feature almost makes up for the lack of import methods. This method is in other password managers, like F-Secure Key, but most competitors like RoboForm auto-import this information.
There is also a "DeDupe" feature used to check if any of your passwords are duplicates. However, I purposefully entered two passwords that were the same, and the software didn't catch it. 1Password offers this feature within its "Watchtower" and it works brilliantly with that app.
The mobile application works exactly the same as the desktop one. In fact, I could only find two differences. When clicking "login" in one of your data entries, the app opens the website within its own web browser rather than your device's default one. On a desktop, it opens within your chosen browser. Also, the mobile application prevents you from taking screenshots just like 1Password's.
Security
SplashID offers two-factor authentication for new devices via an email or mobile phone. However, it cannot be enabled via the desktop or mobile application. To turn it on, one has to log into the SplashID web app and head to account settings to enable it.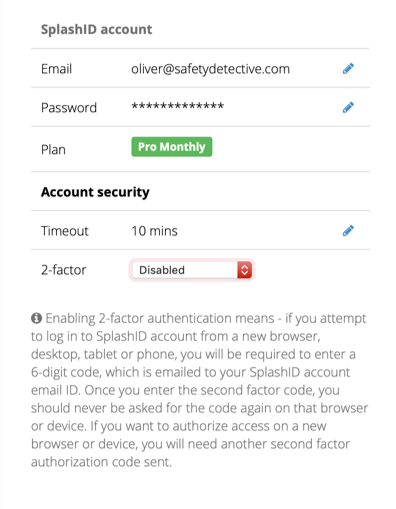 Otherwise, the platform encrypts information via the industry standard 256-bit AES. Also, according to the app's support page, SplashID's security team performs regular scans to search for network vulnerabilities, ensuring that any information you may have stored on their servers remains safe. The team also carries out daily server backups.
As mentioned, you have the option of cloud backups or local device storage. While local is the safer option, keep in mind that information won't sync to other devices with that option checked.
Unfortunately, there isn't a family plan or emergency contact option like with 1Password or RoboForm's offerings. So if you lose your master password, you're out of luck. Passwords are never seen by SplashID staff, and multiple wrong logins will delete all local files off of a device.
Customer Support
SplashID's support options are very minimal. Its features page hints at priority support for premium users, yet no phone support is evident. The sole communication mode seems to be an email form. Compared to competitors like RoboForm that offer a wide range of contact methods, SplashID's limited avenues are really disappointing, and the scope of "priority support" remains ambiguous.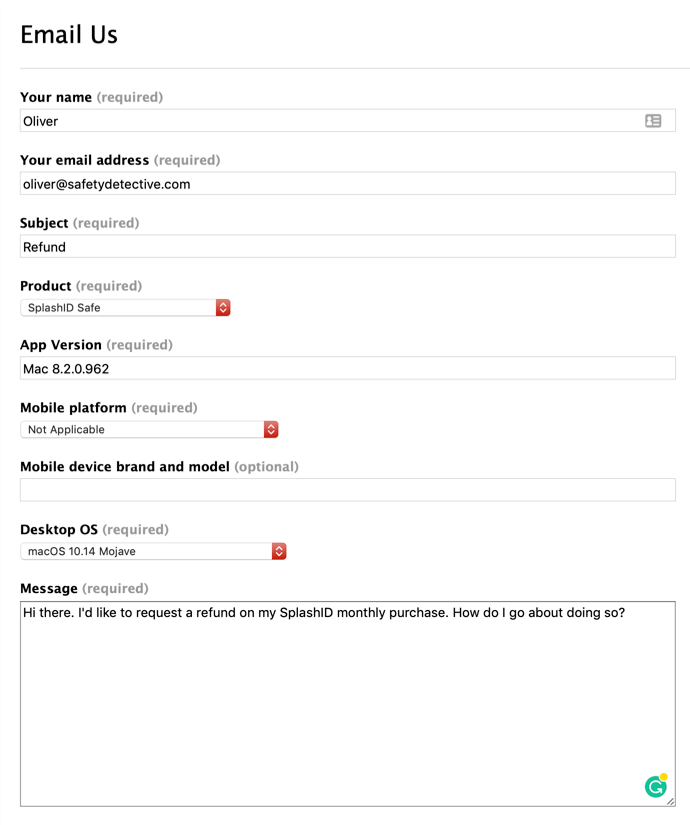 The help desk offers valuable articles and user queries, functioning like a forum. Though it's not particularly active, finding information is simple to do via keyword searches.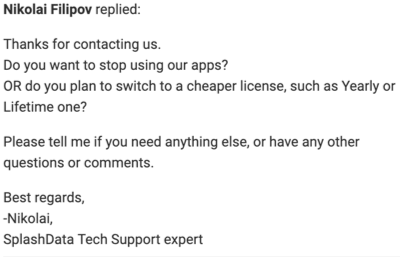 Upon requesting a refund, the customer service team supplied a scripted reply, inquiring if I wished to cease using the apps or transition to a different license, despite my clear request for a refund. However, it's worth noting that the team was quick to respond.