LogMeOnce Review: Quick Expert Summary
LogMeOnce Overview
LogMeOnce has one of the most impressive lineups of features on the market, seeming to shame other password managers—even Dashlane, which is usually thought to be the best on the market. In fact, there are quite a few features that I haven't seen anywhere else. But does this password manager really live up to the hype? Or is it full of add-on after add-on that you'll never really use?
In my search to find the best password manager, I've reviewed over 70 different products, bringing you an in-depth LogMeOnce review to help you decide whether it's worth your time and money. Here are the results of my research.
LogMeOnce Features
I've included a complete list of features in the comparison list below. It's easy to see how much stuff this password manager packs into their program, but at the same time it can be a little bit difficult to sort through—one of my biggest complaints with LogMeOnce.
Unlimited Password Storage
Whether you have 10 sites you regularly visit or 10,000, you'll be able to manage them all using LogMeOnce. During the setup process, the program will give you the option to import your existing passwords that are stored in your browsers, as well as guide you through the process of adding new apps.
The initial import process will get you well on your way to a passwordless web browsing experience, but if you haven't saved passwords in your browsers or want to add something new, there's an option for that too!
You can either add an app using the password manager by clicking the 'LogMeOnce' button on your browser home page, or save the login to your LogMeOnce account automatically using the browser plugin. The screenshot below shows the password storage process using a new account on Reddit.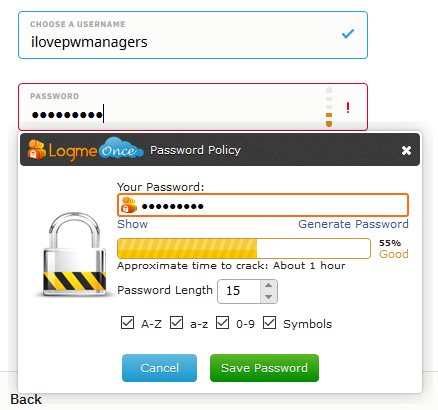 This is the popup box you'll see when navigating to a new website.
Overall, the day-to-day password management of LogMeOnce is generally pretty straightforward with popups asking you to add login details as you sign up for more accounts around the web. In my thorough testing, every online login portal seemed to work well with LogMeOnce, ranging from social media to banking.
Tons of Features
As far as the range of features that LogMeOnce provides, its software is second to none. With that said, many of its features are either not really needed, or split across a messy layout.
The password management system is pretty similar to many of the other password managers I've reviewed, but when it comes to the security of your device in general, LogMeOnce takes it to the next level with a load of anti-hacking and safety features that some users might think are a bit too much. I personally think you can never be too secure, but others might disagree. The security is mostly handled through the Mugshot section of your home menu.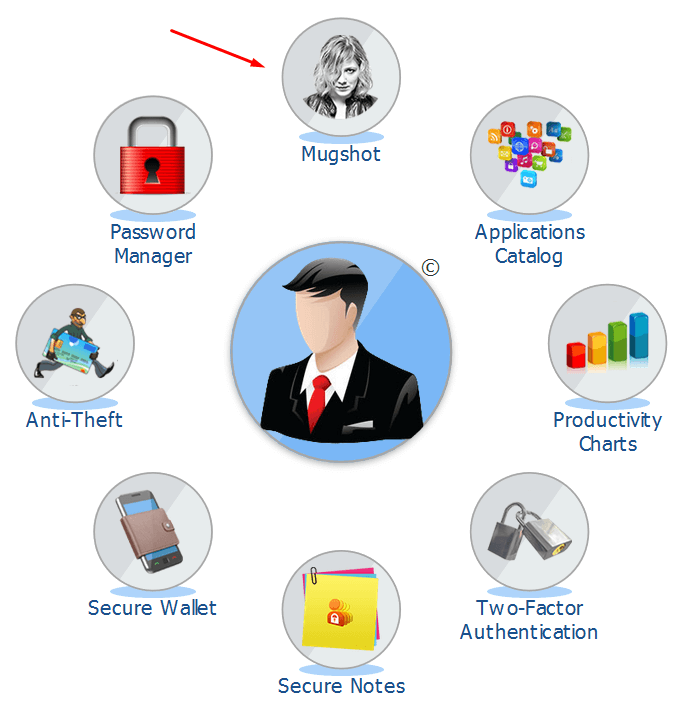 Secure Note Storage
LogMeOnce aim to provide a secure place for all of your important details, making it an excellent option for storing sensitive information. The password management is the main part of this software, but it also offers you to safely save information like Social Security numbers, bank information and other details that you don't want falling into the wrong hands. The Ultimate plan also includes a fully-featured sharing system that will allow your loved ones access in the event of an emergency.
Data Storage
Encrypted Data Storage is included with all three plans with 1 MB of storage for the Premium plan, 5 MB for Professional and 10 GB for Ultimate. You also have the option to purchase more storage separately for an additional fee. While it's nice that you get some amount of storage by default as a free user, I think tit;s better to upgrade to a paid plan if you think you'll be uploading a lot of files. 1 MB may be enough to store some important text documents, but as soon as you start using it as your main location for storing sensitive information, that space is going to go quite quickly.
LogMeOnce Plans and Pricing
LogMeOnce offers three individual user plans and two for businesses—each with their own set of benefits and limitations.

Ultimate Premium Professional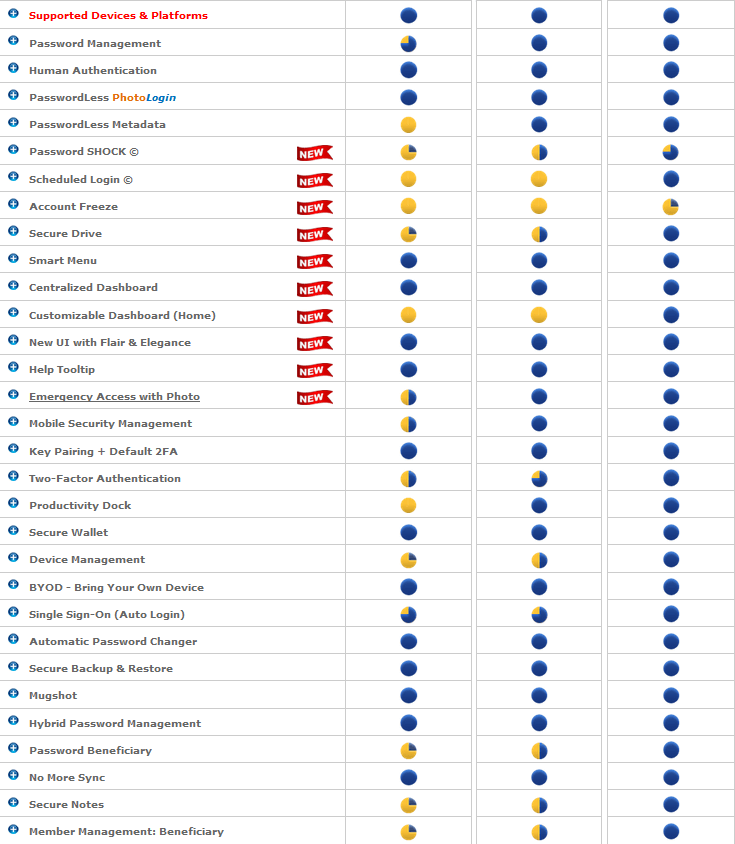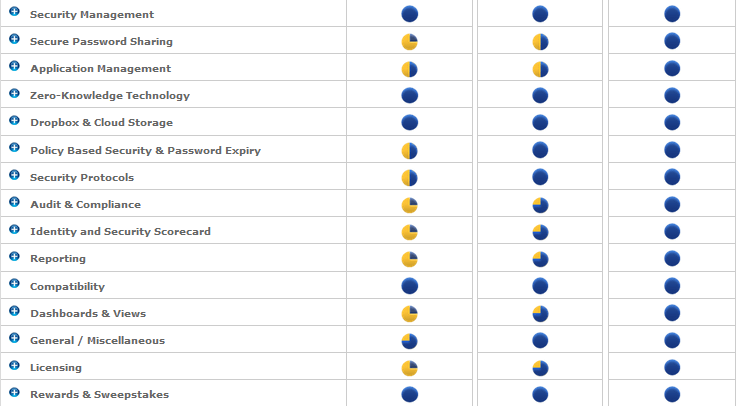 Premium Plan
While I bought on the Ultimate version of LogMeOnce in order to give you a clear picture of everything it has on offer, the password manager does offer a version that is completely free, known as the Premium version. Unlike many other brands, you're actually getting access to most the paid features, but on a more cut-back scale. The only features that are completely excluded from the free plan are the location information for login attempts and the ability to schedule logins for a later date, and those honestly aren't features that you'll find a regular use for. The 'premium' (free) plan is the perfect plan for someone who is looking only to use the password management feature.
Professional Plan
The Professional tier is very affordable and adds to the usability of the Premium plan. There aren't really many new features added with this tier, with your subscription fee paying for benefits like expanded encrypted storage and anti-hacking tools on more devices. While I do feel that the extra access is worth the low price tag, you'd honestly probably be just fine using Premium if you're okay with more basic features.
Ultimate Plan
The Ultimate plan ups the monthly fee to several times the price in exchange for features like PasswordLess Metadata that allows you to see the geographic location of login attempts, the ability to schedule logins for a future date and a customizable dashboard within the app. Additionally, you'll get even more expanded access beyond the upgrade from the Professional plan such as 10GB of free encrypted storage. The Ultimate plan is a good idea for those who are looking to store sensitive files on the program, but probably nothing special for more basic users.
Business Plans
In addition to their consumer plans, LogMeOnce offers two different tiers of service for companies: Business and Enterprise. These plans are billed per-user, with a minimum of three users required to sign up for service.
These plans have many of the same features of the consumer plans, but add in features useful to corporations such as an audit trail, biometric scanning for two-factor authentication and the ability to track user browsing. The main upgrades you'll enjoy if you decide on Enterprise rather than business plans are features like automatic password changes, Desktop SSO and integrated mobile protection.
Money Back Guarantee
If, after reading my LogMeOnce review, you're still unsure whether it's the right password manager for you, don't worry! The company behind LogMeOnce offers a 30-day money-back guarantee, giving you the ability to try out all the features before making a commitment to the monthly fee.
Is LogMeOnce The Best You Can Get?
It's easy to look at the unique features listed in this LogMeOnce review and assume that it stands head and shoulders above the competition, but I feel that a password manager like LastPass really gets the job done in a much slicker, smoother way. There are definitely some features that only LogMeOnce has, but for the price you'll pay, you'll be able to find a password manager that is much easier to use and understand.
LogMeOnce Ease of Use and Setup
One of the key points of this LogMeOnce review is just how bad the installation and ease of use are. I'll walk you through the process so you can get a sense of how many steps you'll have to go through in order to get your password manager up and running.
Installing LogMeOnce
When you first create an account, you'll receive an email prompting you to either complete your free signup or schedule a time to get help from one of the company's support engineers. While I chose to set up the password manager myself in order to give you a sense of what that process might look like, you can also click the second prompt which will take you to a calendar where you can schedule a time and date to go through the installation with a support representative.
Here's how that looks: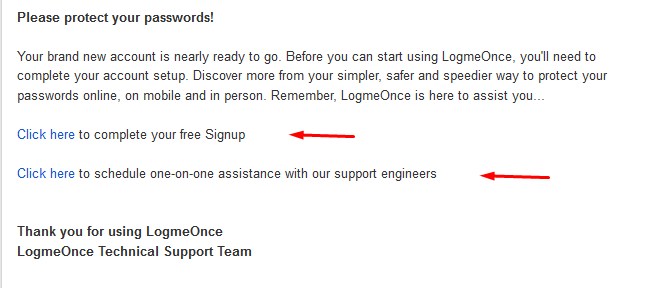 Once you set up your account, you'll go to a page, asking you to log in to your account: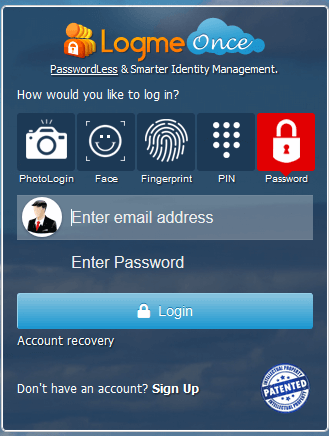 After that, you'll be prompted to install a browser extension. It's this extension that will later autofill your information and let you log in with just one click.

Once you've installed the browser add-on, you'll be asked if you would like to import your saved passwords. This will look at the login information you've saved while browsing the web and then import it automatically into LogMeOnce.


At this point, LogMeOnce is installed and you're ready to move onto the setup process. It's a bit of a complicated process, and the setup isn't much better, unfortunately.
Setting Up LogMeOnce
Once you've finished the initial import of all of your login information, you can then move onto the actual setup process. Fortunately, at this point, LogMeOnce gives you the option to either jump directly into using the password manager itself or to go through all of the features available.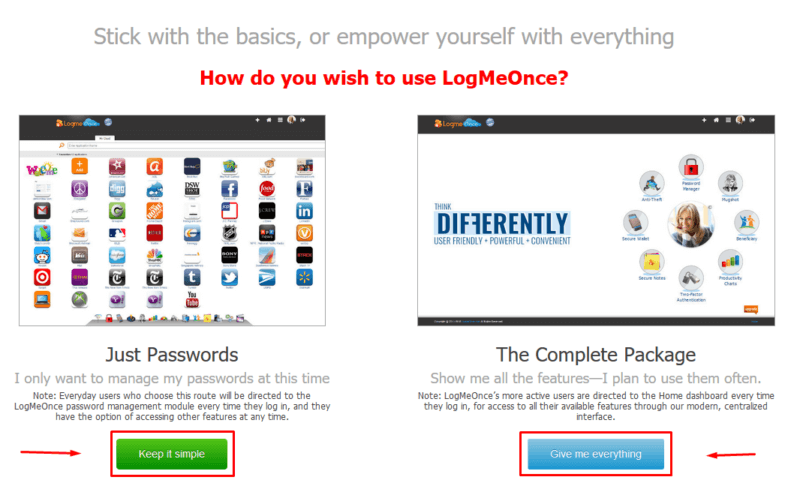 The Complete Package will start you on a rather long tutorial that shows all of the features that are available for use, while Just Passwords will show you only the steps you need to know when it comes to password management.
I clicked on Complete Package in order to see the type of features that a high-level user might enjoy, and it's safe to say that it's a little overwhelming and difficult to digest.
You'll then be shown a series of tutorial screens that walk you through the installation and setup process.
If you imported your passwords from your browser, you may be able to get up and running without doing anything else, as LogMeOnce will use that information to log you into your favorite sites. However, you can also add new passwords either using a dialog box that pops up during account creation or by creating a new app. More on that below.
The Home Screen
In day-to-day use, the LogMeOnce home screen is your dashboard for managing your passwords and data storage.
The main reason you'll likely be using this is to add a new app to your browser extension, essentially serving as a one-click button that will take you to a site and log you in automatically. In order to do so, click the '+' icon on the top right of the screen and select 'Add app.'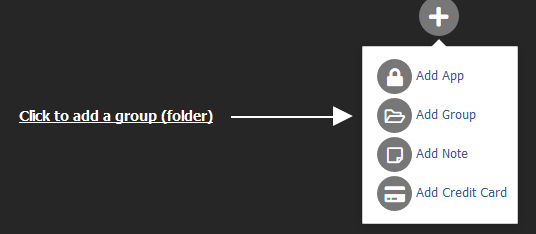 On the next page, you'll be prompted to input your login information for the site that you'd like to add to the manager. I made a new account on Reddit to show you this process.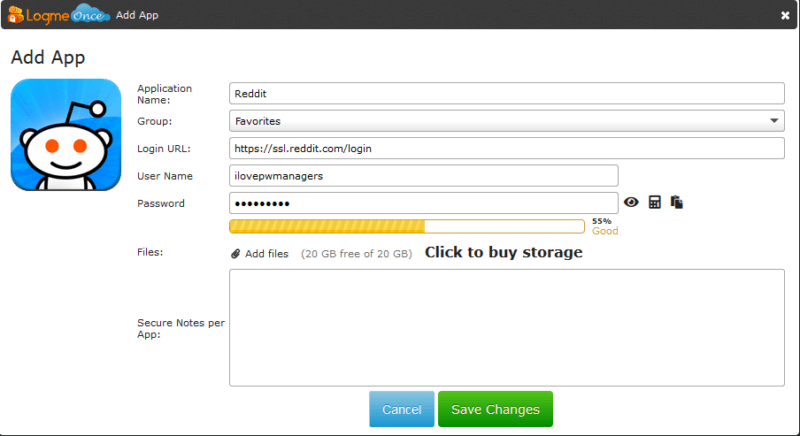 However, another great option is to simply add the site to the password manager right as you're creating the account. When I initially made the account "ilovepwmanagers," a box popped up asking me if I'd like to add it to LogMeOnce. Pretty simple, right?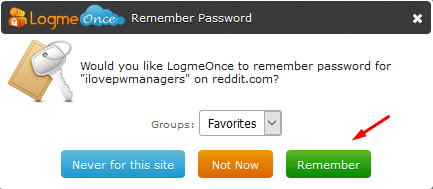 You may have noticed on the drop-down menu above the ability to add a group as well. This process is quite similar to adding an app above but instead allows you to group your apps by similarities in order to easily find your logins in a pinch. For example, I added Reddit to my Social Media group, making it easy to access right next to Facebook, Instagram and Twitter!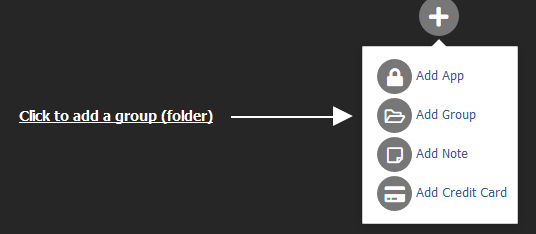 Mobile App
There's also a mobile app for LogMeOnce that works in much the same way, although it doesn't seem to require you to install extensions and run programs to add new apps.
After downloading the app, it asked me to log in using my credentials and then to verify the login through an email sent to my primary account. After this, I was in and ready to add passwords through my iPhone. The interface is a bit busy, but generally easy to figure out, and the design comes across a little bit outdated.
Final Setup Impressions
Overall, while LogMeOnce does do a good job of managing passwords, the process to get everything working the way I wanted was way too long. Going through a long tutorial just to understand how to do the basics means it's not the most user friendly – unlike something like Dashlane, whose installation process is pretty much one-click.
LogMeOnce Security
The login screen for LogMeOnce gives you several different options to use in order to access your account including photo login, facial recognition, fingerprint, PIN and a traditional password—giving you lots of options for finding a balance of ease of use and security.

Two-factor authentication is also an option, as well as facial recognition and biometric logins on mobile devices. These choices and a 256-bit level of encryption make it incredibly difficult for unauthorized users to access your account. The proprietary security system has many patents pending, making it clear that the company has put a lot of their own original research into the development of the software. The mobile version of the program also prompts you for a PIN, which can be reset (although this is a pretty tricky process, in practice).
Mugshot
The password manager also comes with a Mugshot feature, which is one of the more unique features I'll mention in this LogMeOnce review. Just by adjusting the settings to your preferences using the menu on the Home Screen, you can have your device take pictures of intruders, track any login attempts and even annoy them with loud noises or a constantly vibrating phone. While LogMeOnce definitely has its share of downsides, it's clear that the engineers behind the program put security as a priority.
LogMeOnce Cloud Backup
LogMeOnce lets you store the passwords on your computer or using their cloud backup. Cloud backup is highly recommended, as it allows you to access your account on any device using your password manager login credentials, but you can switch between the two using the 'Settings' option accessed through the 'Smart Menu' icon on your home screen.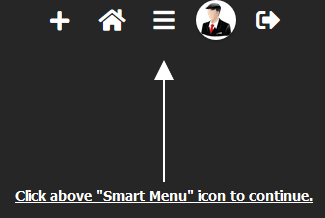 LogMeOnce Customer Support
LogMeOnce support was reasonably responsive. I sent an inquiry email to their support account, asking a simple question about the app. While the response was a link to one of their support articles, the linked article did provide the answer I needed. The response time was slightly over 24 hours, which might seem a bit long, but considering I contacted them over a holiday weekend, I can give them some leeway. It's likely that queries during the week receive quicker responses.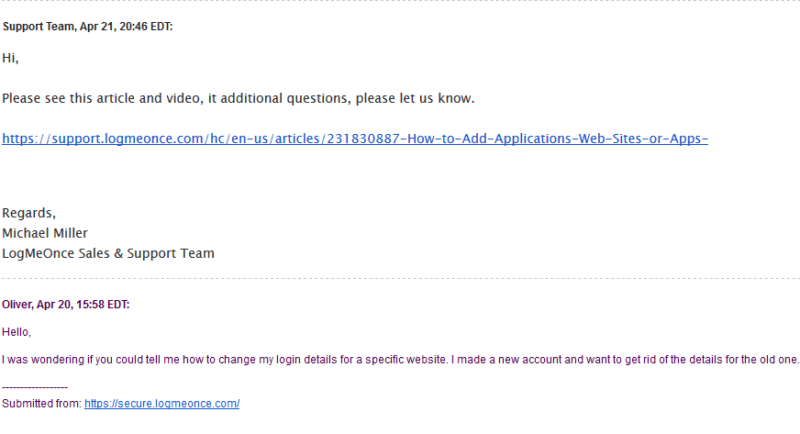 The website has a robust FAQ section guiding users through various issues they may run into while using the tool. This is especially useful considering the complexity of the software.
One downside to the password manager service is that there isn't any phone support available and live chat seems to be very limited. If you'd like support for your product, you're pretty much limited to email support. While the team did seem responsive, it's definitely a downside that the options for help are so limited.
Support for LogMeOnce appears to be the same across all subscription plans, which is good news for those who are planning to opt for the free tier!
Refund Process
In an attempt to see how easy the refund process was with LogMeOnce, I reached out to customer support to ask about their money-back guarantee.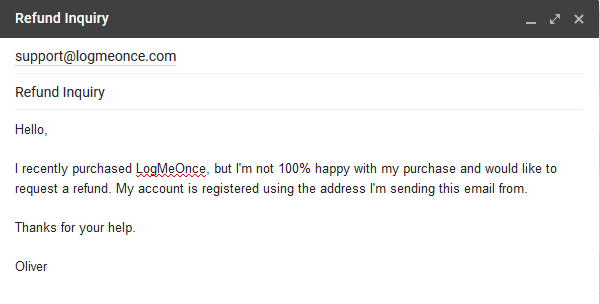 I was very impressed with their response time and the politeness of the support staff. I was asked a quick question regarding why I wasn't satisfied in order to improve the experience for future users and then the refund process was started right away! Unfortunately, it did take several days for the money to actually hit my account, but that was partly a problem on my end due to a lack of clarity regarding payment email and details.
While the interface and features of LogMeOnce may be lacking in user-friendliness, the support team is second to none. I took off a point in this section due to the lack of phone and chat support and a bit of a drag while waiting for the refund to go through, but with the email team being so responsive I didn't feel like it was a dealbreaker.