Intuitive Password Review: Quick Expert Summary
Intuitive Password is a feature rockstar, offering things like folder organization, password inheritance, emergency access and a customizable password generator. Although the multiple features and options make the interface a bit confusing, the detailed user manual conveniently embedded in the interface helps you figure it all out.
I've reviewed over 70 password managers, looking for the best of the best on the market for price, features and ease of use. This review will go over the ins and outs of Intuitive Password, which boasts "military grade" security so that you can decide if it's the right one for your password management needs.
Features
Intuitive Password Features Overview
Security
2-Factor Authentication
Yes
Encryption level
AES-256 encryption
Multi-device sync
Yes - free and paid
Backup and recovery
Yes - paid
Mobile apps available
Yes - Android, iOS, Windows
Password generator
Yes
Browser extensions
Chrome, Firefox, Safari, Edge and Opera
Password Auto-import
No
Form autofill
Yes/No
Support
Email
Yes
Live Chat
Yes
Phone
No
FAQs
Yes
Languages available
English, Spanish, German, French, Italian, Romanian, Japanese, Chinese
24/7 support
Not specified
Intuitive Password boasts a wide array of features, from the basics like a password generator and alerts about weak or breached passwords, to advanced options like account inheritance.
They offer four different plans, the first three for individual users, and the last for companies. I strongly recommend the Advanced version because it is the only one that offers two-factor authentication, which is a must, so my review relates to the features offered in that version. According to the company, it is their most popular version. However, below is a brief overview of the features in each of the individual user options.
Basic (Free)
All device support (phones, tablets, Macs, PCs, etc.)
Single-use codes to use when you're logging into an insecure device
Auto log out if you haven't used your device for a set amount of time
Flag-tag organization
Search: search for passwords by keyword or tab
Alerts of weak or breached passwords
Emergency access to a chosen person if you are incapacitated
Password storage—it's not clear how many you can store in the free version
One-click login
Express
All features in the Basic version
Storage for up to 2,000 passwords
Sync with Dropbox, Google Drive, Box and OneDrive
Import and export (via CSV, see setup section)
6 digit passcode for easy login on mobile devices
Offline data access
Advanced
All features included in the Express version
Two-factor authentication
Unlimited password storage
Unlimited email alerts
Data restoration
Account inheritance feature
Folder-based organization
In today's world, most of us have tens, if not hundreds of online accounts. It can be very confusing to track and organize so much information, so Intuitive Password offers user-friendly, folder-based organization based on categories. It comes with the following default categories:
Account: Email and IM accounts and wireless router details.
Wallets: Credit cards
Licenses: Software and other
Identifications: Various ID types such as driver's licenses and even library cards
Identities: This is static data, that isn't used to help you automatically fill out logins.
Bookings: Hotels, rental cars, etc.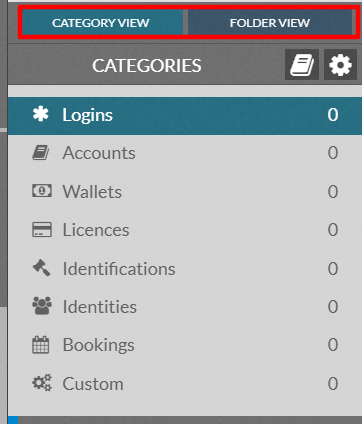 You can create unlimited folders and nested folders in each category. When you enter a new account, you are prompted to define a category for the item. The exact data fields are customized to be relevant to the particular category and you always have the option to add a note and up to three tags for the entry. These features make organization easy, even for the most disorganized person. The categories are customizable so you can hide ones you don't use and you can also create a custom category if you need one.
In general, the organization is intuitive and easy to use. The only problem was moving a folder or item. There is no drag and drop—if you want to move an item from one folder to another, you have to go into that item and manually change its settings. Therefore I recommend setting up your categories and folders before you upload your accounts.
Customizable Password Generator
Intuitive Password has a cool password generator that allows you to set the features that you want for a given password. This includes the length (up to 99 characters!), how many passwords you need of that type and what you want to include (case, numbers, symbols). It leaves out 'symbols' by default, which is a bit strange, as this would surely make the password generated even stronger. If this bothers you, make sure to check that box.
One-time secret notes
Another free feature allows you to send one-view secret messages. Just type your message into the WYSIWYG editor in the app, add a password if you choose, and click "create note." Once you do so, you get a link on your screen that you can send to the person, as well as an access token. You can then send them to the recipient, preferably by separate means.
Emergency access and account inheritance
None of us like to think about it, but if we're ever incapacitated, it will be extremely difficult for our family or friends to get into our accounts to take care of our affairs. Intuitive Password offers both an emergency access feature for temporary incapacitation (all versions) and an inheritance feature in the case of death (Advanced version only).
The emergency access feature is included in all versions, even the free one. It prints out an official form with a very lengthy code and instructions on how to use it and instructs you to give the form to a trusted friend or family member for safe keeping. If you are ever temporarily out of commission, they can use the emergency password to login to your account and gain read-only access to your account for a two-hour window.
Password inheritance allows you to hand off your account to your heirs after your death. It prompts you to identify a beneficiary who must verify acceptance of the role via email. If your beneficiary tries to access your account while you're still around, you can revoke his/her access.
Like a lot of the Intuitive Password features, the inheritance feature isn't set up for dummies. Unlike Dashlane which allows you to define which accounts are open to your heir and Zoho Vault, which allows you to create separate business and personal sites and give inheritance access to different people for each category, Intuitive Password gives the heir access to everything. You can get around it by defining master password access for certain sites, like your most personal ones, and not giving your heir master password access, but you have to manually adjust the settings for it to work like that. Their default settings remove all shares and offline access when an heir takes over the account, which sounds like a good idea to me.
Offline mode
The best web-based password manager won't help you much if you're not connected. Obviously you don't need it to login to websites, but you might need to access personal data on your device that is password-protected. The offline mode, which is available in all of the paid editions, creates a static copy of your login data that you can use as a backup and save to your device. It's a toss up, because saving the info to your device does expose you to a security risk.
If you do choose to activate this feature, you're asked to create a master password that is different than your regular one, although you can use your regular master password if you choose. The offline mode displays your passwords as a list, with details appearing in-line rather than the full dashboard. There is no search function, which could be a helpful addition.
Other features
Restore: You can restore older versions of any of your accounts to keep track of what you changed and when.
Expiration reminders: You can set expiration dates for each account and you will receive reminders to update them as the date approaches.
SMS security alert: Lets you know when someone has logged in to your account.
Sync with Google Drive, Dropbox, OneDrive and Box: This is a feature that not all managers have.
Plans and Pricing
Before I go into any detail about the pricing plans, note that prices are given in Australian dollars, not USD. It does say AUD, but most people see the dollar sign and assume it's USD, especially if they're using an IP that is not in Australia. It's a bit odd to price in a non-standard currency, and it actually hurts their marketing by making the product seem more expensive than it actually is.
Intuitive Password offers four options with each version including several features that the previous version does not offer. However, they push you to the Advanced version, for good reason—the Basic (free) and the Express version don't offer two-factor authentication. Since that is a critical feature, and fairly standard, I would not recommend using the Express and Basic options, even though they do include some great features. The Pro version is for teams and not necessary for a single user. The Advanced version pricing is comparable to the competitors who offer similar features.
They have a 30-day money-back guarantee for all of their paid plans.
Ease of Use and Setup
Setting up your account is easy. You enter your email and selected password, choose the plan you want, pay for it (unless you're using the free one) and then verify the account via email. That's it, you're done.
Once you're in the site you hit a screen that's a bit confusing due to the many features they offer. However, they have a "Tutor me" tab, which is very convenient and helpful. I like the way they included it in the interface, you don't have to go back to the main site and start searching for answers. The info is well organized, detailed and user-friendly.
However the friendly welcome doesn't make up for the fact that they do not offer automatic import, you have to use a CSV file which isn't an easy task. However unlike Avira, at least they walk you through how to do it, which helps a bit.
Intuitive Password offers apps on the App Store, the Play Store, Amazon Appstore and Windows Phone. All you have to do is download the app to your device and login as you would on the desktop version.
The mobile apps include all of the features of the desktop version, just organized a bit differently to fit the smaller screen. The one exception is the security dashboard, which is too wide to fit in the mobile version. Also, there is no automatic login in the mobile version, you have to tap to copy-paste or use the 6-digit PIN instead (see the next section).
Security
This is where Intuitive Password really stands out. They boast "military grade" security, and focus on robust options that go beyond the basics. For example, their hosting environment boasts several layers of firewalls and controlled by application certificates. They store your password (to authenticate you) using PBKDF2 with unique salt for each credential and 10,000+ iterations. All data is encrypted locally at data centers with strict security protocol and they use 256-bit SSL encryption for transferring your data to payment services and other outside sites. Their website details a long list of additional security protocols if you really want to review the technical details of their every service, but below, I focused on the aspects that you experience as a user.
One problem—the password rating system was a bit off. It gave a "perfect" rating to any password with 20+ characters, even when they were all the same. For example, I plugged in 1111111111111 etc., and got a perfect rating.

Two-factor authentication
Intuitive Password gives you three options for two-factor authentication, which is more than many of the competitors. You can use a master password, an authentication code texted to your registered mobile phone or set it to use Google Authenticator. The text option generates ten backup codes that you can use if your phone isn't accessible.
It is important to safely store the backup codes, because if you lose both your phone and the backup codes, the only other alternative is to contact the company and ask them to release the two-factor authentication, and they say that could take up to 14 business days to process. Ouch. But assuming you can store them safely, it's nice to have the different options for authentication.
6-Digit PIN
Logging in with a master password on a handheld device can be cumbersome, so Intuitive Passwords allows you to define a device-specific six-digit PIN for each device, and log in using just the PIN which is very convenient. They prompt you to create the code as part of the setup process so that you don't miss out on this feature. Since the PIN is specific to the device, even if you lose the device, your account and other devices are not compromised.
Security questions for new devices or IPs
If the system sees that you are logging in to your account from a new device or IP, it will require that you answer a security question, or approve the device from your email before you can login. You can also define unique security questions for specific accounts.
Customer Support
Intuitive Password offers strong customer support. There is a chatbot and email support for all versions, even the freebie. They also have an extremely detailed FAQ, nicely categorized by topic. However, they do not have search for their FAQs, which would be a good thing to add on. Their tutorials are also very well done, as I described in the set-up section, and I liked the flow of being able to access them directly from my account.
The entire website is available in English, Spanish, German, French, Italian, Romanian, Japanese and Chinese, and there is a tab on top that makes it easy to navigate between languages.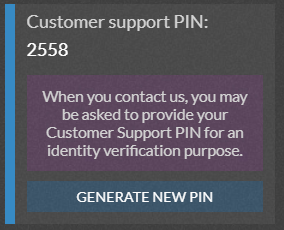 When I wanted to cancel my paid subscription, it was extremely easy. I wrote their chatbot and got an immediate response, which instructed me how I could revert my paid subscription to the free version on my own. It was very easy to do, and they sent me a refund on the same day! That's very nicely done indeed, Intuitive Password!
Two odd things I wanted to mention, neither of which are critical, just odd. One is that there are quite a few typos and English errors throughout their site and interface. None are significant enough to prevent you from understanding what they're trying to say, but it seems like an odd quirk for a company of this caliber.
Another issue is that you have to refresh your browser every time you login. Again, not critical, but a bit strange and there is no explanation about why this is necessary.