Blur Review: Quick Expert Summary
Blur may not look quite as sleek as Dashlane or KeeWeb, but the trade off is a lower learning curve. Whether you happen to favor the "set and forget" type of software, or don't have the time to learn how every password manager works, Blur is the way to go.
The simplicity starts with their dashboard, which clearly shows all of your available features in just one place. Need to mask your credit card or autofill identities? Just click the dedicated buttons.
A quick glance at Blur's straightforward dashboard (as seen further below) shows just how easy it is to use, but will it be everything you're looking for? I've personally reviewed over 70 password managers for 2019, to bring you the best comparisons available online. So, let's see how Blur fares.
Features
Blur Features Overview
Security
2-Factor Authentication
Yes
Encryption level
AES-256
Multi-device sync
Yes - paid
Backup and recovery
Yes - paid
Mobile apps available
Yes
Password generator
Yes
Browser extensions
Chrome, Edge, Firefox, Internet Explorer, Opera, Safari
Password Auto-import
Yes
Form autofill
Yes
Support
Email
Yes
Live Chat
Yes
Phone
No
FAQs
Yes
Languages available
English, Spanish, German, Portuguese, Japanese
24/7 support
Yes
Despite its simplicity,
Blur is packed with a number of useful features
. While some may want something a bit more advanced like Dashlane or Sticky Passwords, I feel that
Blur gives the average web user everything they need plus a bit more than you would get with most free or budget password managers
.
With Blur, you have the ability to store your passwords safely with AES-256 encryption controlled by a single master password, auto sync and do cloud backups. However, in addition to these standard features, Blur gives you a whole lot more. Perhaps its biggest attraction, and one that makes it more unique among the army of password managers available on the web, is the three-way masking feature.
Email, Phone and Credit Card Masking
In order to take advantage of the masking feature, you'll need to subscribe to the paid Blur service. However, in my opinion, this service alone is worth paying a few dollars a year for.
Blur's masking service is divided into three main components:
Email Masking (included in the free plan)
Phone Masking
Credit Card Masking
As with all three masking services, the email masking feature is easy to apply to any of your email addresses and works by forwarding a fake email address, thereby ensuring that any potential spammers or scammers can't get a hold of your real email. All three masking features are available on the Blur dashboard and each has its own dedicated icon or button.

Phone masking works in a similar way to email masking. The difference is that you would have to choose your specific country's dialing code from a drop-down menu and then add the phone number you wish to be masked. Blur takes care of the rest, ensuring that your calls or your number can't be extracted by unauthorized third parties for marketing, spam and other reasons.

Credit card masking is the feature that many users will probably find the most important since most of us tend to transact online quite a bit. I found the credit card masking feature to be outstanding and very easy to set up. Like email and phone masking, Blur generates random number or letter sequences to create the mask, protecting your real details from prying software and malicious programs.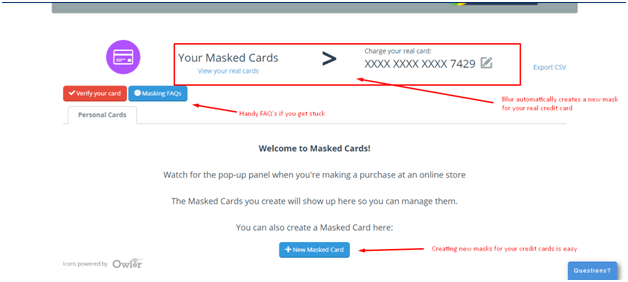 Autofill Feature
Another very useful feature is the 'Autofill' feature, which can be used to autofill credit card details, addresses and entire identity forms.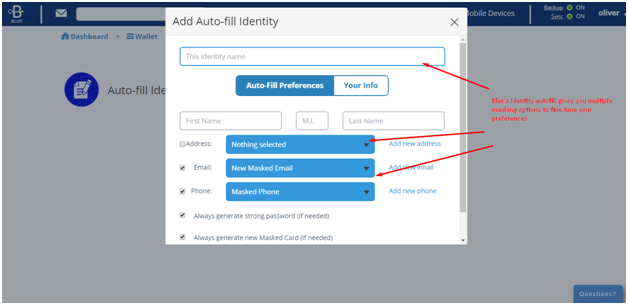 In each instance, I found this feature to be very easy and quick to set up and it's mostly intuitive, keeping that learning curve as gentle as possible. Blur uses forms with drop-down selection menus to help speed up the process of setting up the three main autofill options—address, identity and credit card.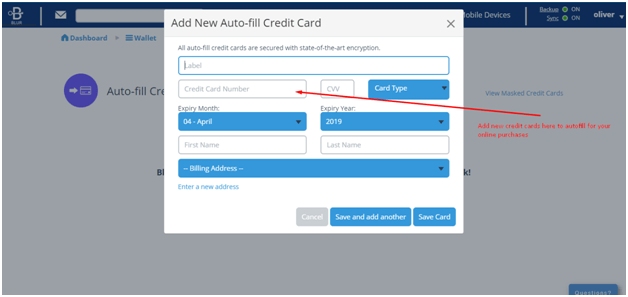 What makes Blur different from most other password managers that also feature autofill options, is that you don't have to go digging around in the settings menu to find them. Each option has its own dedicated button that can be found on the main dashboard, easy to see, easy to use.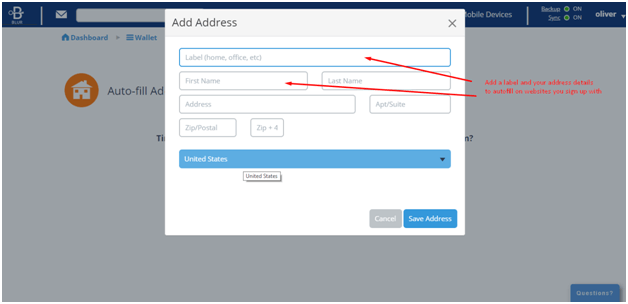 For me, being able to easily access core features like autofill and masking, puts Blur in the top tier of reasonably priced and fairly comprehensive password management platforms. I don't always have a great deal of time to spend searching through features and settings, and having each dedicated button right there on the home screen dashboard really makes Blur a winner.
Anti-tracking Feature
Another useful feature, free for all Blur customers, is the anti-tracking feature. Blur Tracking works with the Blur browser extension to ensure that it automatically blocks any and all attempts for websites to track your data, personal information, etc. Clicking on the 'Tracking' button will bring up statistics on all the tracking that's been blocked while surfing the web.
Other Features to Watch Out For
Blur features a built-in browser extension for your preferred browser, which will automatically reflect your choice. Adding it to your browser will give you a lot more online security to autofill data, mask data and prevent tracking while on any site.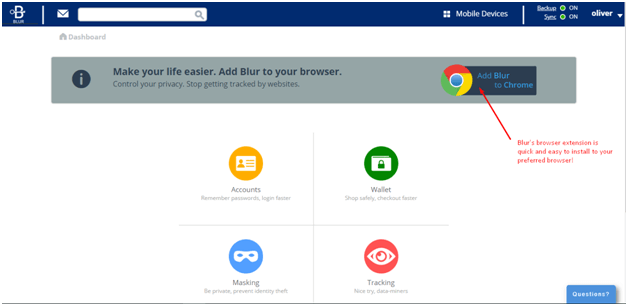 Other notable features include multi-device sync and, for paid (premium) members, dedicated apps for Android and iOS, as well as automatic password backups to your Dropbox account. All password databases stored in Dropbox are stored in an encrypted form, so no need to worry about Dropbox's own privacy issues.
Plans and Pricing
Blur essentially comes in two different versions, the free to use version and the paid or premium version. I found that the free option covers the basics quite well and, if all you really need is a solid and reliable platform to store your passwords or generate strong new passwords, Blur does the job well.
However, in addition to that, you also get to enjoy free email masking, free tracker blocking and free autofill on websites. Not bad at all for the free Blur version.
While other password managers, such as LastPass, do include multi-device auto sync with their free option, you won't get the email masking feature. So, it all boils down to what you find more important—syncing all of your devices or masking your email addresses online.
The paid or premium version of Blur includes all of the standard features and gives you a whole lot more for your buck. I outlined the main features, but have to mention the priority support for premium members (think of it as a VIP customer service).
Something else that's important to note about Blur's premium membership is that while the price is more than reasonable, you'll have to pay for it upfront. The billing cycle occurs every 12 months.
Ease of Use and Setup
Setting up a Blur account is as easy as it gets. Since this is a purely online platform, there was no need to download any programs to the desktop. Now, this can be both a good and bad thing, depending on what your needs are.
Since I didn't have to worry about offline password applications, I was quite happy to not have to deal with downloads and installations like with KeeWeb, Password Padlock and several other online and offline password managers. However, this could influence your decision to go with Blur, or skip it and find something that caters more to both of those application aspects.
Once I'd sorted out my premium subscription and received a confirmation email, I was good to go.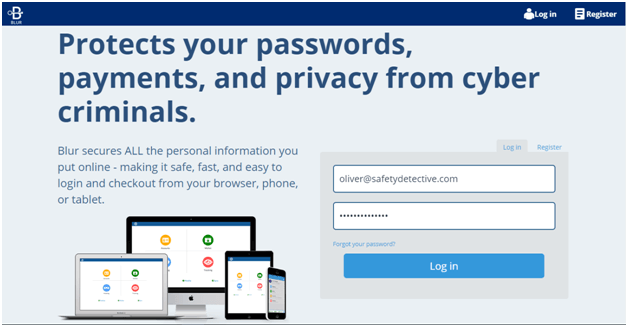 I followed the provided link to my login page, entered my email address and password combination and logged into my personal dashboard. As I mentioned a bit earlier, the dashboard is quite clean and uncomplicated (some may find it a bit too simplistic).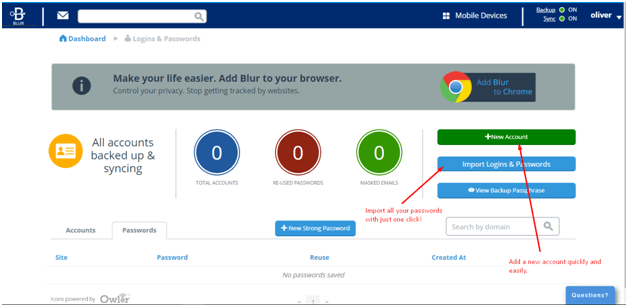 Adding a new account is an easy process. Clicking on the bright orange 'Accounts' icon on the dashboard takes you to the 'Accounts' menu, where all existing accounts and relevant data, such as password and website info, are stored.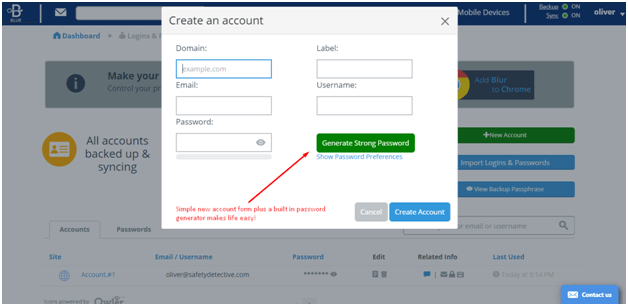 Adding a new account takes just a few seconds to complete and the password generator is built in so there's no need to worry about creating another strong password, Blur did it for me.
From this same page, Blur allows you to import all of your logins and passwords in just one click.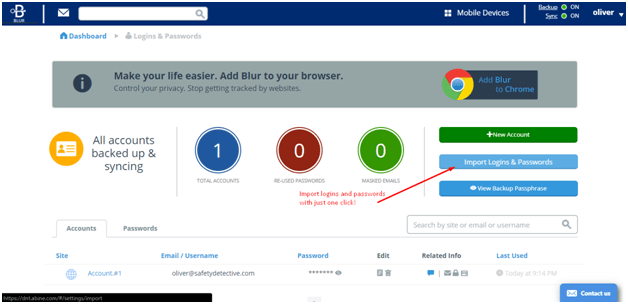 Security
Here's what I like about Blur security. They use something called a "Zero Knowledge" security model, which really goes a long way in ensuring that your data is always encrypted and secure.
Blur's "Zero Knowledge" security model comes with a number of security features, including encrypting your data through AES-256 encryption before sending it out over Secure Socket Layer (SSL) channels. In other words, the data I add or upload to my Blur account is encrypted from the start, so no one that works at Blur can ever see my data. Even better, my password is never stored locally, so only I ever know what it is.
Here's something else I really like about Blur security. If you forget what your master password is, you can use a backup passphrase to restore your account. You'll be shown your backup passphrase when you login for the very first time, and are asked to write it down and keep it safe.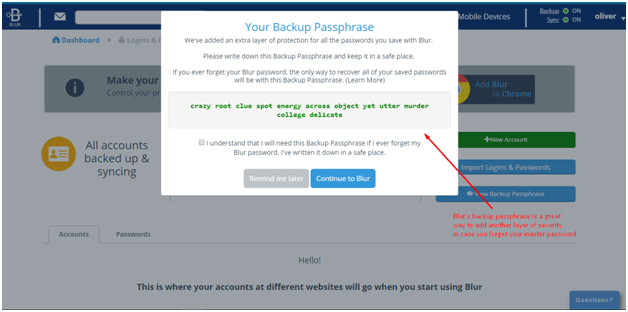 While two-factor authentication isn't automatically enabled when you log in to Blur, you can go to the settings page and activate it via an external app of your choice.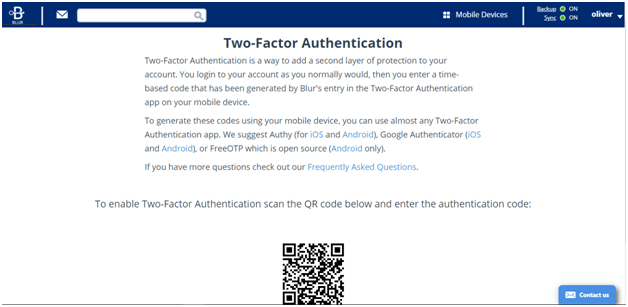 While this may not be an ideal solution to 2FA applications, not everyone likes using two-factor authentication via their mobile device. That said, I reckon that Blur's security level is more than satisfactory, considering that you also have the option of masking, anti-tracking and random password generation.
Customer Support
Blur's customer support is fairly decent, with two main support options available. They have an extensive FAQ section which you can access from your accounts settings. The FAQs virtually cover every aspect of Blur's platform and features and is a great place to start if you're new to password managers.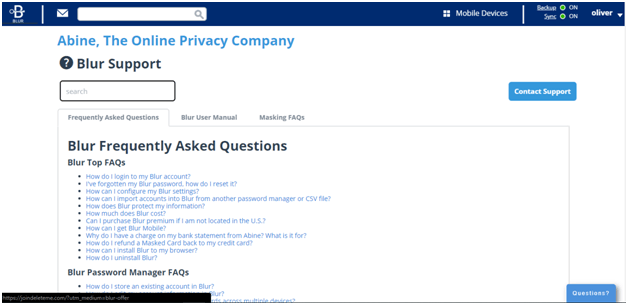 Beyond the FAQ page, users can reach out via the Contact Support button. This hybrid between live chat and email contact form promises faster response times for premium members compared to free users.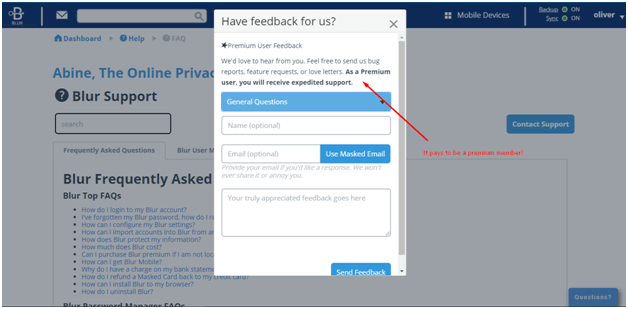 Requesting a Refund
In the event that you would like to cancel your annual subscription, you can do so from your accounts settings tab. I decided to test how this would work and see if I could get a refund on my subscription since it was still pretty new.
The process is easy and begins with me clicking on the 'Settings' tab and navigating down to the 'Manage Subscriptions' tab. All that's needed from this point on is to click on 'Cancel Subscription.' You'll be asked for a reason for the cancellation and, according to the pop-up, all feedback is read by the CEO.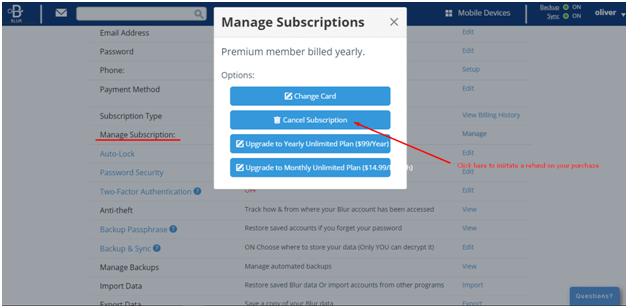 After providing a reason for the cancellation, I received another pop-up, offering me 3 full months for free which is quite nice. However, since I was testing out the Blur paid service, as well as the cancellation process, I declined their generous offer. My next pop-up confirmed my account had been canceled and that all masked features were now void and any outstanding balances would be refunded.