Zemana Antivirus & Security Review: Quick Expert Summary
Zemana is from a Turkish antivirus manufacturer and provides a basic antivirus tool for Android. The user interface is certainly not intimidating, but it doesn't rate highly at keeping Android handsets protected from the ever-growing list of cybersecurity threats.
Security
Zemana features an antivirus scanner with two modes: fast scan and full scan. The scans browsed through a list of "objects" on my handset—which, even on the full scan setting, appeared to simply be checking all my installed applications—and the difference in speed between them was negligible. A test APK file that I had sitting in my downloads folder didn't prompt a notification, although a test trojan program did.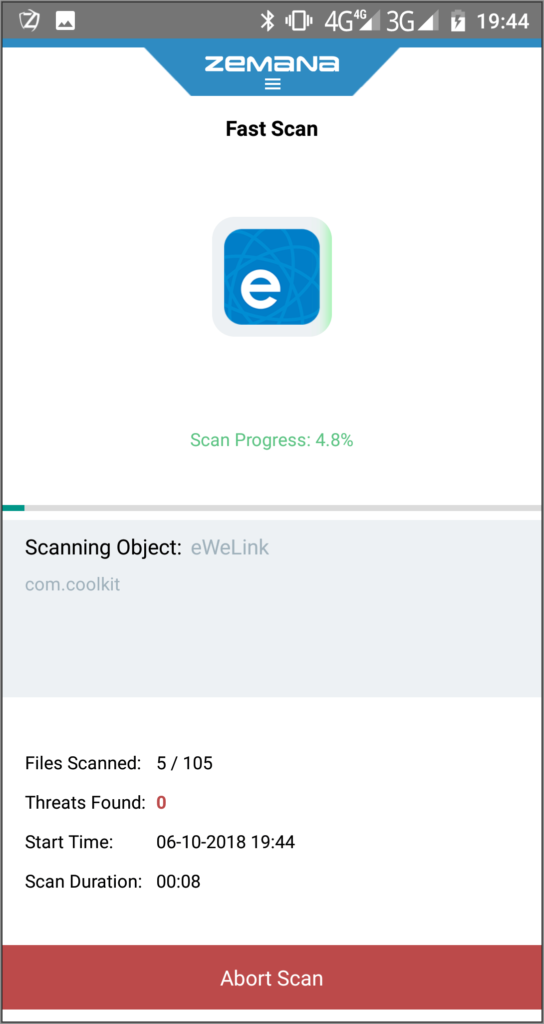 Generally, virus scanners should assess the entire file system. Malicious downloads or executable files that trick the user into installing them will not be detected by merely scanning the apps that have already been installed. Although the program's support page claims that the full scan checks "all of the files in the internal storage and the SD card," this did not appear to be the case.
Despite the limited nature of the virus scan, the program has received complimentary ratings from testing labs. It also functions quickly: the full scan ran its course in just under three minutes, although it didn't leave a report about what had been examined. All the common malware types—including traditional forms, spyware programs, and trojans—are included in its protection.
I was able to toggle whether or not I wanted the scan to use mobile data or only when connected to a WiFi network. I was also able to instruct the scanner to check pre-installed ROM applications, although this setting was disabled by default.
Zemana features real-time protection, so there's no need to manually initiate scans or set them to run on a schedule. The application keeps a background process running and generates a continuous notification which displays the current system state.
Features
In addition to antivirus protection, Zemana also includes:
Potentially Unwanted Application (PUA) Detection
PUAs are usually unwanted applications that users sometimes inadvertently install by clicking on deceptive download links or adding components to apps they already have. They frequently inject malware that can slow down or attack users' systems. Zemana has a comprehensive definitions list of known PUAs and its detection engine will automatically notify users in the even they're detected.
I tested this by deliberately installing SMSreg—a PUA that sometimes comes installed with unscrupulous battery optimization apps—and received an immediate prompt to uninstall it.
Anti-Keylogger Protection
There are a number of Android keyloggers out there which record users' every keystroke. I installed the mSpy remote device monitoring suite to my Android and sure enough, I received a prompt that the program was running. For those concerned about invasive monitoring and digital eavesdropping, this kind of protection is now a must.
Ease of use
Zemana is easy to install and navigate. Unlocking the premium trial did require going to the Google Play Store and opening a subscription, but most users should be comfortable with that.
Support
You can access support from within the app, but it isn't easy to find. Click on About under the Settings menu and then select personal help. This lets you email the technical support team, which offers around-the-clock assistance. A courteous response to support tickets is typically received within 2 hours. The company has a relatively small online knowledge base which addresses user FAQs. Overall, the support available was adequate, although a few additions (in-app knowledge base, live chat) would have been appreciated.
Pricing
Users can purchase Zemana Security subscriptions directly from within the app. Additionally, the company offers a 15-day free trial for users who would like to evaluate the product before buying. Subscription management and billing are handled natively from within Google Play Store, so users are able to easily cancel the trial at any time. The monthly and yearly subscriptions are a reasonable value, although the app doesn't provide an overwhelming amount of functionality.