TrustPort Review: Quick Expert Summary
TrustPort Mobile Security is an antivirus and mobile security app for Android. Its features include an app and file-system scanning tool, a safe browser, and an online control area for remotely security the device.
Here is a video that reviews TrustPort antivirus:
Security
Android antiviruses often consist of nothing more than scanners that shoot through the user's installed app list then display a cursory message indicating that the system was found to be clean. Thankfully, TrustPort Mobile Security provides much more comprehensive scanning and reporting options.
Multiple Scan Types Possible
Users can scan system applications, external storage volumes, or even the whole phone (including the external volumes). An extensive settings screen provides a wide selection of choices for how to configure the scan. For instance, it's possible to customize the download location in case you are using a non-standard download path to save items from the internet. In addition, users are able to turn on scanning of system applications. to check stock applications during on-demand scans.
Users can also configure a check for virus database updates after a certain number of days or after a certain period following startup. To control data costs, when the phone is in roaming mode, updates are disabled by default.
Unfortunately, although some of TrustPort desktop products have been reviewed by testing labs, I wasn't able to find independent benchmarking reports for its mobile app. Nevertheless, the tool correctly identified a test of a sample virus and user reports frequently cite the thorough nature of its scans.
Send Remote Commands with Web Control
Mobile Security also syncs up with TrustPort Mobile Security Web Control, an online dashboard for sending remote commands to the device. Although this required registering an online account and selecting which remote commands to enable on the handset, it features a recent activity log and list of devices associated with the account. By knowing their login password and phone number, users can also send remote commands to their device from other handsets running the program. This is a nice layer of additional security that could save a user with multiple handsets (that needs to lock down one after loss or theft), or someone using a friend's handset to secure their own phone.
Features
Mobile Security features two additional tools besides the virus scanner: an application manager and an incoming and outgoing call filter.
The application manager provides an in-depth overview of all currently installed apps and the individual permissions that each app has been granted. The list is ordered according to the number of permissions granted, so it's easy for the user to identify a rogue piece of malware (such as a rootkit) that has granted itself high-level permissions and embedded itself deeply in the device.
Individual Permission Scanning
Users can also search through the list of apps according to granted permissions. This is a great way to diagnose an app that is misbehaving. Each permission also contains a handy description to guide users in the identification process. By investigating which apps I had granted "Draw Over Other Apps" permission to, for example, I was able to pinpoint which of the two app duplication programs that I use (Parallel Space and Multiple Accounts) was causing intrusive popups.
Finally, under running services, users can see a complete list of all currently running background processes on the phone. Clicking the information icon brings users to the "App info" screen of the app the service is running under. This is the closest thing to the Windows Task Manager that I have come across in an Android antivirus, so far, and gives users control over what they allow to run on their phone. Closing unnecessary background processes can also extend battery life, and users may be able to identify which apps are causing their device to drain faster.
Two-Way Call Filtering
The second core add-on feature is the outgoing and incoming call and SMS filter. As the name suggests, it filters dialed calls, received calls, and messages. Although the filtering options are about the same as you would find in a dedicated call filtering app (there's a whitelist, blacklist, and the ability to block unknown numbers under each category), I haven't seen outbound call filtering before. This could be used to prevent apps that have unintentionally been granted the ability to send SMSs from sending potentially costly automated messages.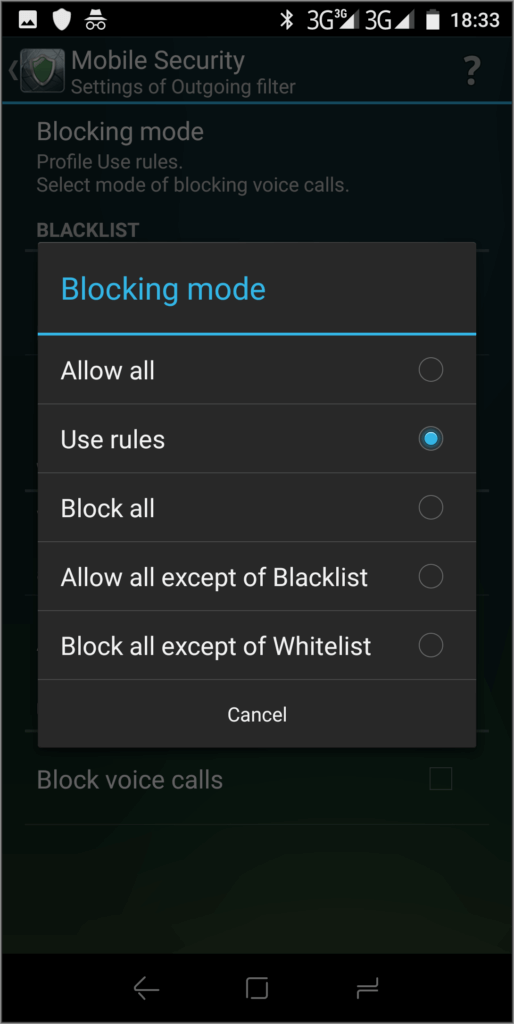 There's also a safe browser (with built-in phishing protection), a contact backup utility, and a "remote control" page for configuring the allowed remote commands.
Ease of use
Mobile Security is very easy to get comfortable with. The download process is straightforward and all necessary maintenance tasks (downloading definition updates, scheduling scans) can be set up to run automatically.
Support
There's an excellent 41-page PDF user manual provided by TrustPort to guide users through the program's functions. Additionally, there is an online help center with FAQs for common issues, and users can open a support ticket via email, receiving a prompt and courteous response.
Pricing
Mobile Security is available as a free download from the Google Play Store. Users can sign up for a free 30-day trial of Mobile Security Premium, after which they will be prompted to pay a very reasonable one-time fee to continue using the product. Mobile Security is a well-rounded security tool and its price is an excellent value for the money.