Reve Antivirus Review: Quick Expert Summary
REVE Antivirus is an antivirus and privacy optimizer for Android. It offers both internal and external media scanning options as well as comprehensive remote lock-down options.
Security
REVE offers three scanning options: the phone scanner, which checks both apps and external storage directories, a running app scanner, and a custom scan.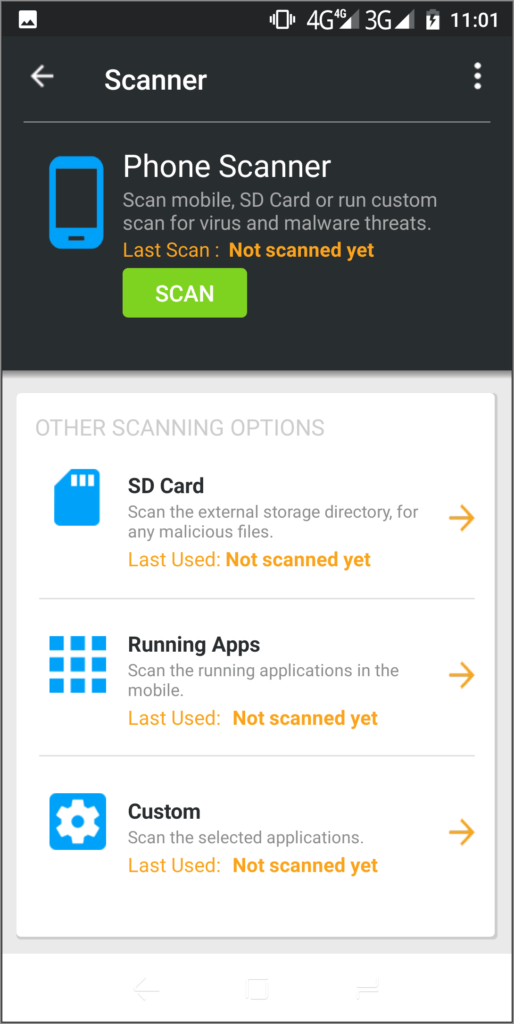 The default phone scanner certainly takes its time about checking your handset—my first scan took almost five minutes to run, and a line of text above the percentage icon showed me exactly which objects were being checked. REVE offers the kind of comprehensive scanning functions that I recommend in an Android antivirus, but the ability to choose a selection of apps to scan is a feature I haven't come across before.
Watch Out for False Positives
I couldn't find an independent benchmark test for REVE's Android version, so I installed some test viruses from IKARUS Security. These were detected in real-time, as promised.
Unfortunately, the scanner also threw up a number of false positives after I ran an on-demand scan. These "threats" were labeled based on REVE's definition database (the Helium app, for instance, was identified as "Android.Riskware.FakeApk.gUKNJ"), so I had to click the "remove" button to see what the program was suggesting I uninstall. These were all legitimate apps that I shouldn't delete, so users need to double check the scanner's default recommendations.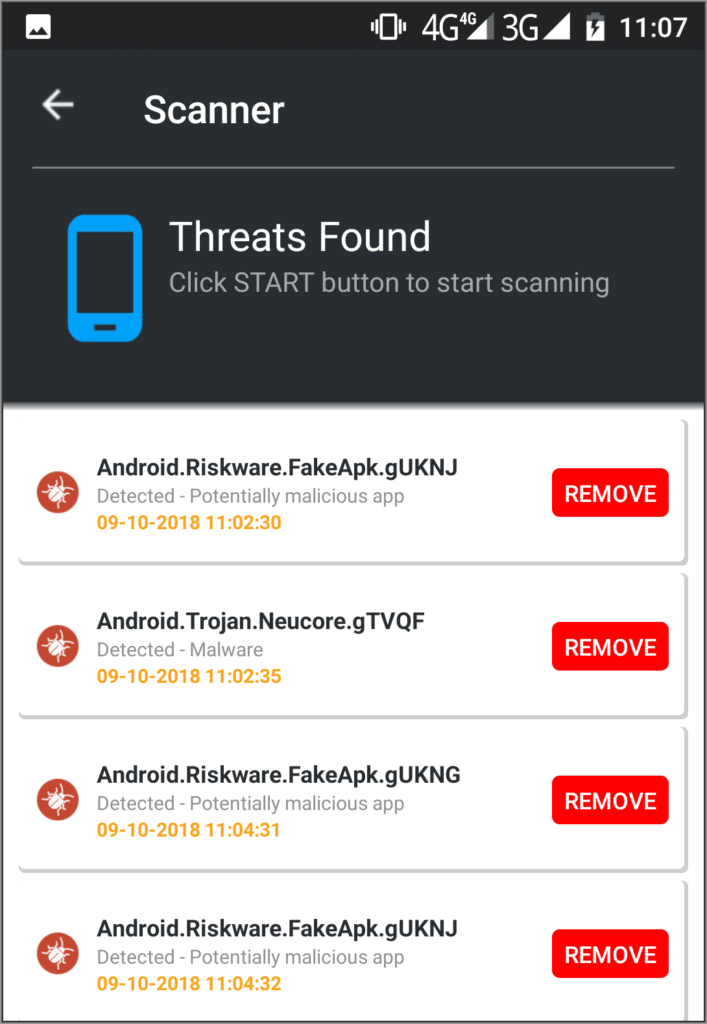 REVE lets users manually check for virus definition updates as well as set the automatic update check interval, which can be every twelve hours, every day, or every two days.
The app also provides a separate reports screen and allows users to aggregate PC and Android scan reports if both products are linked to the same account. I was able to view a complete list of scan reports with symbols indicating whether any threats were detected. Separate scan types were sorted into separate tabs, making it easier to track down a specific report.
Features
REVE also includes:
Anti-Theft Protection and Cloud-based Dashboard
The anti-theft protection module allows users to remotely locate, lock, and wipe their devices via REVE's online dashboard. Alarms can also be remotely activated to startle thieves. Users are able to manage multiple REVE devices through the web-based interface, or specify a trusted number which can be used to send encoded text messages to trigger the lock-down features. Unfortunately, I wasn't able to locate my trial key either by checking my email or the app—so I had no way of adding my smartphone to the dashboard's devices list. However, if I had a full license, this would not have been an issue. The dashboard also allows users to view scan reports from the app online.
Privacy Evaluator Ranks Apps
The app includes a privacy evaluation tool which grades each app based on its number of permissions and provides an overall rating for how at-risk your device is. Clicking on each app displays a list of the permissions it has been granted. The tool flagged a couple of apps I run with an orange warning symbol, although I chose to not take any action.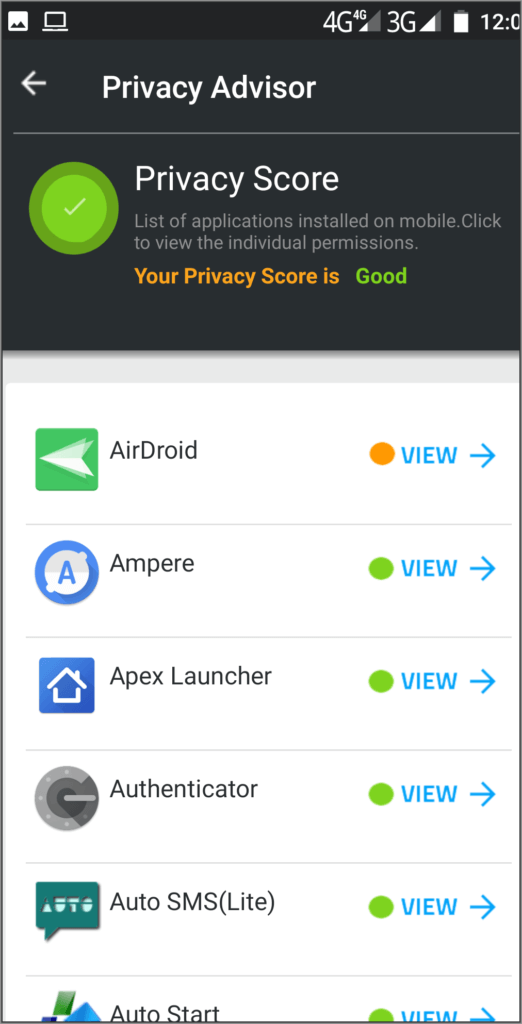 Parental Control
The parental control button on the app is intended to provide administrative controls for other devices linked to the user's REVE account. The tool allows category and blacklist-based filtering for protected devices.
Ease of use
Setting up REVE requires a couple of additional steps beyond simply downloading and installing it from the Google Play Store—but as this is a premium-only tool I expected as much.
I had to create a REVE account which began a generous 30-day trial license and gave me access to the online dashboard. The same account can be used for multiple REVE products, so if you're also using their PC tool, its data can also be linked here.
I needed to give the app device administrator access to take advantage of its app locking function, which allows users to create a pattern or number-based lock for individual apps. These steps are not particularly difficult, but if you want an out-of-the-box solution you might look for a simpler program.
Support
REVE makes accessing support easy by placing a "Support Chat" option directly within the app. This was really simple to use—I simply clicked the button and an agent immediately joined the live chat room. My query was answered immediately, and I received an email transcript as soon as the interaction ended.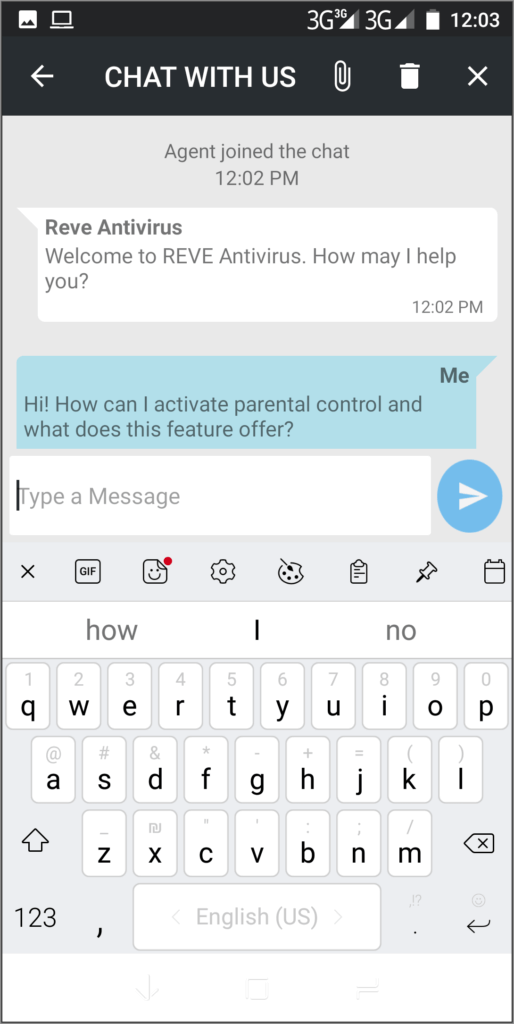 The company maintains a telephone support center and even uses a VOIP tool (KloudTalk) to ensure there's no cost to the user. I provided my cellphone and email address and received an instant callback from a support representative who quickly retrieved my account details. REVE also operates a ticket-based email support system and has a comprehensive FAQ page on its support website.
Although a couple of nice extras like video tutorials are missing, this is a very thorough support offering.
Pricing
Users can continue using the product after the conclusion of the free 30-day trial. I was only offered one option for a single-device one-year anti-malware license. The absence of a monthly billing plan is a little unusual, but at the bargain price, I couldn't resist. REVE doesn't overwhelm with its antivirus tools or additional features, but for the remote lockdown features alone it's well worth the money.