Quick Heal Review: Quick Expert Summary
Quick Heal Total Security claims to offer "robust protection for your PC" that protects against malware, financial theft, and spyware in addition to including a parental control function. Here's my assessment.
Security
Quick Heal contains both automatic and customizable scanning modes. While the former will check your files and directories according to the default system settings, the latter lets you choose which areas of the system to scan for viruses. You can also configure a default action in the event that malicious code is detected on your system. The software has also been proven to perform well under test conditions, and the AV-Test Institute has given it a "Top Product" rating. During my test, it immediately flagged the EICAR test virus file as malicious.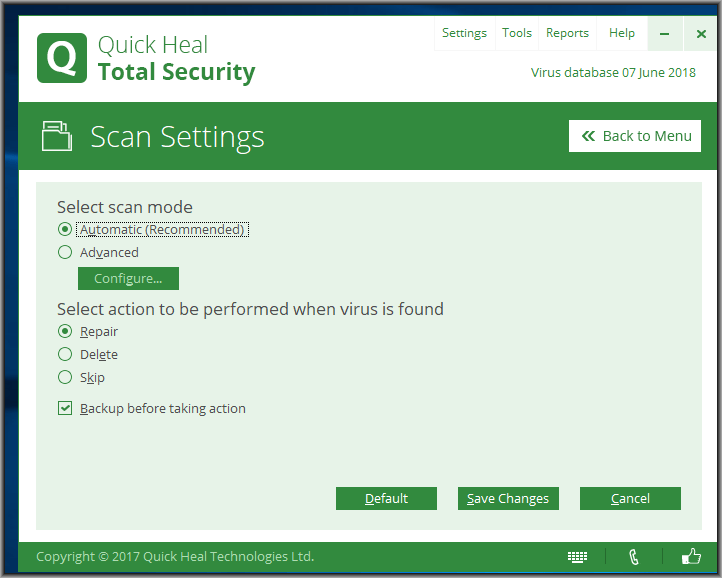 Those are just the basics, however. The software also includes the Advance DNAScan tool which provides continuous monitoring for unsafe programs. Behavior-based antivirus tools provide stronger protection over signature-based models, and I was glad to see that Quick Heal has included both features in this tool.
Additionally, the program includes an Automatic Rogueware Scan which runs off a separate definitions database specifically looking for rogueware. Rogueware is an increasingly prominent threat which installs malware masquerading as malware removal tools.
Features
Besides its rich selection of scanning options, Quick Heal Total Security also includes some internet security features. These include an anti-keylogger tool, automatic scan scheduler, and a parental control system.
I tested out the keylogger and it blocked access to the download page for popular Windows keylogger Spyrix and then quarantined the program once I installed it from a USB drive—this is impressive as other software titles' keylogger protection can often be bypassed this way.
The parental control feature is also extremely well-designed and would give any other tool a run for its money. It directly integrates with your system accounts, which makes it easy to block certain categories of websites. Choosing which categories of websites to block for young browsers isn't always simple so the system prepares filtering templates based on users' ages. The parental control module also features an application control tool which locks down access to certain programs on the computer itself.
This is a tool that I haven't come across much before and the combination of web-based and program-level filtering gives parents peace of mind. Finally, there's a tool that allows administrators (ie, parents) to restrict PC access according to time and day.
Another less common tool included in Quick Heal Total Security is a PC tuner. This includes some tuneup tools, such as a disk defragmenter, that aim to improve the performance of your operating system. Within one minute of initiating the scan, the system had identified several items in my file registry and hard drive that needed cleanup. The cleaning itself took place automatically and I was back to running a fully optimized system within minutes.
Ease of use
Quick Heal Total Security is downloaded from the Quick Heal website. Although I downloaded the installation utility in under a minute, the program initiated a lengthy download process before installing the program.
Personally, I always prefer when the initial definitions download happens in the background after the program has installed. Asides from the somewhat lengthy initial installing, however, using the program proved to be an absolute cinch. There's a central dashboard-style program for overseeing all of the system's moving parts and the installation process generated separate launchers to quickly access additional components such as the performance tuner and malware scanner. The dashboard features five main buttons to quickly access the deeper menus for the various scanning options and a check mark indicator on the "home" page provides an immediate indication of the system's health.
Support
Quick Heal offers a comprehensive support program, including telephone support, email ticketing system, web-based knowledge base, live chat, and a remarkable remote support functionality within the program. This tool is actually just Teamviewer nested within the program, so if you're familiar with that software you'll know how easy it is to provide an ID and password for a technician to take over your system. I loved how easily I could ask the technician from Live Chat to help me configure a scan of a virtual drive and then immediately return to the program to allow him to remotely access my machine. Truly, Quick Heal excels in this department.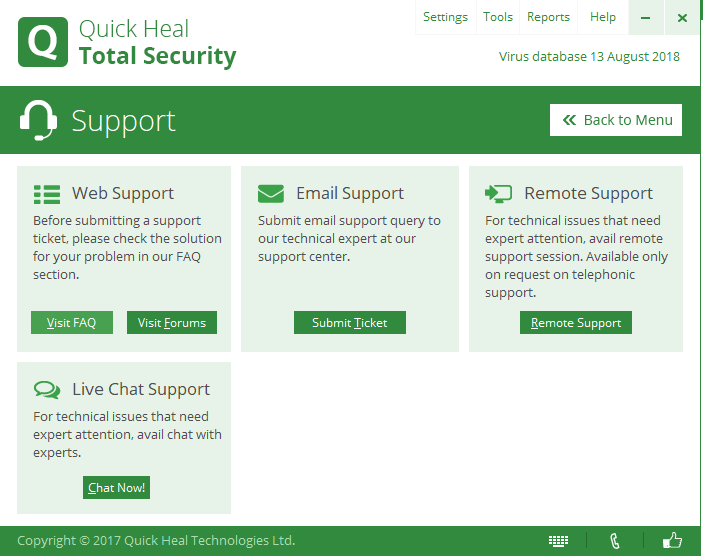 Pricing
Total Security is at the top of Quick Heal's product line, incorporating components from Antivirus Pro, Internet Security, and adding others like Secure Delete, Data Theft Protection, and the PC tuneup tool. I would have liked subscription periods longer than only one year and the option to protect more than three devices, but the solution is an excellent value considering its scanning and security features.