NANO Pro Review: Quick Expert Summary
NANO Antivirus is available as both a free download and a PRO (premium) version. The program sports well-designed menus and a nice look and feel. But does it have the virus-zapping power to match its slick appearance? Read on to find the result of my evaluation of NANO Antivirus PRO.
Security
The first thing I liked about NANO PRO is the huge array of scanning options that this Russian antivirus program provides. Users can choose from complete system, express, and removable media scans and configure each so that only the files and folders they need to have checked are scanned. Clicking the settings cog next to each scan type brings up a menu where you can really drill down into how you would like the scan to check your system. Here I was able to specify which file extensions to test, set limits as to the size of files which would be scanned, and even prevent the scan from running when my laptop was not connected to a fixed power source. The scanning tool runs quickly, can be configured to operate only in the background, and provides comprehensive protection against known and zero-day cybersecurity threats. I used the EICAR test file to see how quickly it could detect a known threat from a directory containing 200 files, and it alerted me to the file's presence in under three seconds.
Features
Another facet of NANO PRO that stood out for me was the extremely comprehensive scheduled scanning menu. The program calls this area "tasks," which is a fitting name for the tool—the options are more akin to those you'd expect within a program like Windows Task Manager than this of a simple scan scheduler.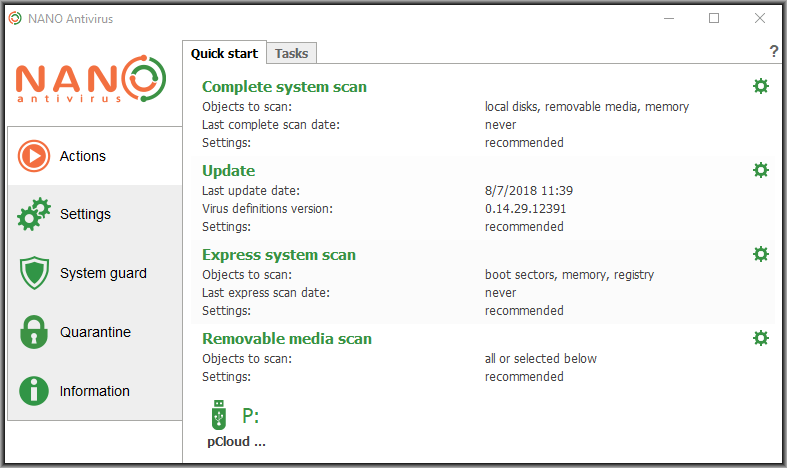 Here I was able to provide my own unique configurations for each scheduled object scan and even configure database upgrades to run precisely when I wanted them to. Given that many antivirus programs' scheduled scan options do not extend beyond selecting when to run the default scan type, I was particularly impressed by the granular level of options available here.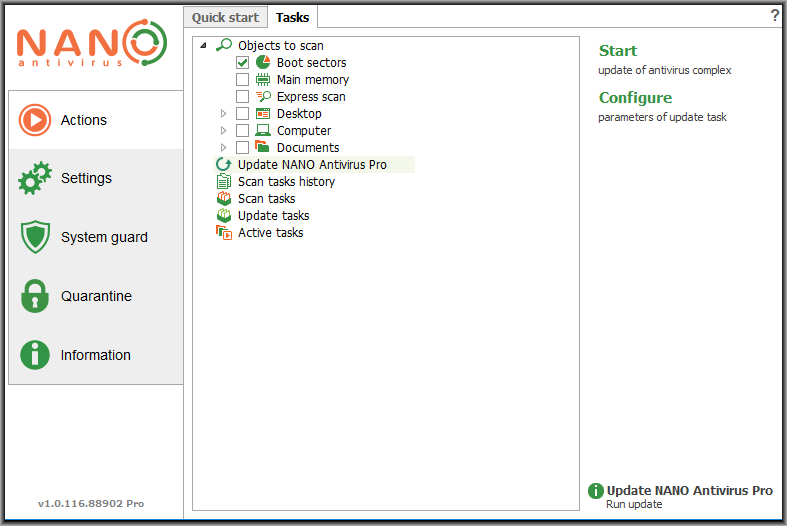 NANO PRO also includes a File Guard which provides continuous protection against execution-related cybersecurity threats. Web Guard keeps an eye on HTTP (internet), email, and FTP traffic and can be configured to block any connections that it finds suspicious. Finally, there's an event-logging module which provides plain English summaries of any noteworthy actions that the program took to protect the system.
I again appreciated how easy it was to customize the log: I could select which modules to pull events from and even delete the history if I wanted to start looking back through events "from scratch." A less common feature that I encountered within the quarantine zone was the false positive list. As the name suggests, false positives are legitimate programs that antiviruses mistakenly flag as viruses. Although these events are rare, I found it helpful that the program displays a clear record of instances when its protection proved a little too vigilant.
Ease of use
NANO PRO is undoubtedly a well-designed tool. Although the initial installation required downloading almost 700MB of definitions, once that was out of the way I found the program fast-loading and easy to navigate. And overall, I would still regard the installation as straightforward. Under the hood, there is a huge scope for customization, of course, and this is where the program really stood out for me.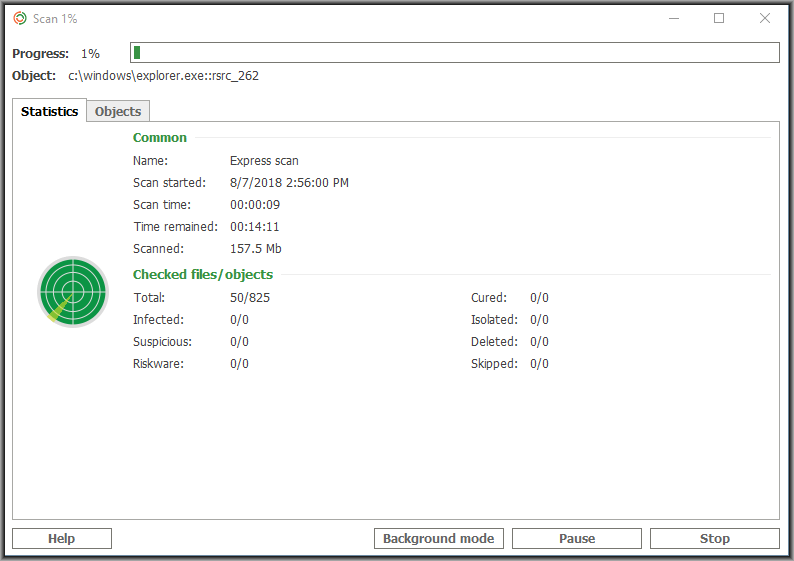 Support
NANO PRO users have access to comprehensive support, including a support email address, online documentation, and the built-in NANO Antivirus Reporter. This reporting module speeds up the resolution process by sending detailed information about logs and system state to the company's technicians. For instance, when I queried whether a detected piece of malware had been safely cleared from my system, the program was able to bundle my system information, quarantine history, and list of potentially malicious programs along with the ticket which meant that giving me the right answer (thankfully, "yes") took the company no time at all. Consider me impressed!
Pricing
NANO Antivirus PRO licenses are sold online through the company's website. Somewhat unusually, licenses are sold according to 100s of days of protection and priced in Russian Rubles. Although all of the licenses are extremely affordable relative to competition, I strongly recommend the 1,000-day option to lock down this bargain while it lasts. Given that the protection period extends to a little under three years, it's a veritable steal.