GO Security Review: Quick Expert Summary
GO Security is a freemium antivirus, battery-saver, and cleanup app for Android. I signed up for a premium account to take full advantage of its malware-detection, safe-browsing, and intruder-detection features.
Security
GO Security is both an app and system scanning tool, which works on four levels. First, known viruses, trojans, and malware apps are searched for using a definition-based method. Second, the system scans for pirated copies of applications which commonly carry ransomware and other threats. The scan also checks for privacy threats and finally, it eliminates junk.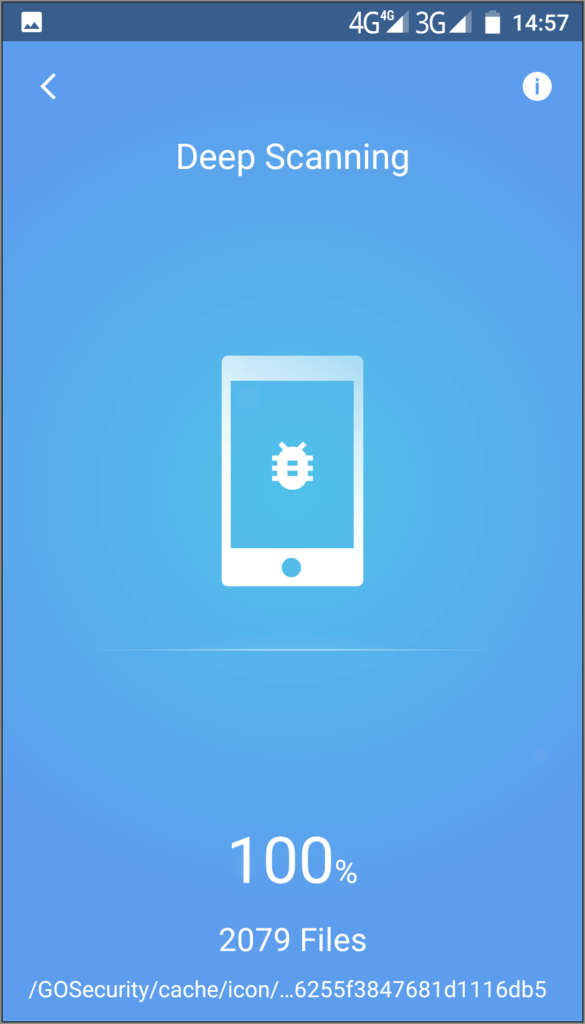 My first scan generated an entire screen full of information. Although this looked promising, the scanner incorrectly labeled an app that I had installed from APK as pirated, so be careful if you use a third-party app store. The tool also flagged some information on my clipboard and gave me an option to remove it directly within the application.
No Benchmark Data, but Effective Detection
I couldn't find any independent benchmark data. Users should make sure that the app isn't installing extra components without their permission.
However, I tested it with a couple of malware samples and found its detection ability to be excellent. In addition to a quick scan, the GO contains a deep scan tool which probes through files and folders and the app list. Real-time protection is enabled by default, so the system will flag potentially risky apps before they're installed.
What I found lacking was the ability to tweak the default scheduled scan interval (which is set to 18:00 daily) and any reporting function to show me what previous scans had found on the device. Although I was able to toggle on and off the real-time protection and deactivate database update alerts, both of these are important features that should have been included with the product.
Features
GO Security comes with a wealth of additional features that are intended to make handsets function as fast and efficiently as possible and to provide security in the event of loss or theft.
CPU Cooler, Junk Cleaner, and Memory Booster
The app contains three of the usual optimization tools: a CPU cooler, junk cleaner, and memory booster. On its first run, the system identified that my CPU was overheating—possibly due to the 24 apps that were running in the background! Clicking the "optimize" button resulted in a three centigrade drop, although I would like to have been given more information, such as which programs had been closed and the temperature immediately after the adjustment. I was suspicious about the initial reading the app provided, so I cross-checked the data GO provided with the equivalent reading on the well-known Antutu Benchmark tool and found it to be accurate.
While the CPU Cooler functioned nicely, the "clean junk" button is a little deceptive. It simply creates a pop-up prompting the user to install GO Professional Junk Cleaner.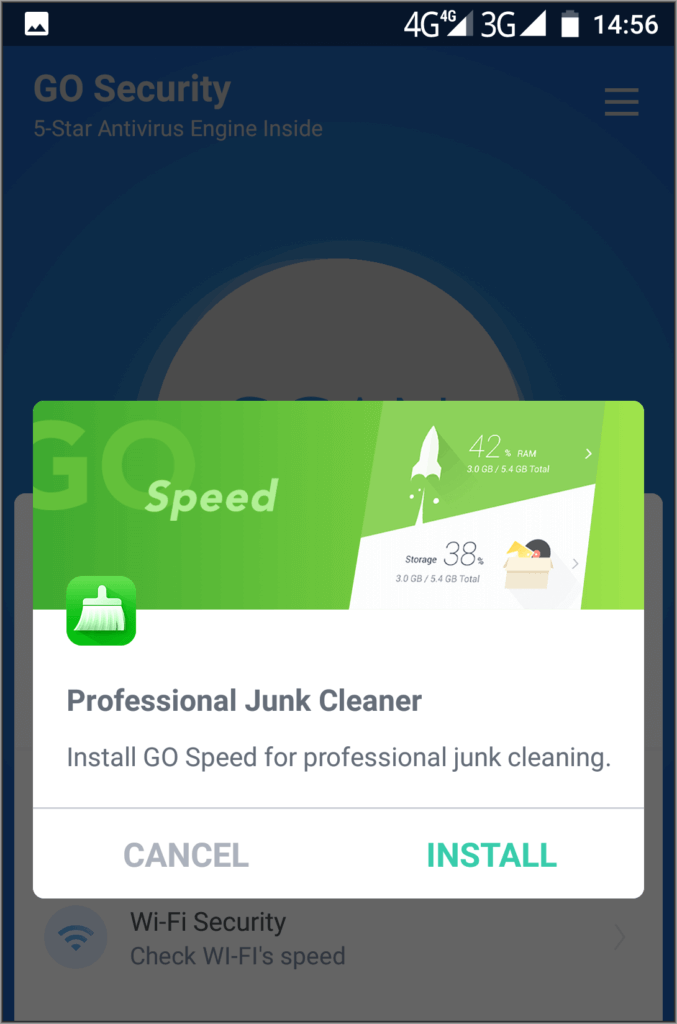 The second app functioned well and made a relatively conservative recommendation for cache junk removal. However, I'm not sure why GO felt the need to split these up into separate tools. The battery saver and memory boost tools appeared to function similarly by both recommending that I shut down apps running in the background. In both cases, however, I found the recommendations to be imperfect as many essential services were included in the list.
VIP Tools and Privacy Protection
After upgrading to the premium product, users can unlock the three VIP tools included in the app: Safe Browser, Privacy Censor, and the Pirated App Scan. There's also an Intruder Alert module which silently takes a photo whenever the app unlock code is entered incorrectly on two or more successive attempts.
I first tested Safe Browser, which promises to "block malicious sites to prevent financial fraud, identity theft, and malware." It functions behind-the-scenes, creating a proxy through which web traffic on the handset travels. To test it out, I browsed through the list of verified phishing URLs on OpenDNS's PhishTank site. Surprisingly, none of the phishing sites I tried to access in Chrome were blocked, although I noticed no performance decrease as a result of the traffic tunneling.
Privacy Censor could more accurately be titled "user permissions viewer." After scanning system apps, the tool simply provides a list showing which permissions each app has access to that could provide things like location, phone book, and contact information. Of course, app permissions mostly function on a "take it or leave it" basis. Users can disable individual permissions using the stock apps viewer, but doing so generally renders the app or key functionalities inoperable. For that reason, I didn't find much use in this tool. The pirated app scanner simply duplicated the same function already provided within the main scanning tool.
Snap Thieves with Intruder Alert
The app includes an intruder alert tool which discretely takes a photo from the handset's front camera whenever an app lock pattern is entered incorrectly repeatedly (the exact number, from two to five, can be configured by the user). A gallery of captured images lets users browse the photos. Unfortunately, this tool is missing what I would consider an essential function—the ability to send the image to the user's email or upload it to Cloud storage. If the phone is truly stolen, the intruder images on the handset are likely to be useless.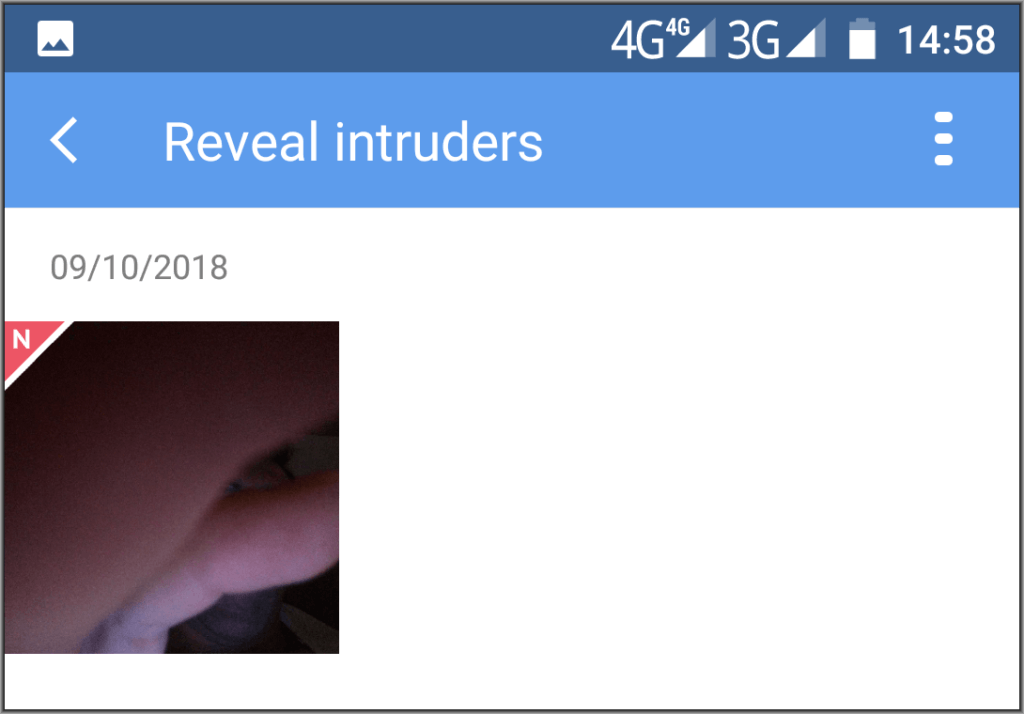 GO Security includes a WiFi Security Scanner which verifies the speed of the connection, displays the number of devices sharing the network, and checks that no captive portal is operating on the network (these are pre-connection pages that can be exploited to steal users' contact information). Finally, a "phone alarm" can be configured which will trigger whenever the handset detects it has been physically moved. This is a nicely designed feature, but I can only see it being of use if the handset is out-of-sight or left unattended—neither of which are advisable security practices.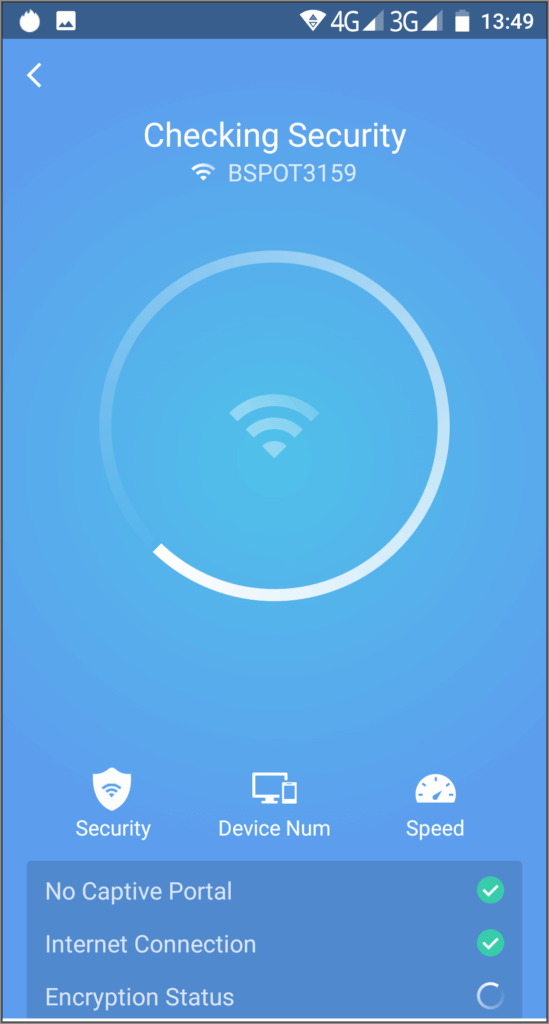 Ease of use
Installing Go Security was quick and easy. I had to grant it elevated permissions at a couple of stages, but otherwise navigating around the features was simple. The one aspect of the user experience I disliked was the fact that the junk remover is not actually included in the main app and requires a separate download from the Play Store.
Support
I found the Help Center through the FAQ icon on the main menu screen. It contains a useful FAQ section and you can click on a mail icon to be directed to a "feedback" form. Although the support section could benefit from a more intuitive design, I was pleased to receive a response within 1 business day. My basic hardware information was also captured during the form submission, so this assisted with diagnosing my issue. More comprehensive support options like live chat and telephone support were missing, but there's enough information for most users having difficulty.
Pricing
Premium users get access to the three privacy-protection VIP tools in addition to the intruder alert system. Interstitial advertising is also removed after upgrading. The app is available at very affordable monthly and annual subscription prices. Membership can also be managed directly within the Google Play Store.