F-Prot Review: Quick Expert Summary
F-Prot Antivirus, developed by FRISK Software International, has been around for almost twenty years. VirusBulletin gave its virus detection a 100% score. But has it weathered the test of time and is it worth the money? I took a closer look…
Security
F-Prot includes a powerful antivirus scanner. Although the tool isn't known to use behavior-analysis techniques to spot zero-day attacks, it did a good job of catching the test viruses that I sent for inspection, managing to identify 85% of the threats I sent it. The F-Prot interface also makes seeing how well updated the software is intuitive and easy. You can manually check for updates if you wish, and the program also clearly shows you which version you are running and when it last downloaded virus signatures from the cloud. Top marks for transparency!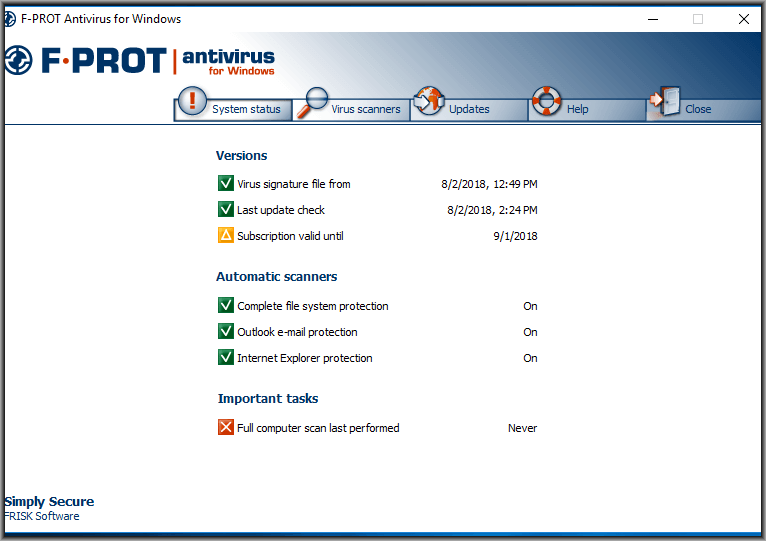 The program does not include any internet security tools, such as phishing detectors, browser extensions, or virtual keyboards to thwart the efforts of keyloggers. However, for those whose key concern is installing a functional and effective antivirus program on their machines, F-Prot is a great choice.
Features
In addition to the antivirus tool, F-Prot sports a couple of nice extras. One is its ability to integrate tidily with Internet Explorer and Outlook Express to scan downloads, and email attachments, against its database. Secondly, the program puts out a very detailed activity log–and makes retrieving it a cinch. By simply following the link for Logs under Advanced, users are able to easily see all actions the program has taken since it began running.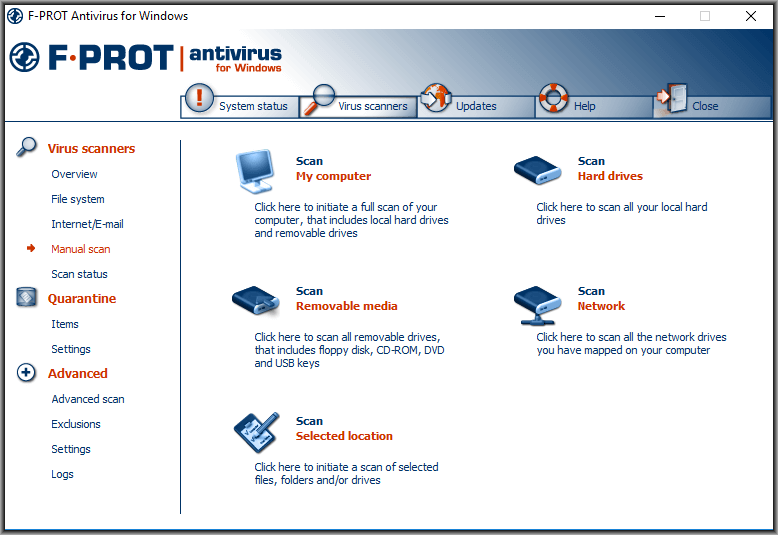 Ease of use
F-Prot is an extremely straightforward installation for any Windows user. Whether you've purchased the tool or are simply evaluating the program on the 30-day trial, simply download the executable and let it run (definition updates will take place after the program has loaded). The menus are pretty straightforward too, reflecting the "essentials first" philosophy that underpins the program. Users will find it easy to access all the information that they require to administer the system. Scans can be run, the quarantine area inspected, and updates manually started—all without having to navigate through long lists of pages.
Support
I really appreciated the lengths that F-Prot went to in order to put help resources directly within the program. The first port of call for users that have run into difficulty is the F-PROT Antivirus Help System. This is a Help program that actually lives on your computer (rather than on a website). Yes, the design might look a little old-school, but I actually like the fact that the system keeps some help resources offline (Ever had your antivirus software break when you're without internet coverage? It's a frustrating experience). Building on that is the program's online support center area. This includes a comprehensive knowledgebase and a ticket support system. It's also possible to send support tickets from directly within the application. The only thing missing, as far as I could tell, is telephone support. However, the support representative that dealt with my ticket request was more than helpful and the response time was reasonable.
Pricing
F-Prot is a competitively-priced solution. Whether you're purchasing its Windows Home, Windows Corporate, or Linux programs, it's hard to argue with the yearly price.