DFNDR Security Review: Quick Expert Summary
DFNDR Security is a free Android antivirus and anti-hacking app that is the main component of the DFNDR product family (there's also a performance tool and a VPN). With more than 130 million installations worldwide, it's a popular choice among Android antivirus users. But does its performance match those usage statistics? We take a look at the truth behind the hype…
Security
The main tool is the Security Scan which analyzes all installed apps for spam, malicious content, or known infections. The scan itself was relatively speedy, inspecting over 100 apps on my handset in a little over a minute.
Unfortunately, the only "issue" the scan flagged was that I had not added the anti-hacking feature, which required giving the app an additional security permission (monitoring and redrawing system windows).
I was a little disappointed. It failed to flag the F-Droid open-source app repository and one of its video streaming apps, NewPipe, that I installed in the device. Both of these apps require allowing the installation of unknown sources and installing programs that haven't been scanned or approved by the Google Play Store. To make matters worse, when I re-enabled allowing unknown apps, this again wasn't flagged by the scan.
After you have run a scan, the system prompts you to schedule future ones. I was expecting a little more under the "advanced" configuration menu than the ability to run the scan weekly (the default is every three days).
Complementing the app scanner is a Full Virus Scan which checks all files on the system. This moves at a slower pace and took about five minutes on my device. Again, the only thing flagged was cleaning my browser cache. Some APKs that I had in my downloads directory were also not flagged.
Features
Besides the app scanning system, there are some internet security features included in DFNDR Security, as well as some performance-related ones that seem like strange things to include in a mobile security tool.
These are:
A cleanup app: This scans through app caches and trash to free up space. This managed to liberate 773MB of space from my system in under five seconds, but the process moved so quickly that it was difficult to see what was being deleted. Thankfully, there's a pull-down report after the fact to show you how much "background apps" and "junk" were deleted, but a little more transparency and the ability to approve deletions beforehand would have been nice.
Duplicate photos: This scans through files and directories to identify duplicate photos on your phone. In my case, the tool was able to quickly pull up seven duplicate pictures, which were stored both in my camera gallery and WhatsApp system folders. This frees up a little space, but plenty of cleanup tools include this utility. I don't see how this feature could prevent hacking and virus threats.
Anti-Phishing URL Scanning
Miscellaneous other features include a DFNDR Lab (URL Checker) which allows you to manually input URLs to check if they are safe. While this is a nice feature, in theory, I believe that anti-phishing protection really needs to happen directly in the browser to be effective.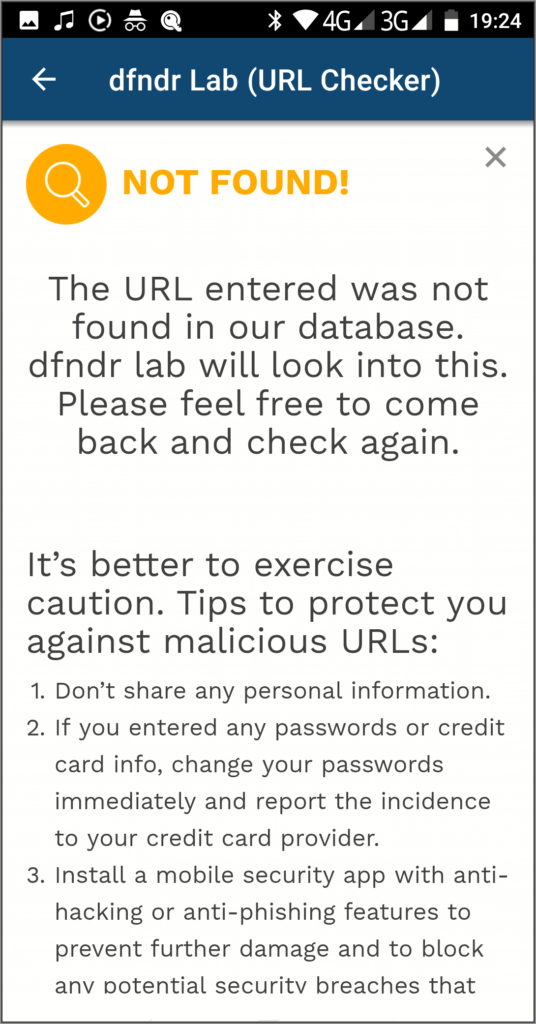 I have to question the effectiveness of this particular tool. A phishing URL I found online was not flagged and a valid URL that I tested (a well-known photo website with over ten million views per months) was "not found in our database." There's also a CPU cooler which checks the temperature of your CPU and closes down background apps if it's beyond safe limits. While this is nice to have, it's standard in many performance apps and not really in the security category.
There are some additional tools listed under privacy, including a VPN, password manager, and photo vault, but these are not actual features of the app. Instead, they require installing additional DFNDR apps from the Play Store.
Ease of use
DFNDR can be installed in seconds from the Google Play Store. There were no additional components to load. However, some features look like part of the software but are, in fact, additional applications. I would personally have preferred if the application's manufacturer, PSafe, had chosen to provide all the tools in one app or split up the features more logically between them.
The UI itself, however, is lightning fast and there's a nice performance dashboard which allows you to quickly jump into the program's main features at the touch of a button.
Support
In terms of support, DFNDR relies on knowledge bases. You'll find helpful tutorials inside the app as well as on the PSafe (DFNDR's parent company) website. You do have the option to submit a ticket, but the form is only available on the PSafe website, not within the app itself.
It's not mind-blowing support, but I did receive a courteous response from the team.
Pricing
DFNDR Security is a free tool; however, there's also a Premium subscription package in the sidebar. The monthly subscription is very low and there are one month, six month, and 12 month payment options. You can upgrade to remove ads, have deeper control over system notifications, and get some advanced features like call blocking and anti-theft protection.
While there aren't a whole lot of security and antivirus additions for the upgrade fee, it's certainly a price that can't be argued with.