ClamWin Review: Quick Expert Summary
Many know that ClamWin is a free and open-source (FOSS) antivirus solution for Windows that serves as a front-end to the open-source ClamAV scanning agent. It integrates easily with Microsoft Outlook and Window Explorer and boasts over 600,000 users worldwide. But what you may not know is that it has a few drawbacks, such as no real-time protection. We'll take a look at whether this antivirus is worth the hype.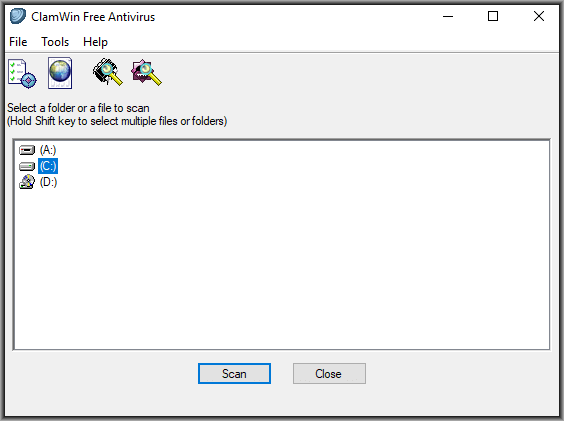 Security
ClamWin draws its antivirus definitions from the ClamAV database. ClamAV is a cross-platform, open-source antivirus engine that also powers the most well-known antivirus tool for Linux desktops.
Because ClamWin is drawing on an open-source engine, there are some obvious drawbacks. For one, the program lacks real-time protection, which is particularly important for guarding against so-called zero-day attacks (vulnerabilities which haven't been noted and patched yet). The engine also doesn't have the financial backing of a user-base with which to employ cybersecurity specialists to look out for emerging threats in user-submitted code samples. There's no "ClamWin Lab" on the lookout for threats.
Despite these drawbacks, however, the definitions database is updated several times a day, and the program features a sufficient number of scanning options to protect against the majority of viruses, pieces of malware, and trojans that may be lurking in your files and directories.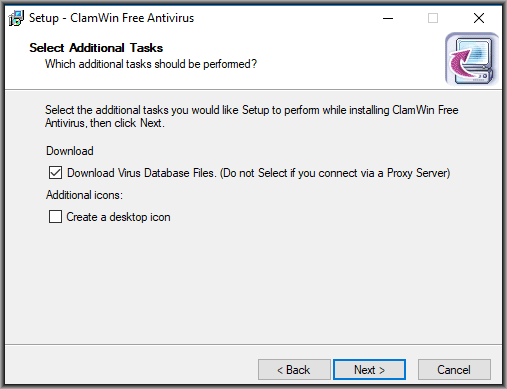 While the program doesn't feature something fancy like a virtualized sandboxing environment for quarantining files, it does append a .infected to the end of files that it has found to be dangerous to prevent them from executing and can move those files to a quarantine folder of the user's choosing. This gives users some level of assurance that identified viruses will be prevented from wreaking havoc on their system although it's not as sophisticated as the safeguarding methodologies employed in paid solutions.
ClamWin also includes the ability to both execute system scans on demand as well to schedule scans to run at predetermined times. You can also run a "memory scan" which will only run through programs currently running in the system memory.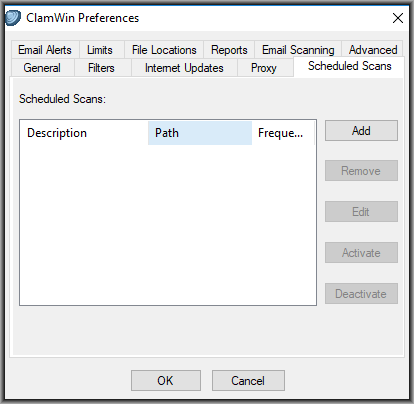 To speed up the scanning process and prevent the scanning of directories known to be safe, it's also possible to configure filters to prevent the program from scanning certain filetypes or locations as well as enforce file size scanning limits. What's missing, of course, is the ability to scan files as soon as they are opened. This means that while the protection offered should be good enough to catch mature viruses that volunteers have identified and inputted to the ClamAV engine, it's unlikely to prevent emerging threats as well as more sophisticated attack vectors like rootkits.
Additionally, scheduled scanning can only be configured on a per-drive basis. If you want to do something more comprehensive—such as scan your entire system, and several attached virtual drives all at once—you're going to be better off using a more mature program.
Features
In addition to its scanning options, ClamWin includes some nice features which boost its utility for Windows users.
They include the following:
Microsoft Outlook and Windows Explorer Integration
ClamWin can integrate directly into the Microsoft Outlook email client as well as Windows Explorer. This makes it easy to send individual files, folders, and email attachments for inspection.
Unload from Memory
If ClamWin finds a malicious program to be running within the system memory, it can forcibly unload it.
Ease of use
ClamWin is an easy program to set up and to run. To download it, users can obtain the executable from SourceForge. After accepting an EULA, the program is installed and ready to use.
The program has a relatively basic feel, but on the plus side, it is easy to navigate around the menus. The settings screens let users configure scheduled scans, adjust filters, and configure scanning rules for the integration with Microsoft Outlook. It's also easy to change the frequency of received updates and view the results of completed scans.
Support
ClamWin only offers support via its online forum. This is normal for free software, but luckily the forums remain relatively active and populated, although assistance from the program's volunteer developers is not guaranteed.
Additionally, there's no email ticketing system, phone, or live chat options.
Pricing
Nothing to complain about here! ClamWin is totally free.