TotalAV Antivirus Review
In a market saturated with hundreds of antivirus companies — including high-profile brands like Norton and McAfee — it can be difficult to stand out as an effective digital security provider.
That's why the antivirus program TotalAV is a breath of fresh air. The company makes some big claims, calling themselves the "antivirus engine" that's "trusted by millions of people". They claim to offer "daily virus definition updates" combined with an "outstanding virus detection rate".
But unlike some of their competitors, they stand by their claims and are turning heads in the highly competitive industry of cybersecurity.
With new kinds of ransomware, trojans, spyware, and rootkits on the rise, testing these products is an important step toward selecting the right solution.
Security Features
TotalAV definitely didn't skimp out on features. They cover pretty much everything you'd expect from a professional internet security package, and many times, they go a few steps further.
For instance, while diagnosing and removing viruses is its focus, TotalAV also has strong defenses against other types of modern, malicious threats such as malware and ransomware.
While TotalAV offers a variety of strong features that are more than sufficient for most users, minor things like Web Shield — a Firefox and Chrome extension — need fixing.
Here are a few security features I liked:
Real-Time Virus and Ransomware Protection
To test the malware and ransomware protection capabilities and see whether the program was active and correctly configured, I experimented with 4 of my test viruses.
While I could download the compressed files without any interference, TotalAV immediately warned me when I tried running them.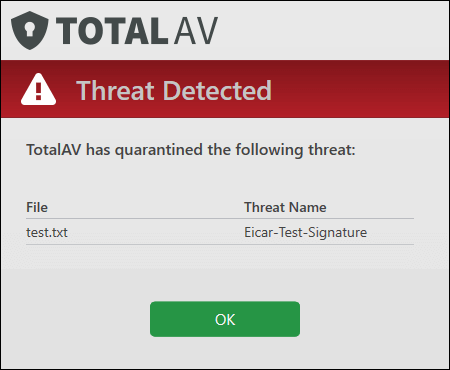 I found the antivirus's speed impressive. It quarantined each virus in less than a second, making it an attractive choice for users who want quick system responsiveness and are on a busy schedule.
Next up was ransomware. Ransomware has been a notorious threat throughout the online world. It's estimated that it will cause up to $11 billion in damage in 2019 alone.
Ransomware works like this:
Step 1:

A malicious program hijacks your device.

Step 2:

It prevents you from accessing your data.

Step 3:

A message tells you to pay a ransom to the hacker to unlock the device.
There are even reports of ransomware refusing to give the user back control over their system even after the ransom was paid. That's why testing an antivirus program for ransomware is so important.
Just like the first test, TotalAV caught all of my ransomware files immediately and quarantined them shortly after.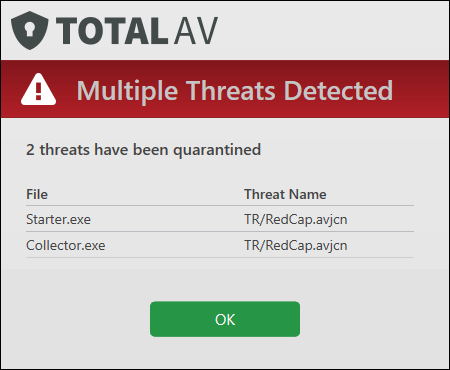 Users worried about virus or ransomware infecting their machines can trust TotalAV to get the job done with speed and effectiveness.
Remote Firewall Access
Firewalls are an integral part of a safe home network. Even light internet users need a strong firewall to block incoming harmful software.
Firewalls sold as part of an antivirus package have not been popular in recent years as Windows Firewall — Microsoft's default firewall — is free and offers enough protection for casual users.
While some companies like Avira have given up and stopped offering firewalls altogether, TotalAV decided on an interesting addition to its antivirus package:
Remote firewall access that works in conjunction with Windows Firewall.
Users looking for an "all-in-one" solution to online security will find this feature useful, as controlling Windows Firewall from the same place as your other digital defenses can be convenient and easy to work with.
The Browser Extension
The Safe Site browser extension goes along nicely with TotalAV's core functions and is included free of charge.
You get quick access to basic browsing privacy actions:
Clear Cookies

Private Browsing

Clear History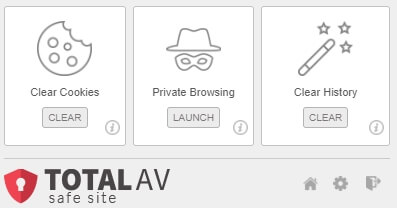 Even more important are the anti-phishing measures and safe-browsing safeguards built into the extension.
With fraudulent websites vying for your personal information more than ever, internet surfers will find Safe Site's performance appealing, catching 90% of my tested phishing sites. That beat out Chrome's default protection by a long shot.
Optimization Tools
Regardless of which pricing plan you choose, TotalAV's optimization software is a welcomed addition that turns the suite from an essential internet security tool to a central control hub for your computer.
The System Tune-Up dashboard includes tabs to help you manage "Startup Programs" and "Uninstall Applications". Here you can also find the "Browser Manager" that manages cookies across multiple web browsers as well as the "Disk Cleaner" which helps in removing useless and/or duplicate files.
Multi-OS Compatibility
TotalAV is ready to protect all of your devices.
It's currently offered for Windows, Mac, Android, and iOS. The Windows and Mac versions are traditional antiviruses, whereas the mobile variants include performance optimizers, storage cleaning, and app managers.
Plans and Pricing
TotalAV's flexible payment plans allow you to purchase only the features you need. There's also a free version available if you want to try it out first.
Here's a breakdown of what you can expect:
| | | | |
| --- | --- | --- | --- |
| | TotalAV Ultimate Antivirus | TotalAV Antivirus Pro | TotalAV Essential Antivirus |
| Platforms | PC, Mac, Android, iOS | PC, Mac, Android, iOS | PC, Mac, Android, iOS |
| Number of Device Licenses | 5 | 3 | 1 |
| Advanced Ransomware Protection | ✓ | ✓ | ✓ |
| Real-Time Antivirus Protection | ✓ | ✓ | ✓ |
| Virus, Trojans Adware Spyware & Malware Protection | ✓ | ✓ | ✓ |
| Protection Against Phishing Scams | ✓ | ✓ | ✓ |
| Free Up System Space with Disk Cleaner | ✓ | ✓ | ✓ |
| PC Performance & Optimization Tools | ✓ | ✓ | ✓ |
| Remote Firewall Protection | ✓ | ✓ | ✓ |
| Stay Safe Online with Web Shield Extension | ✓ | ✓ | ✓ |
| Web Browser Cleaner & Manager | ✓ | ✓ | ✓ |
| Antivirus eBook | ✓ | ✓ | x |
| Safe Password Vault | ✓ | ✓ | x |
| 24/7 Priority Super-Fast Support | ✓ | x | x |
| Smartphone Optimizer & Protection | ✓ | x | x |
| 30-Day Money-Back Guarantee | ✓ | ✓ | ✓ |
The Free Version
TotalAV's free features mostly involve malware scanning and removal. After that, there is a prompt which asks you to upgrade the software.
As a result, there is no real-time protection or threat quarantine. However, from a business standpoint, it makes sense that such an important feature is only available in their premium plans.
TotalAV Essential
This inexpensive upgrade gives you — in addition to the free version's offerings — advanced ransomware protection, real-time malware prevention, and remote access to the Windows Firewall.
It's great for users on a budget who still want serious digital security.
TotalAV Pro
The next tier adds a password manager and a helpful reference eBook on the topic of antiviruses as well as everything in the Free and the Essential plans.
Though personally, I believe that users willing to digitally protect themselves should look toward the Ultimate package.
TotalAV Ultimate
In addition to the features from all previous plans, the Ultimate version packs in a smartphone optimizer and 24/7 prioritized customer support, making it ideal for users wanting a streamlined antivirus experience.
Even as an Ultimate subscriber, the Safe Browsing VPN and AdBlock Pro are not included. If you need them, you will have to purchase those separately. The same goes for the VPN that allows you to connect to up to 36 countries.
However, I did receive an email offering 50% off for the VPN features, putting it at an incredibly competitive price for what you're getting.
Overall, I find most of TotalAV's plans to be of great value in the context of the general antivirus market. Norton Antivirus Plus, for instance, is nearly twice as expensive as TotalAV's Essential package, despite not offering many extra features.
Pro tip: If you're using TotalAV's free version, I would highly recommend upgrading at some point, as you really get your money's worth with the Essential and Ultimate plans. You also have a 30-day money-back guarantee, so don't be afraid to try it out.
Ease of Use and Setup
The TotalAV development team absolutely nailed the installation process. Where many of the solutions I've tried over the years have had exhausting first-time set-ups, TotalAV's user interface design is responsive, minimalistic, and intuitive.
Not only can you enjoy the program's features, accessing them is a breeze as well.
A full download and installation of the software which included the starting malware definitions library totaled around 20 minutes. Business users will love that picking up TotalAV won't interfere with their busy schedules.
Performance in the field is excellent, too. Both 'quick' and 'full' scans had negligible performance impacts on my PC.
Mobile App
TotalAV has a free mobile app that's available to all users. The app is available on both Android and iOS.
Similar to the PC and Mac versions, the mobile app offers features like:
Antivirus scanning for detecting potential threats.

Disk cleaner for cleaning up your device's storage.

App management for identifying apps that are hogging your system's resources.

Quarantine for viruses.

Real-time protection for your mobile devices.

Safe browsing for potentially risky websites.

System boost to keep your phone running efficiently.
TotalAV's mobile app works well and delivers the same seamless experience that you get on the computer versions.
Customer Support
Users with questions won't be left in the dark thanks to live chat and email communication with TotalAV across all of their pricing plans.
The TotalAV Ultimate plan adds on priority support with 24/7 telephone service in the following countries:
United States

United Kingdom

Australia

Canada

France

Germany

Spain
Note: Telephone numbers were also listed for "Europe" and "International."
I checked out the live chat myself during the testing process and asked a few questions about features and pricing options. The agent was polite and upfront with their responses, and I was pleasantly surprised at how helpful the session was.
As for the email support, I sent a general inquiry upon startup and received the following response within 15 hours, which I found suitable for the issue I asked about:
The company offers a full refund within 30 days of your purchase. For most, that should be more than enough time to test the software and see if it's a good fit for your needs. They also offer refunds beyond the initial 30 days, but on a pro rata basis. All refunds are usually returned to your credit card within seven to ten business days, while PayPal purchases are refunded in five days.
But what if you purchase the wrong version of the software? Don't sweat it. The company will let you swap your plan to the one you want.
Bottom Line
TotalAV is more than just an antivirus.
It essentially serves as a control room for all of your computer's security needs. It offers real-time malware protection, safe browsing extensions, password management, VPNs, firewalls, and performance optimizations.
You can also choose from a variety of pricing plans so that you only need to pay for the functionalities you want.
What We Like:
Some of the most competitive pricing in the industry.

An intuitive interface that's easy to use.

A rich set of features that will keep your PC and mobile devices safe.
What We Don't Like:
The free version could offer additional features.

The mobile app did crash on occasion when my phone was in heavy use.
TotalAV is priced competitively. It's cheaper than many other high-profile antiviruses while still retaining the necessary components to ensure online security.
And the attractive and easy-to-use interface is definitely a nice cherry on top.
While it's only a few years old, TotalAV should without question be on your list for an antivirus program to try out.