Privacy Shield is a privacy protection app for Android. The app features an advanced permissions inspector, a tool for password-protecting apps, and a camera and microphone blocker.
Security
Privacy Shield's main feature is its "Privacy Advisor" scanning tool. After seeing which apps the user has installed, the tool categorizes them into "high risk," "medium risk," "low risk," and "safe" apps. The grading appears to be based solely on the number of permissions each app has access to, which could be misleading.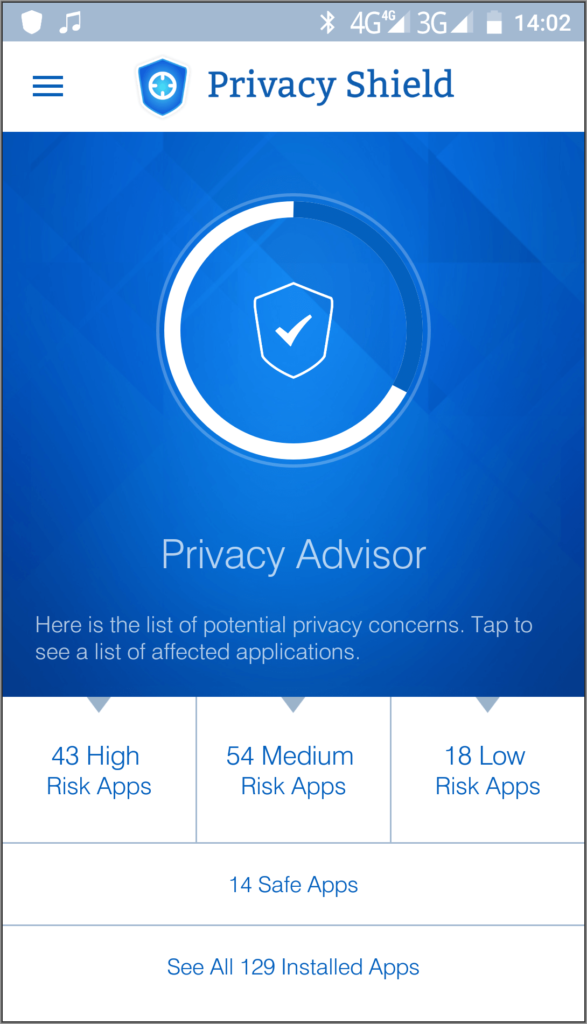 For instance, it placed the open-source F-Droid (a more dangerous tool for installing open-source APKs) into my safe list (along with 13 of the 129 apps I have installed) while labeling AVG's Android antivirus scanner a "high risk" app. Other "high risk" ratings (such as those for Google Hangouts, Facebook Messenger, and even the stock contacts and dialing apps) were equally nonsensical.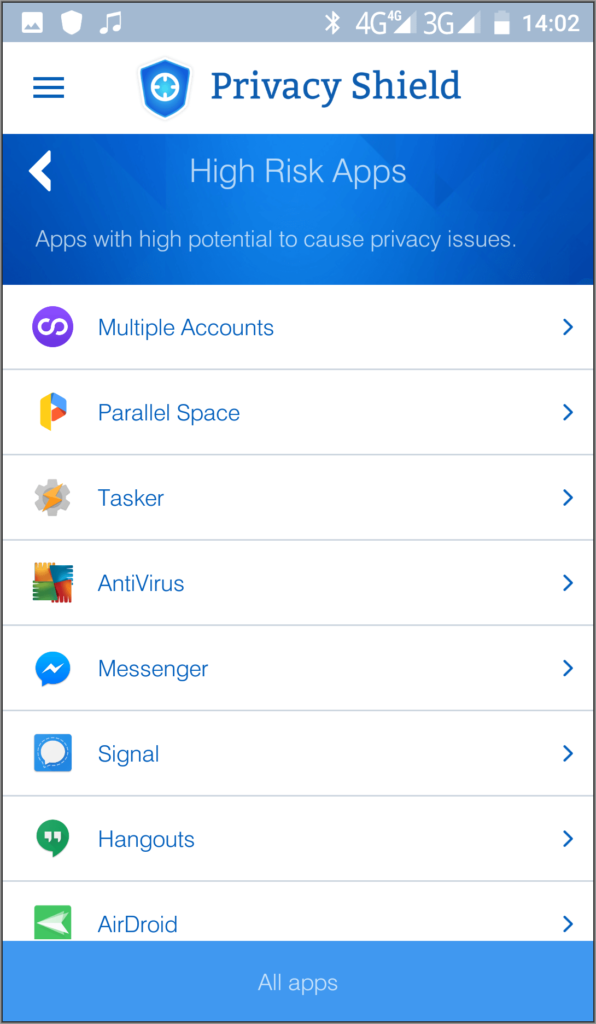 Within each app, the tool provides a list of all permissions it has access to along with an explanation of each. Users can click an "Uninstall App" button at the bottom of the screen. A separate "permissions" screen allows you to view all apps that have a certain permission, such as "In-App Purchases."
Features
Privacy Shield includes two additional features:
Camera and Microphone Blocker
After giving Privacy Shield admin access to the handset, users can choose to lock down access to the phone's microphone and camera. Access permissions can also be configured on a per-application basis.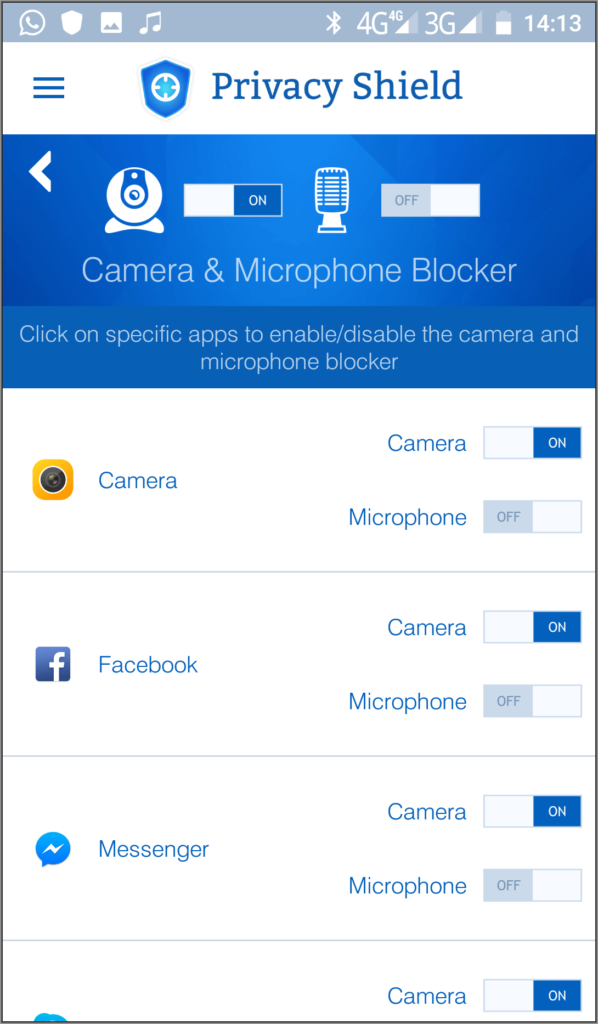 After blocking camera and microphone access, I was able to trick the system into recording the input stream by connecting an external input from an audio mixer, —however, this is far from a typical use-case. The internal microphone, however, was completely blocked in Rec Force II, the recording app I use.
The results with the camera-blocking were flawless. Attempts at taking photos from within WhatsApp, using the stock app, and Facebook all failed with a quick popup notification reading "can't start camera, please restart your phone".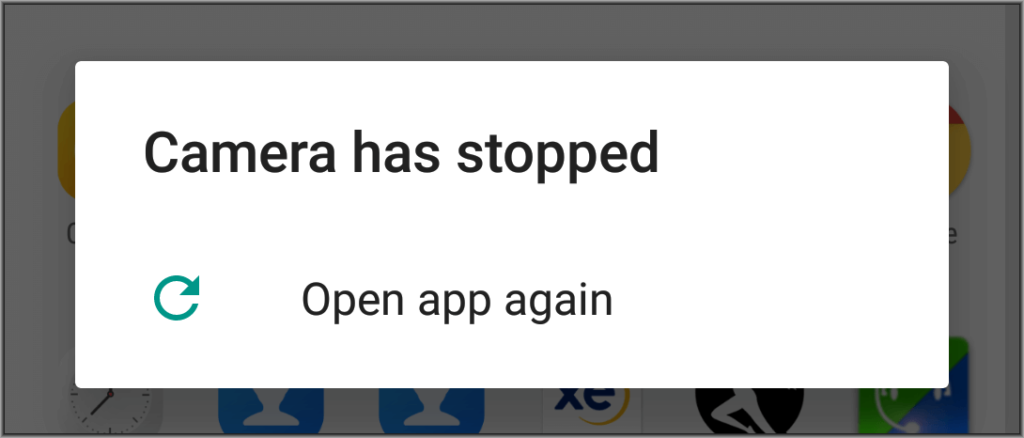 App Protector
App Protector allows users to protect individual apps with a password. After providing Privacy Shield with an additional permission, I chose to set up a pin for WhatsApp and Facebook. The tool worked as expected.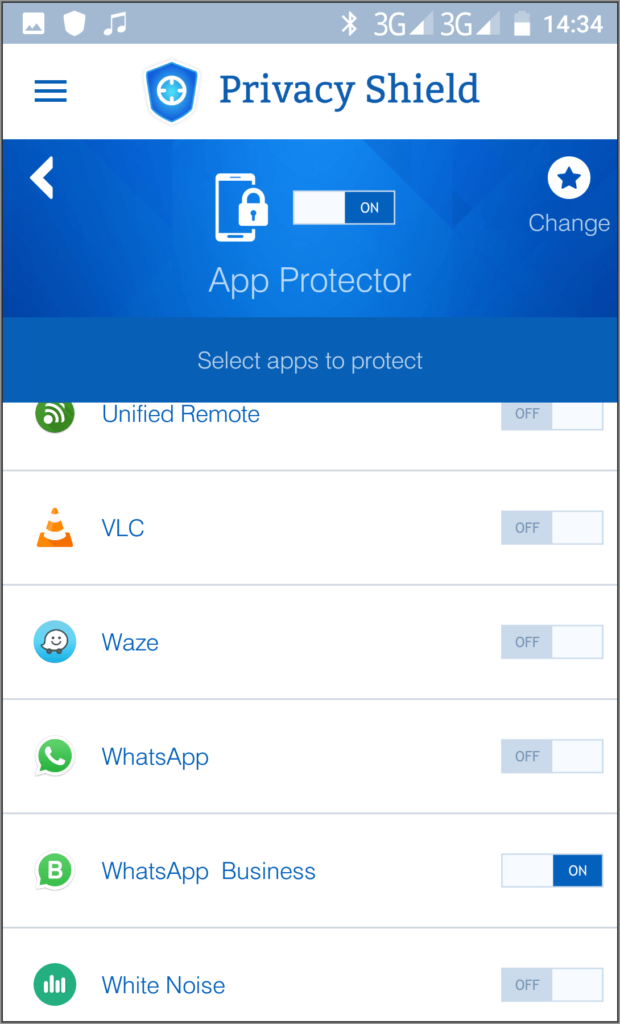 Ease of use
Privacy Shield is very simple to install and use. The app's features can be accessed through a sidebar menu which docks to the left when not in use. The only part of the user experience that some might have difficulty with is giving the app requested permissions, such as to be a device administrator.
Support
Privacy Shield is produced by Shield Apps. I wasn't able to find any support form or button in the app (which I had on evaluation), so had to use Google to find the company's website. Shield Apps provide some basic online documentation to troubleshoot issues such as inputting activation codes and uninstalling the app. There's also a "Contact Support" form at the bottom of the page which I received a response to in a day.
In my opinion, this is sub-par support—without the ability to send logs natively within the app, it's difficult for teams to provide comprehensive assistance, and having to Google the company to find a simple knowledge base is unacceptable.
Pricing
Privacy Shield is available as an annual or monthly subscription license. Both have to be purchased directly within the app. The price is very affordable but given the relatively sparse number of worthwhile features, its value will depend on the individual user and the priority they place on its few functionalities.